Federal Bureau of Investigation
Governmental agency belonging to the United States Department of Justice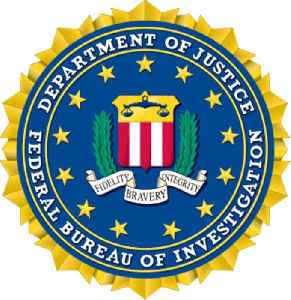 The Federal Bureau of Investigation (FBI) is the domestic intelligence and security service of the United States and its principal federal law enforcement agency. Operating under the jurisdiction of the United States Department of Justice, the FBI is also a member of the U.S. Intelligence Community and reports to both the Attorney General and the Director of National Intelligence. A leading U.S. counter-terrorism, counterintelligence, and criminal investigative organization, the FBI has jurisdiction over violations of more than 200 categories of federal crimes.


QAnon in Europe: the meteoric rise of a dangerous conspiracy theory, boosted by the pandemic

Labelled a terror threat in the US by the FBI, Qanon's pro-Trump social media conspiracy theorists are now on the ground at demonstrations in Europe boosted by the COVID-19 pandemic. Unreported Europe..
Credit: euronews (in English) Duration: 08:00
Published
Ex-Hunter Biden associate claims evidence against Biden family

A former business associate of Democratic presidential nominee Joe Biden's son Hunter said on Thursday (October 22) that he was turning devices over to the FBI with evidence to support allegations..
Credit: Reuters Studio Duration: 01:49
Published
FBI says Iran, Russia behind election misinformation campaign

US officials said that Iran and Russia have obtained voter registration information. Story: https://bit.ly/31xMDhc
Credit: ABC Action News Duration: 02:13
Published
FBI describes efforts to interfere with election

US officials said that Iran and Russia have obtained voter registration information.
Credit: ABC Action News Duration: 02:25
Published
MI plot suspects also considered targeting VA Gov: FBI

[NFA] Some suspects accused of trying to kidnap Michigan Governor Gretchen Whitmer also discussed whether they should shoot her in the head and contemplated abducting Virginia Governor Ralph Northam as..
Credit: Reuters - Politics Duration: 02:39
Published
'Militia' plot to kidnap US governor Gretchen Whitmer foiled by undercover agents

A plot to kidnap Michigan Democratic Governor Gretchen Whitmer and put her "on trial" was foiled by undercover agents and informants, the FBI said.
Credit: Euronews English Duration: 01:55
Published
Facebook bans all QAnon groups as dangerous

Facebook on Tuesday classified the QAnon conspiracy theory movement as dangerous and began removing Facebook groups and pages as well as Instagram accounts that hold themselves out as representatives...
Credit: Reuters - Politics Duration: 01:55
Published
'I want to be prepared': gun sales spike in Texas

Civil unrest and the upcoming presidential election have Texans, like Teanna Walker, a retired marine, scrambling for ammunition and guns. This report produced by Yahaira Jacquez.
Credit: Reuters - Politics Duration: 02:08
Published
Comey concerned Trump would use Russian disinformation

Asked by Senator Dianne Feinstein whether he is concerned President Donald Trump would use Russian disinformation to his advantage as he seeks re-election, Former FBI Director James Comey answered..
Credit: Reuters Studio Duration: 02:00
Published
'Cheer' Star Jerry Harris Arrested on Child Pornography Charges

The reality TV star was under investigation by the FBI earlier this week for allegedly soliciting sex from minors
Credit: Cover Video STUDIO Duration: 01:11
Published
Lev Parnas Faces Felony Charges. Again.

Once again, Lev Parnas is facing federal charges. This time, Newser reports it's for allegedly defrauding investors with his company Fraud Guarantee. We couldn't say it better ourselves—the behavior..
Credit: Wochit News Duration: 00:40
Published
Russia trying to 'denigrate' Biden campaign -Wray

FBI Director Christopher Wray on Thursday warned that Russia is interfering in the 2020 U.S. presidential election with a steady stream of misinformation aimed at Democrat Joe Biden as well as sapping..
Credit: Reuters Studio Duration: 01:26
Published
DHS calls on Portland to 'step up' after shooting

[NFA] Acting Secretary of Homeland Security Chad Wolf on CBS's Face the Nation on Sunday blamed on local leaders for a surge in violence in Portland and called for a crackdown. Gavino Garay has more.
Credit: Reuters - Politics Duration: 02:01
Published
You Might Like



Illinois police officer fired after killing Black teen

A police officer who fatally shot Marcellis Stinnette and wounded his girlfriend Tafara Williams has been fired. The FBI has joined an investigation into the shooting.




CBS News - Published





Afghan Security Forces Announce Killing of 'Al-Qaeda Key Member' Abu Muhsin al-Masri

Al-Qaeda leader Abu Muhsin al-Masri, also known as Husam Abd-al-Ra'uf and originally from Egypt, was wanted by the FBI for conspiracy to aid foreign terrorist organisations and for killing US..




WorldNews - Published





As election day nears, what final dirty tricks could Trump turn to?

On 28 October 2016, the then director of the FBI, James Comey, dropped a bomb into the middle of the presidential race. With just 11 days to go until election day, he announced that his agents were..




WorldNews - Published





George Floyd protests: 'Boogaloo' member held in precinct attack

A self-proclaimed member of a violent far-right anti-government group has been charged with rioting during the George Floyd protests in Minnesota. Federal prosecutors said Ivan Hunter, a 26-year-old..




WorldNews - Published





President Trump weighing firing of FBI Director Christopher Wray after election

President Trump regards FBI Director Christopher Wray as having gone out of his way to separate himself from the president on multiple occasions.




USATODAY.com - Published





Joe Biden Possible Assassination Plot by N.C. Man Busted with Guns, Explosives

A North Carolina man may have been plotting the assassination of Joe Biden and showed an alarming fascination with domestic terrorism ... this according to the FBI. The feds filed legal docs detailing..




TMZ.com - Published





Eye Opener: Trump, Obama knock each other in dueling rallies

President Trump and former President Obama criticized each other at dueling rallies in battleground states, with the latter speaking out at his first in-person Biden campaign appearance. Also, FBI..




CBS News - Published





What Are Iran and Russia Up To?

A late-October F.B.I. news conference raises many questions: This is your morning tip sheet.




NYTimes.com - Published




"The FBI Declassified": Saving Ethan

Series premiere: A young boy is held hostage in an underground bunker in rural Alabama. How the FBI got inside the mind of his kidnapper. Narrated by Alana De La Garza of the CBS series "FBI."




CBS News - Published





Sneak peek: "The FBI Declassified": The Swindling Seductress

A con woman with 15 aliases and dozens of scams across 16 states. How the FBI outsmarted this mysterious grifter. Watch an all-new "The FBI Declassified," narrated by Alana De La Garza of the CBS..




CBS News - Published





US election: FBI sends out warning about 'major' election hack

The FBI has issued an urgent warning about interference in the US election, after the agency discovered voter information has been obtained by foreign sources.In an announcement about a "major election..




New Zealand Herald - Published





FBI says Iran and Russia have US voter information

Intelligence officials say Iran was behind threatening emails sent to Democrats earlier this week.




BBC News - Published





Rudy Giuliani turns over alleged Hunter Biden laptop to authorities in Delaware

Rudy Giuliani shared files from what he said was Hunter Biden's laptop, which were then turned over to the FBI, a Delaware attorney general spokesman said.




USATODAY.com - Published





"The FBI Declassified": 20 Days of Terror: The Austin Bomber

A city under siege. A serial bomber at large. How the FBI helped end a deadly crime spree. Narrated by Alana De La Garza of the CBS series "FBI."




CBS News - Published




Inside the FBI's race to stop Austin, Texas, bombing spree

FBI agents reveal the unprecedented effort to catch a serial bomber who was killing and maiming random victims with homemade devices in the spring of 2018.




CBS News - Published





DNI Ratcliffe: Russia disinformation not behind published emails targeting Biden; FBI reviewing

Director of National Intelligence John Ratcliffe said Monday that recently published emails purporting to document the business dealings of Hunter Biden are not connected to a Russian disinformation..




WorldNews - Published

Also reported by •USATODAY.com


Trump predicts 'red wave' at mid-west rallies as polls show Biden ahead

US President Donald Trump predicted "a red wave like you've never seen before," as he held campaign rallies in the key mid-west states of Michigan and Wisconsin on Saturday night. Wearing a red..




WorldNews - Published





A tabloid got a trove of data on Hunter Biden from Rudy Giuliani. Now, the FBI is probing a possible disinformation campaign

The FBI is examining whether Russia is tied to the purported documents on Hunter Biden that were provided to the New York Post by Rudy Giuliani.




USATODAY.com - Published





FBI probing whether emails in New York Post story about Hunter Biden are tied to Russian disinformation

The FBI is investigating whether emails published by the New York Post about Hunter Biden are linked to a Russian effort to spread disinformation.




USATODAY.com - Published





White Supremacist Pleads Guilty to Plotting to Bomb Colorado Synagogue

Richard Holzer, 28, shared with undercover F.B.I. agents that he wanted to get a synagogue "off the map."




NYTimes.com - Published





Nude photos and death threats - how a scandal toppled Anchorage's mayor

A stunning tale of inappropriate behaviour between a politician and a television anchor, death threats and nude photos culminated in a joint police-FBI investigation, the arrest of the journalist and..




New Zealand Herald - Published





The FBI Declassified: The Spies Next Door

The investigation and capture of Russian spies living as Americans. Russian spies living as Americans. Could they be your neighbors? How the FBI stopped a potential threat to national security.




CBS News - Published





Russian spies living among us: Inside the FBI's "Operation Ghost Stories"

FBI agents reveal how they tracked and stopped a Russian spy ring operating in the U.S., tasked with gathering government secrets.




CBS News - Published





FBI has reached no firm conclusion on cause of Beirut blast

WASHINGTON - The US Federal Bureau of Investigation said on Tuesday it has reached no firm conclusion about what caused the August 4 explosion in the port of Beirut that killed nearly 200 people and..




WorldNews - Published





Virginia's Gov. Northam Was Also a Kidnapping Target of Anti-Government Group

Gov. Ralph Northam of Virginia was discussed as a possible target by members of an anti-government group charged with plotting to kidnap the Michigan governor, the F.B.I. said.




NYTimes.com - Published




FBI: Groups also discussed kidnapping Virginia governor

Members of anti-government paramilitary groups discussed kidnapping Virginia's governor during a June meeting in Ohio, an FBI agent testified today during a court hearing for a group of men accused of..




New Zealand Herald - Published

Also reported by •CBS News


Suspects in Michigan kidnap plot also weighed targeting Virginia governor: FBI

(Reuters) - Some suspects accused of trying to kidnap Michigan Governor Gretchen Whitmer also discussed whether they should shoot her in the head and contemplated abducting Virginia Governor Ralph..




WorldNews - Published





FBI says Virginia Gov. Northam was also targeted in plot to kidnap Michigan Gov. Whitmer

The suspects accused of plotting to kidnap Michigan Gov. Gretchen Whitmer also discussed "taking" Virginia Gov. Ralph Northam, an FBI agent testified.




USATODAY.com - Published




How the FBI took down Russian spies posing as Americans

For a decade, the FBI monitored a network of Russian spies masquerading as normal American families in an investigation called "Operation Ghost Stories."




CBS News - Published





Enough with militias. Let's call them what they really are: domestic terrorists

This week the FBI announced charges in a plot to kidnap Gretchen Whitmer. Much of the coverage referred to them as a militia – and the governor wasn't having it....




WorldNews - Published





Suspects in alleged Gretchen Whitmer kidnapping plot charged in court

Experts warn other extremist groups could attempt violent action in the months ahead after investigators thwarted an alleged plot to kidnap Michigan Governor Gretchen Whitmer. More than a dozen men..




CBS News - Published





How the FBI spent months tracking the plot to kidnap Michigan Gov. Gretchen Whitmer

Here's how the federal government thwarted an effort to kidnap Michigan Gov. Gretchen Whitmer, according to court records, the FBI, police and prosecutors.




USATODAY.com - Published

Also reported by •CBS News


New details about plot to kidnap Michigan Governor Gretchen Whitmer

The FBI and Michigan state officials have charged 13 people in an alleged domestic terror plot to kidnap Governor Gretchen Whitmer. CBS News chief Justice and Homeland Security correspondent Jeff..




CBS News - Published

Also reported by •WorldNews


Michigan Gov Gretchen Whitmer was 'moved around' as FBI tracked militia 'plot'

A group of anti-lockdown activists allegedly planned to abduct Michigan Governor Gretchen Whitmer.




BBC News - Published





What We Know About the Alleged Plot to Kidnap Michigan's Governor

The group charged with planning the kidnapping met repeatedly over the summer for firearms training and combat drills, the F.B.I. said.




NYTimes.com - Published

Also reported by •CBS News


Alleged plot against Michigan's Gov. Gretchen Whitmer is chilling

(CNN)As a prosecutor for more than 14 years, I've seen my share of criminal complaints charging every crime in the book, from murder on down. But Thursday's FBI complaint detailing the alleged plot to..




WorldNews - Published





CBS Evening News, October 8th, 2020

FBI foils alleged plot to kidnap Michigan governor and overthrow government; Volunteers build desks for underprivileged kids amid coronavirus pandemic




CBS News - Published





FBI foils alleged plot to kidnap Michigan governor and overthrow government

State and federal investigators say they've broken up an alleged plot to kidnap Democratic Governor Gretchen Whitmer and overthrow the state's government. Jeff Pegues reports.




CBS News - Published





FBI busts militia 'plot' to abduct Michigan Governor, overthrow US govt

Agents foiled a stunning plot to kidnap Michigan Democratic Gov. Gretchen Whitmer, authorities said in announcing charges in an alleged scheme that involved months of planning and even rehearsals to..




New Zealand Herald - Published

Also reported by •BBC News


The F.B.I. discloses a plot to kidnap Gov. Gretchen Whitmer of Michigan.




NYTimes.com - Published





Michigan Gov. Whitmer Says FBI Arrested Militia Group Trying to Kidnap and Possibly Kill Her

Michigan Governor Gretchen Whitmer just made a stunning revelation ... 13 members of 2 militia groups have been arrested for hatching a plot to kidnap and possibly kill her. The Governor, who has been..




TMZ.com - Published





F.B.I. Says a Michigan Militia Plotted to Kidnap Gov. Gretchen Whitmer

Six men had been discussing taking Ms. Whitmer, a Democrat, hostage since at least the summer, the F.B.I. said.




NYTimes.com - Published





Trump takes aim at "disappointing" FBI director

Trump criticized Wray for not investigating voter fraud, even though Wray has said there is no evidence of coordinated voter fraud.




CBS News - Published