U.S. Customs and Border Protection
Department of the United States Federal Government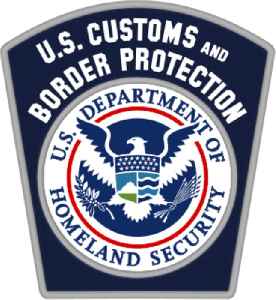 United States Customs and Border Protection (CBP) is the largest federal law enforcement agency of the United States Department of Homeland Security, and is the country's primary border control organization. It is charged with regulating and facilitating international trade, collecting import duties, and enforcing U.S. regulations, including trade, customs, and immigration. CBP is one of the largest law enforcement agencies in the United States. It has a workforce of more than 45,600 sworn federal agents and officers. It has its headquarters in Washington, D.C.


Portland mayor stung by tear gas at protest

[NFA] Video showed a cloud of smoke wafting over Portland Mayor Ted Wheeler as he stood with anti-police demonstrators on Wednesday night. This report produced by Zachary Goelman.
Credit: Reuters - Politics Duration: 02:11
Published
CBP Seizes 26,000 Pounds Of Human Hair

US Customs and Border Protection officers seized a 13-ton shipment of beauty products made out of human hair on Wednesday. CNN reports CBP officials at the Port of New York/Newark say the shipment..
Credit: Wochit News Duration: 00:39
Published
GAO: Immigration Officials Were To Spend Funding On Food, Medicine. Here's What They Bought Instead

A new report from the US Government Accountability Office has unearthed a scandal in the Customs and Border Protection Agency. According to Business Insider, the CBP spent funds meant for humanitarian..
Credit: Wochit News Duration: 00:42
Published
You Might Like



Texas Customs Agents Seize $4.3M Worth of Fake Jordans, Yeezys

Federal agents say a massive shipment of footwear on its way to Mexico contained millions of dollars worth of fake shoes -- including some coveted, rare Jordans and Yeezys. U.S Customs and Border..




TMZ.com - Published





CBP chief: We must secure border from COVID danger

Acting Commissioner of U.S. Customs and Border Protection Mark Morgan described efforts of the agency's task during the coronavirus pandemic saying, "illegal immigration, it continues -- putting..




USATODAY.com - Published





U.S., Oregon agree to phase out federal agents from Portland

(Reuters) – Oregon's governor on Wednesday said federal tactical police had agreed to withdraw from Portland, though U.S. officials said agents would stay until conditions improved after weeks of..




WorldNews - Published





Trump is calling protesters who disagree with him terrorists. That puts him in the company of the world's autocrats

(CNN)Heavily armed, unidentifiable security agents dressed in camouflage have been snatching anti-racism protesters off the streets of Portland, Oregon, and bundling them into unmarked cars, with no..




WorldNews - Published





'The tactics of a dictator': Portland leaders demand removal of masked federal agents sent by Trump admin following spate of arbitrary arrests

Elected officials in Portland have called on the Trump administration to remove militarised federal agents from the city following reports of protesters being arbitrarily detained, likening their..




WorldNews - Published





Shipment of Chinese hair goods seized by US officials suspecting forced labor

Shares The US government on Wednesday said it blocked an $800,000 shipment of hair extensions and accessories from China on suspicions that the products were made with forced labor. The goods were held..




WorldNews - Published





US seizes Chinese products made from human hair in forced labour crackdown

WASHINGTON: US customs officials said Wednesday they had seized a shipment of products made from human hair believed to be made by in labour camps in China's western Xinjiang region. They were part of..




WorldNews - Published





CBP postpones PreCheck, Global Entry enrollment centers reopening until Aug. 10

Customs and Border Protection has postponed reopening its trusted traveler enrollment centers through at least Aug. 10, the agency said Wednesday.




USATODAY.com - Published





Overcrowding, substandard care for migrants at US Border Patrol facilities in 2019 surge, watchdog report says

A federal watchdog office's report shows the struggles Customs and Border Protection had in providing care to migrants that arrived en masse in 2019.




USATODAY.com - Published




U.S. border agency misused congressional funds meant for migrant care, watchdog says

A congressional audit concluded that U.S. Customs and Border Protection violated the law by misspending money earmarked for migrant care.




USATODAY.com - Published





U.S. arrests along border with Mexico plummet in April amid coronavirus

U.S. arrests along the border with Mexico fell dramatically in April as migrants were swiftly deported under new rules aimed at limiting the spread of the novel coronavirus, the top U.S. Customs and..




Reuters - Published





Indian national is first case in US border protection custody to have COVID-19

A 31-year-old Indian man, who was apprehended on the suspicion of illegally crossing into America through the US-Mexico border, has tested positive for the COVID-19, becoming the first individual in..




IndiaTimes - Published





US Customs and Border Protection confirms 160 COVID-19 cases among officers, agents

Customs and Border Protection, responsible for securing U.S. borders, confirmed on Monday that 160 of its employees had tested positive for COVID-19.




USATODAY.com - Published




Trump to deploy 160 active duty troops to border in response to court rulings, coronavirus

A Customs and Border Protection spokesman said the deployment to San Diego and El Paso would begin Saturday and last for two weeks.




USATODAY.com - Published




Was Trump's Destruction Of Monument Hill A Hate Crime Against Native Americans?

Article by WN.Com Correspondent Dallas Darling In Donald Trump's first year of the presidency hate crimes against Native Americans increased 63%, from 154 incidents in 2016 to 251 incidents in 2017...




WorldNews - Published





US judge says conditions in overcrowded border holding cells violate Constitution

A US judge has ruled in favor of refuges, who held in overcrowded border detention centers under inhumane conditions, banning authorities from holding asylum seekers for more than 48 hours in a..




WorldNews - Published





At odds with Native American tribe, feds say no cultural sites near border wall blasting

Customs and Border Protection said it found no biological, cultural or historic sites in the area where crews are building a border wall in Arizona.




USATODAY.com - Published




Passenger tried to sneak package of tiny dead birds into US at Washington Dulles airport

U.S. Customs and Border Protection agriculture specialists found a package of dead birds in luggage at Washington Dulles International Airport.




USATODAY.com - Published





U.S. citizen suspected of smuggling dies in Border Patrol custody in Texas

James Paul Markowitz as identified as a suspect in an alien smuggling case prior to his arrest, U.S. Customs and Border Protection says.  




USATODAY.com - Published





Disease that killed millions of China's pigs poses global threat

Bettie the beagle, a detector dog for U.S. Customs and Border Protection, picked up the scent of pork on a woman arriving from China at Chicago's O'Hare International Airport.




Reuters - Published





Border Officials Seek to Evict Defecating Vultures From Texas Radio Tower

United States Customs and Border Protection, which operates the tower, wants to attach a net to deter the birds.




NYTimes.com - Published





Dozens of Iranian and Iranian-Americans report being detained at U.S. border crossing

Multiple reports emerged that U.S. Customs and Border Patrol detained dozens of people at the Blaine, Wash., port of entry. CBP refuted the report.




USATODAY.com - Published





Racial bias in facial recognition software: What travelers should know as TSA, CBP expand programs

Researchers found evidence of bias against minorities in facial recognition software as its use is set to expand at airport security checkpoints.




USATODAY.com - Published





U.S. border arrests dropped again in November amid Trump crackdown on migrant crossers

The Border Patrol arrested about 34,000 migrants at the U.S.-Mexico border in November, a 75 percent drop from a recent high point in May, according to statistics released on Monday by U.S. Customs and..




Reuters - Published





Big delays at US-Mexico border crossings after migrants use car lanes to claim asylum

Customs and Border Protection has reduced lanes at the Nogales and Douglas ports of entry after migrants used car lanes to present asylum claims.




USATODAY.com - Published




That's a lot of bologna: US border officers seize more than 150 pounds of pork

CBP officers stopped a truck trying to bring 14 rolls of Mexican bologna into the United States, which is prohibited because of potential diseases.




USATODAY.com - Published




Arizona border agent shoots and wounds Russian migrant during altercation

The agent was attempting to arrest the migrant suspected of crossing the border illegally when an altercation occurred, according to CBP officials.  




USATODAY.com - Published





Man caught at Houston airport with 35 pounds of liquid cocaine in shampoo bottles

The U.S. Customs and Border Patrol says an arriving passenger tried to smuggle 35 pounds worth of liquid cocaine in shampoo bottles into the country.




USATODAY.com - Published





Smugglers are sawing through the border wall

Customs and Border Protection told CBS News "it's happening but not to the point where it's an issue"




CBS News - Published





Open: This is "Face the Nation," July 14

This week on "Face the Nation," Margaret Brennan talks to acting commissioner of U.S. Customs and Border Protection Mark Morgan, Sen. Dick Durbin, former Homeland Security Sec. Jeh Johnson and NASA..




CBS News - Published





On the Waterfront

Despite heightened security after the Sept. 11 terror attacks, U.S. Customs is still inspecting just two percent of the six million cargo containers entering the country each year. As Steve Kroft..




CBS News - Published





Rep. Raul Ruiz on new migrant health bill

California Democratic Rep. Raul Ruiz is introducing a bill to improve the health care of migrants in the custody of Customs and Border Protection. He says it will provide the basic humanitarian needs..




CBS News - Published





U.S. apprehensions at Mexican border up 88% this year: CBP

U.S. border officials apprehended or rejected 970,000 people at or near the border with Mexico in the year through September, an 88% jump from a year earlier, U.S. Customs and Border Protection Acting..




Reuters - Published




Mexican migrant in Border Patrol custody dies at Arizona hospital

Customs and Border Protection said agents apprehended a 49-year-old Mexican migrant on Sunday. He had a preexisting heart condition and died Monday.  




USATODAY.com - Published

Also reported by •CBS News


British couple 'traumatized' by weeks in detention center after crossing border

Two British couples say they accidentally crossed the Canada-U.S border, were detained by CBP agents and spent two weeks in detention.  




USATODAY.com - Published





Feds seize $2.2 million worth of fake Nike shoes at SoCal seaport

U.S. Customs and Border Protection found 14,806 pairs of shoes on a shipment arriving from China




CBS News - Published





Nearly 1 million migrants apprehended or deemed inadmissible along US-Mexico border in fiscal year 2019, ...

(CNN)The number of migrants arriving at the US-Mexico border skyrocketed last year as Customs and Border Protection apprehended and deemed inadmissible nearly one million people during the government's..




WorldNews - Published





Julian Castro Escorted LGBT Migrants Across the Border Only for CBP to Send Them Back After He Left

Democratic 2020 presidential candidate Julián Castro has accused the Trump administration of ignoring "due process" after he escorted 12 asylum seekers to the U.S. border only to learn they had been..




WorldNews - Published





Journalist says CBP agent refused to return passport until he admitted to writing 'propaganda'

A U.S. Customs and Border Protection official withheld journalist Ben Watson's passport until he admitted to writing 'propaganda.'




USATODAY.com - Published




Trump administration asylum policies to be heard in federal appeals court

(CNN)Two of the Trump administration's asylum policies will be heard before a federal appeals court Tuesday. The policies are part of a concerted effort by the administration to tighten asylum and curb..




WorldNews - Published





Transcript: Todd Owen on "Intelligence Matters"

This week, on "Intelligence Matters," Michael Morell talks with Todd Owen, a top Customs and Border Protection official, about the agency's operations and the state of U.S. border security




CBS News - Published





N.J. mayor says he was profiled at airport for being Muslim

Customs and Border Protection officers asked Mayor Mohamed Khairullah if he met with terrorists while in Turkey with his family, he says




CBS News - Published





US, Mexico Officials to Meet About Reduction in Migrant Border Crossings

Mexican Foreign Secretary Marcelo Ebrard is set to meet Tuesday with U.S. Vice President Mike Pence and other officials to discuss Mexico's efforts to reduce the number of migrants arriving at the U.S...




WorldNews - Published





U.S. working to take in Bahamas storm victims - acting border chief

Acting Commissioner of U.S. Customs and Border Protection Mark Morgan on Monday said the country is expediting its immigration processes and deploying more resources to help storm victims from Bahamas..




Reuters - Published