Monica Lewinsky
American activist and former White House intern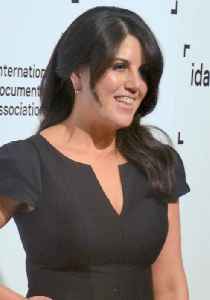 Monica Samille Lewinsky is an American activist, television personality, fashion designer, and former White House intern. President Bill Clinton admitted to having had what he called an "inappropriate relationship" with Lewinsky while she worked at the White House in 1995–1996. The affair and its repercussions became known later as the Clinton–Lewinsky scandal.


You Might Like
Linda Tripp, whose tapes exposed Clinton affair, dies at 70
WASHINGTON (AP) — Linda Tripp, whose secretly taped conversations with former White House intern Monica Lewinsky provided evidence of an affair with President Bill Clinton that led to his..
WorldNews - Published
Woman who revealed Clinton-Lewinsky scandal dies
Linda Tripp, who disclosed Bill Clinton's White House affair with Monica Lewinsky dies, aged 70.
BBC News - Published
Linda Tripp, Key Figure in Clinton Impeachment, Dies at 70
She gave over her secretly recorded conversations with Monica Lewinsky to an independent prosecutor, a pivot point in the investigation.
NYTimes.com - Published
Bill Clinton claims Monica Lewinsky affair was to 'help anxieities'
Former President Bill Clinton says his affair with Monica Lewinsky was a way of managing his...
WorldNews - Published
Also reported by •BBC News
Trump impeachment trial fight for Bolton testimony echoes Monica Lewinsky
Twenty-one years ago former White House intern Lewinsky was at the center of a tug-of-war over whether she would testify in the U.S. Senate impeachment trial of President Bill Clinton, a Democrat.
Reuters - Published
Kenneth Starr on the parallels between the Lewinsky scandal and the Russia investigation
Kenneth Starr, former independent counsel in the Clinton-era Whitewater investigation, discusses the pace and progress of Robert Mueller's Russia investigation with "Face the Nation" moderator Margaret..
CBS News - Published
Bill Clinton on fighting impeachment
In this web exclusive, former President Bill Clinton tells Mo Rocca that despite what he calls the voters' referendum against Republicans in the 1998 midterms, the GOP and House Speaker Newt Gingrich..
CBS News - Published
Bill Clinton on attempts to politicize the justice system
In this web exclusive, former President Bill Clinton talks about recent criticism, inspired by the #MeToo movement, that he should have resigned from office in the 1990s following the Monica Lewinsky..
CBS News - Published
Today in History for September 21st
Highlights of this day in history: President Bill Clinton's grand jury testimony in the Monica Lewinsky scandal aired on TV; Authors H.G. Wells and Stephen King born; 'Monday Night Football' premieres;..
USATODAY.com - Published
Next "American Crime Story" will be about Lewinsky scandal
Actors who have appeared in "American Horror Story" and "American Crime Story" will star in the new show – along with some newcomers
CBS News - Published
Lewinsky to co-produce Clinton impeachment film
The latest series of the fact-based drama will air in the run-up to 2020's presidential election. ......
WorldNews - Published
Also reported by •BBC News