Gigi Hadid
American model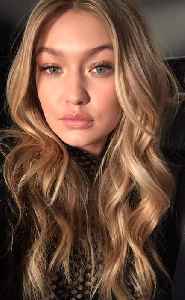 Jelena Noura "Gigi" Hadid is an American fashion model who is signed to IMG Models since 2013. In November 2014, Hadid made her debut in the Top 50 Models ranking at Models.com. In 2016, she was named International Model of the Year by the British Fashion Council. Over the span of four years, Hadid has made 35 appearances on international Vogue magazine covers.


Who Are Ladies In Taylor Swift's "Squad"?

Taylor Swift has a lot of famous friendships. Swift's friends have been referred to as her "squad." Who is in the group? Selena Gomez. Gigi Hadid. Karlie Kloss. Blake Lively. Cara Delevingne. Martha..
Credit: Wochit News Duration: 00:50
Published
You Might Like



Bella Hadid calls for racial inclusivity in fashion industry, sister Gigi Hadid shoots cover photo

Bella Hadid is calling out the lack of diversity and inclusivity in the fashion industry in the August digital issue of Elle on Monday.




USATODAY.com - Published





Gigi Hadid shares first look at growing baby bump - and reveals why she's kept pregnancy private

Gigi Hadid assured fans that she's "all good and safe," despite the fact that she's not sharing her pregnancy on social media.




USATODAY.com - Published





ShowBiz Minute: Chavez, Cooper, Hadid

Mexican protest singer Oscar Chávez dies of COVID-19 at 85; Anderson Cooper is a father; gives infant son a special name; Gigi Hadid confirms pregnancy on Jimmy Fallon's "The Tonight Show." (May..




USATODAY.com - Published





Gigi and Kendall walk Burberry show

Supermodels including Bella and Gigi Hadid, Kendall Jenner and Irina Shayk walk the Burberry runway at London Fashion Week. (Feb. 18)  




USATODAY.com - Published





Harvey Weinstein trial: how finding an impartial jury became a spectacle

A surprise appearance from Gigi Hadid, the threat of prison for an ill-judged tweet and protests have plagued jury selection A surprise appearance from a supermodel, the threat of prison for a tweet..




WorldNews - Published





Harvey Weinstein trial: Potential juror facing jail time for tweet; Gigi Hadid dismissed

Early Thursday, Gigi Hadid was cut from the list of potential jurors in Harvey Weinstein's sex crimes trial.




USATODAY.com - Published





ShowBiz Minute: Hadid, Royals, Lee

Gigi Hadid potential juror in Weinstein trial; Queen agrees to let Harry, Meghan move part time to Canada; US director Spike Lee to lead Cannes Film Festival jury. (Jan. 14)  




USATODAY.com - Published





Gigi Hadid is a potential juror on the Harvey Weinstein trial

Gigi Hadid has been revealed as one of the potential jurors for the trial of Harvey Weinstein. Yesterday, Hadid was spotted among...




WorldNews - Published





Model Gigi Hadid shows up for New York jury duty in Weinstein rape trial

More than 100 potential jurors showed up on Monday in a Manhattan courtroom for the rape trial of former movie producer Harvey Weinstein, including model Gigi Hadid.




Reuters - Published




Zayn Malik, Gigi Hadid walk arm in arm after reunion: Pictures inside

Zayn Malik and super model Gigi Hadid has taken the internet by storm with their latest pictures in which they are seen arm in arm. Reports regarding their patch-up emerged recently when they were..




WorldNews - Published





Kacey Musgraves had a crazy CMAs night with Reese Witherspoon, Gigi Hadid and Willie Nelson

Singer Kacey Musgraves had quite a night after taking home two CMA Awards on Nov. 13. She explains what happened to TV host James Corden.




USATODAY.com - Published





Growing calls to halt to execution amid "cloud of doubt"

Kim Kardashian West, Rihanna, T.I., Meek Mill, Questlove and Gigi Hadid have tweeted their support for Rodney Reed




CBS News - Published





Guilty. Could it 'change policing culture'?

Amber Guyger is found guilty of murder, and Gigi Hadid stops a runway intruder. It's Tuesday's news.




USATODAY.com - Published





Gigi Hadid stops comedian crashing Chanel runway

Hadid looked unimpressed by the comedian as she corralled her and lead her off the catwalk like a pro




CBS News - Published





Gigi Hadid saves the day on Chanel runway after woman crashes Paris Fashion Week show

After Chanel gained an unexpected extra runway model, it was supermodel Gigi Hadid to the rescue.




USATODAY.com - Published




Gigi Hadid marches gatecrasher off the Chanel catwalk

A French comedian is ushered off stage during the Chanel fashion show in Paris by Gigi Hadid.




BBC News - Published





Gigi Hadid confronts woman who crashed Chanel runway at Paris Fashion Week

Model Gigi Hadid confronted a woman who caused a stir by crashing Chanel's show at Paris Fashion Week. The French fashion house showcased creative director Virginie Viard's first ready-to-wear..




WorldNews - Published





Gigi swaps catwalk for front row

Model Gigi Hadid traded the runway for the front row as a guest at the EachxOther show in Paris. Designer Ilan Delouis chatted about his collaboration with artist Austyn Weiner after the pair linked on..




USATODAY.com - Published




Kendall, Gigi, Bella walk for Burberry

Kendall Jenner, Gigi and Bella Hadid were among the models to walk the Burberry show at London Fashion Week, (Sept. 17)




USATODAY.com - Published




Gigi and Bella Hadid walk Marc Jacobs' show

Closing NYFW, designer Marc Jacobs hired the Hadid sisters and Kaia Gerber to walk in his unusually staged show. (Sept. 12)  




USATODAY.com - Published





'Bachelorette' Hannah Brown hints relationship with Tyler Cameron fizzled: 'He's been so busy'

"Bachelorette" fans hoped Hannah Brown and Tyler Cameron could reconcile, but things appear to have fizzled amid rumors he's seeing Gigi Hadid.




USATODAY.com - Published





Gigi Hadid says she was robbed in Mykonos, sparks backlash by saying she's 'never going back'

Model Gigi Hadid sparked backlash on Instagram after telling her fans to "spend your money elsewhere" following a robbery in Mykonos.




USATODAY.com - Published





Vuitton's Paris in Bloom

Accessorized with a bouncy castle, designer Virgil Abloh's Louis Vuitton collection took in the fresh air as his floral designs were paraded around the Place Dauphine while stars like Gigi Hadid..




USATODAY.com - Published





Gigi, Bella, J-Lo own the CFDA awards red carpet

Celebrity sisters Gigi and Bella Hadid joined a gang of other models including Ashley Graham, Lily Aldridge, Barbara Palvin and recording artist Jennifer Lopez at the CFDA Awards in New York. (June..




USATODAY.com - Published