Russian Orthodox Church
Autocephalous Orthodox Christian church, headquartered in Moscow, Russia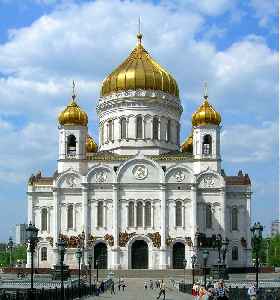 The Russian Orthodox Church, alternatively legally known as the Moscow Patriarchate, is one of the autocephalous Eastern Orthodox Christian churches. The Primate of the ROC is the Patriarch of Moscow and all Rus'. The ROC, as well as the primate thereof, officially ranks fifth in the Orthodox order of precedence, immediately below the four ancient patriarchates of the Greek Orthodox Church, those of Constantinople, Alexandria, Antioch, and Jerusalem. Since 15 October 2018, the ROC is not in communion with the Ecumenical Patriarch of Constantinople, having unilaterally severed ties in reaction to the establishment of the Orthodox Church of Ukraine, which was finalised by the Ecumenical Patriarchate on 5 January 2019.


Russian priest posted to remote village over wife's 'sin'
A Russian Orthodox priest has been posted to a remote village as punishment for his wife's participation in a beauty pageant.
BBC News - Published
Search this site and the web:
You Might Like