NITI Aayog
Indian government think tank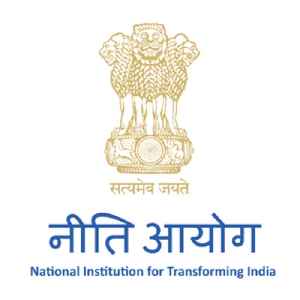 The NITI Aayog is a policy think tank of the Government of India, established with the aim to achieve sustainable development goals with cooperative federalism by fostering the involvement of State Governments of India in the economic policy-making process using a bottom-up approach. Its initiatives include "15-year road map", "7-year vision, strategy, and action plan", AMRUT, Digital India, Atal Innovation Mission, Medical Education Reform, agriculture reforms, Indices Measuring States' Performance in Health, Education and Water Management, Sub-Group of Chief Ministers on Rationalization of Centrally Sponsored Schemes, Sub-Group of Chief Ministers on Swachh Bharat Abhiyan, Sub-Group of Chief Ministers on Skill Development, Task Forces on Agriculture and up of Poverty, and Transforming India Lecture Series.


PM Modi reviews COVID situation

On July 11, Prime Minister Narendra Modi reviewed COVID-19 situation in the country in a meeting attended by Union Home Minister Amit Shah, Union Health Minister Dr Harsh Vardhan, Member of NITI Aayog,..
Credit: ANI Duration: 01:21
Published
NITI Aayog vice-chairman suggests benefits of natural farming through 'agroecology'

NITI Aayog vice-chairman Rajiv Kumar said, "In the present situation, we use lot of fertilizers, chemicals weedicides and pesticides in agriculture with this, the condition of our land is getting worse..
Credit: ANI Duration: 01:42
Published
Aarogya Setu app identified more than 3000 COVID-19 hotspots: NITI Aayog

In a press conference held in Delhi on May 26, CEO of NITI Aayog, Amitabh Kant said that Aarogya Setu app is now open source and has identified more than 3000 hotspots in 3-17 days ahead of time. Kant..
Credit: ANI Duration: 01:56
Published
COVID-19: Labourers, factories need immediate help, says NITI Aayog's Ramesh Chand

NITI (National Institution for Transforming India) Aayog member Ramesh Chand said the labourers and factories need immediate help that have been hit the most by the coronavirus-induced lockdown. While..
Credit: ANI Duration: 01:54
Published
You Might Like



Niti Aayog asks states to take up bamboo, sandalwood tree plantations to boost farmer income




IndiaTimes - Published





'Relook import of bulletproof jacket raw material from China'

Government think tank Niti Aayog has suggested that manufacturers take a relook at the raw material imported from China for making bulletproof jackets for the Army and will suggest that state-owned..




IndiaTimes - Published





NITI Aayog CEO lists ten best practices to combat Covid-19




IndiaTimes - Published





Central panel slashes Covid-19 test rate in Delhi to Rs 2,400

An expert committee set up on the directions of Union home minister Amit Shah to revise Covid-19 testing rates in Delhi has recommended lowering it to Rs 2,400 from Rs 4,500. The report of the..




IndiaTimes - Published





Hydroxychloroquine should be used as per guidelines: Govt

NITI Aayog member (health) and head of Covid-19 medical management empowered group, Dr VK Paul said the findings of studies conducted in India show "benefits of the drug outweigh risks if any" and..




IndiaTimes - Published





New Commission for migrant workers by UP govt a diversionary tactic: Akhilesh Yadav

Samajwadi Party leader and former Uttar Pradesh chief minister Akhilesh Yadav on Tuesday criticised the Uttar Pradesh government's decision to create a commission for migrant workers and called it a..




IndiaTimes - Published





Vice President M Venkaiah Naidu holds review meet to discuss drinking water, irrigation problems in Andhra's Udayagiri

Present in the meeting were NITI Aayog CEO Amitabh Kant, Parameswaran Iyer, Secretary, Drinking Water and Sanitation, and UP Singh, Secretary, Water Resources, River Development and Ganga Rejuvenation...




IndiaTimes - Published





Fight against Covid-19 will be a 'long haul', early reporting of cases key: Dr Paul

Warning that the fight against Covid-19 was going to be a "long haul", the government stressed on the need for early reporting of cases for better clinical management and to reduce deaths from the..




IndiaTimes - Published





Agri stimulus measures to help farmers fetch better prices: Niti VC Rajiv Kumar

Niti Aayog vice-chairman Rajiv Kumar on Friday said the host of measures announced by the finance minister, like the amendment of the Essential Commodities Act, will enable better price realization for..




IndiaTimes - Published





Covid-19: Rahul Gandhi takes dig at govt's preparedness

Congress leader Rahul Gandhi took a jibe at the Centre over its preparedness to fight the coronavirus on Friday, saying the "geniuses" at the Niti Aayog had predicted that the nationwide lockdown would..




IndiaTimes - Published





Covid-19: Aarogya Setu is India's curing machine, NITI Aayog CEO Amitabh Kant says




IndiaTimes - Published





MSMEs key to self-reliant India; measures to boost size, scale of such units: Niti Aayog vice chairman




IndiaTimes - Published





Aarogya Setu data only shared with government officials directly involved in Covid-19 interventions, 'highly encrypted' says Niti Aayog CEO




IndiaTimes - Published





15 districts account for 64% of Covid-19 cases, says Niti Aayog CEO

Fifteen districts are contributing 64% of the Covid-19 cases in the country and out of these five account for 50% of the cases, according to Niti Aayog CEO Amitabh Kant. These five districts include..




IndiaTimes - Published





Aarogya Setu app alerted govt to 300 'emerging hotspots' which could have been missed out: Niti Aayog CEO

Aarogya Setu, the government's mobile application developed to track Covid-19 patients, has emerged as a powerful tool to curb the spread of the virus as it helped alert authorities about more than 650..




IndiaTimes - Published





Rise in coronavirus cases expected to stabilise anytime soon: Niti Aayog member VK Paul

The continuous rise in the number of people testing positive for coronavirus is expected to stabilise anytime soon, Niti Aayog member V K Paul said on Sunday. He also said the rationale behind the..




IndiaTimes - Published





Covid-19: Delhi, Mumbai, Ahmedabad among 15 'high case load' places, says NITI Aayog CEO Amitabh Kant




IndiaTimes - Published





NITI Aayog building sealed for two days after senior officer tests positive for COVID-19

Recently, the Aviation Ministry headquarters was also sealed after one of its employees who had attended office on April 15 tested positive for COVID-19.




DNA - Published

Also reported by •IndiaTimes


'Lockdown working, recovery rate up': Centre says COVID-19 outbreak in control in India

Dr VK Paul, Member of NITI Aayog and Chairman of Empowered Group 1 said there is no need to fear of any hidden spike in cases and that the disease is in control.




DNA - Published





HC to centre: Reply if NITI Aayog's letter for involving CSOs and NGOs binding or not




IndiaTimes - Published





Aarogya Setu becomes world's fastest app to reach 5 crore downloads: Niti Aayog CEO




IndiaTimes - Published





PM Modi chairs meeting of Empowered Groups to tackle COVID-19 crisis

Out of the Empowered Groups, nine are headed by Secretary level officers, one by a member of NITI Aayog, one by CEO of NITI Aayog.




DNA - Published





India well prepared, coronavirus impact will be 'much smaller and manageable': Niti Aayog member

The impact of the coronavirus outbreak in India will be "much smaller and manageable" as the big decision of nationwide lockdown and travel restrictions were put in place much before other countries, a..




IndiaTimes - Published





Govt looks for volunteer doctors to fight Covid-19 outbreak

The government is looking for volunteer doctors to fight the Covid-19 outbreak which has infected over 600 people in the country and has taken more than 16,000 lives across the globe. In a statement..




IndiaTimes - Published





'Janata curfew will deal a blow to coronavirus transmission chain'

Sunday's countrywide social distancing through 'janata curfew' will be a blow to the transmission chain of coronavirus and check further spread in case it enters Stage 3 with community..




IndiaTimes - Published





Niti Aayog seeks to change lowest bidder norm for government contracts




IndiaTimes - Published





Former Niti Aayog CEO, others get bail in INX Media case

Special Judge Ajay Kumar Kuhar also granted bail to former section officer of the Foreign Investment Promotion Board (FIPB) unit in the finance ministry Ajit Kumar Dung Dung, then under-secretary in..




IndiaTimes - Published





Delhi court grants bail to ex-Niti Aayog CEO, others in INX Media case




IndiaTimes - Published





'Apologies if I've hurt Kashmiris' feelings': NITI Aayog's VK Saraswat says his remark was 'taken out of context'

This comes a day after controversies erupted around Saraswat's comment that the internet was being used in Kashmir only to watch 'dirty films'.




DNA - Published





Nobody gives Niti Aayog member the right to utter nonsense against us: KCCI on 'dirty films' remark

The Kashmir Chamber of Commerce and Industry (KCCI) – an apex trade body - on Sunday condemned Niti Aayog member V K Saraswat's reported remarks that the Union Territory's economy was not..




IndiaTimes - Published





Internet used to watch dirty films in J&K: NITI Aayog member justifies clampdown on services

He also stated that politicians want to recreate protests occurring on the roads of Delhi in Kashmir.




DNA - Published





Ahead of Union Budget, PM Modi to meet top economists on Thursday

Ahead of the Union Budget, Prime Minister Narendra Modi will meet with the top economists of the country at Niti Aayog on Thursday as part of the annual exercise done by Niti Aayog before the budget...




IndiaTimes - Published





INX Media case: Former NITI Aayog CEO Sindhushree Khullar, others move bail plea before Delhi court

Former OSD to finance minister Pradeep Kumar Bagga and former FIPB director Prabodh Saxena also moved bail pleas in the case. The matter is likely to be taken by Special Judge Ajay Kumar Kuhar shortly..




IndiaTimes - Published





Niti Aayog proposes 'strategic purchasing' of services, to reduce health expenditure




IndiaTimes - Published





NITI Aayog releases India Innovation Index 2019; Karnataka tops list

Delhi took up the top spot among the Union Territories and Sikkim proved to be the premier among the north-eastern states in the list. Check out the entire index here.




DNA - Published





Karnataka tops innovation ranking of states, best investment destination: Niti Aayog

Karnataka has topped the first-ever innovation ranking of states, followed by Tamil Nadu and Maharasthra, a Niti Aayog sponsored report said on Thursday. Bihar, Jharkhand and Chhattisgarh, on the other..




IndiaTimes - Published





When it comes to good education, looks alone don't matter

Niti Aayog's School Education Quality Index shows just how inconsistent the quality of a government school education is across the country. While Kerala and Tamil Nadu remained top overall performers..




IndiaTimes - Published





Enrolment at elementary level in majority of states/UTs declining, shows Niti Aayog's school education index

Eight of 20 large states also show a dip in mainstreaming of out-of-school schoolchildren by over 10 percentage points from the base year of 2015-16. Mainstreaming here implies bringing these children..




IndiaTimes - Published





Prosecution of former Niti CEO, three others okayed in INX case




IndiaTimes - Published





Emergency dept in all medical colleges by 2022

With an aim to improve trauma care in the country, the government has decided to make it mandatory for all medical colleges to have emergency medicine department by 2022. "We want to develop a cadre of..




IndiaTimes - Published





INX Media case: CBI confronts Chidambaram with former NITI Aayog CEO Khullar




IndiaTimes - Published





Riding on NITI Aayog's Rajiv Kumar comments, Congress attacks govt

As the Congress' social media cell took to splash it, Congress spokesperson Manish Tewari in a news conference attacked the government claiming that more than three crore jobs were at risk.




DNA - Published





Niti Aayog doesn't have authority to decide on EV deadline, my ministry will have final word: Nitin Gadkari




IndiaTimes - Published





India will achieve more than 8% growth from FY 2020-21: NITI Aayog Vice Chairman Rajiv Kumar

On the issue of job creation, The NITI Aayog Vice Chairman emphasised that a very large number of jobs have been generated in the country in the last five years.




DNA - Published





No plan to restore special category status to states: Government

There is no plan to restore special category status -- which has been scrapped by think- tank Niti Aayog -- to any state in the country, the government informed the Rajya Sabha on Thursday. Many states..




IndiaTimes - Published





Electric vehicles a huge opportunity for India: Kant

The electric vehicle segment is a big opportunity for Indian manufactures and they should look at not only producing such models for domestic market but also exports, Niti Aayog chief executive officer..




IndiaTimes - Published





NITI Aayog should prepare plan for transformation of every district: Yogi Adityanath

NITI Aayog should prepare a plan for the transformation of every district on the lines of its plan for the eight aspirational districts in Uttar Pradesh, state Chief Minister Yogi Adityanath said at a..




DNA - Published





Govt to induct 40 private sector specialists at crucial mid-level of bureaucratic hierarchy

Niti Aayog, in its three-year action agenda, and the sectoral group of secretaries on governance, in its report submitted in February, 2017, have recommended for induction of personnel in the middle..




IndiaTimes - Published





Water a concern but not as big as Niti said: Gajendra Singh Shekhawat

The government's think tank Niti Aayog had noted in its report that 21 major cities, including Delhi, Bangalore and Hyderabad, were expected to "run out of groundwater as soon as 2020, affecting..




IndiaTimes - Published





Water situation matter of concern but not as alarming as depicted by Niti Aayog: Union minister Shekhawat




IndiaTimes - Published