Dallas
City in Texas, United States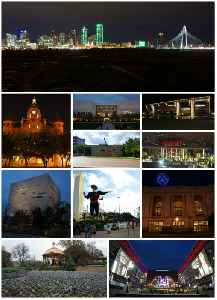 Dallas, officially the City of Dallas, is a city in the U.S. state of Texas and the seat of Dallas County, with portions extending into Collin, Denton, Kaufman and Rockwall counties. With an estimated 2017 population of 1,341,075, it is the ninth most-populous city in the U.S. and third in Texas after Houston and San Antonio. It is also the eighteenth most-populous city in North America as of 2015. Located in North Texas, the city of Dallas is the main core of the largest metropolitan area in the Southern United States and the largest inland metropolitan area in the U.S. that lacks any navigable link to the sea. It is the most populous city in the Dallas–Fort Worth metroplex, the fourth-largest metropolitan area in the country at 7.3 million people as of 2017. The city's combined statistical area is the seventh-largest in the U.S. as of 2017, with 7,846,293 residents.


Minnesota signs 6-10 center Sam Freeman of Dallas
Minnesota signs 6-10 center Sam Freeman of Dallas, giving Gophers pair of incoming freshmen
USATODAY.com - Published
Texas weather: 360 Dallas flights canceled and counting as storms roll in
More than 70 million people are at risk for severe storms between now and Friday because of a multi-day severe thunderstorm threat.
USATODAY.com - Published
HHS Looking Into New Shelters For Some Migrant Children
A spokesperson said vacant properties are being considered in parts of Texas, Georgia and Arizona.
Credit: Newsy Studio Duration: 01:09Published
Everything's bigger in Texas, including hailstones
Alto, Texas residents are still talking about a storm Saturday that brought hailstones the size of baseballs to the region. Christian Randall caught it on video. Rough Cut (no reporter narration).
Credit: Reuters Studio Duration: 00:40Published
Plane forced to emergency land in Dallas after cockpit screens go blank
An aeroplane was forced to make an emergency landing after screens used by the pilot went blank mid-flight. The aircraft, which was scheduled to fly from Knoxville to Houston in the US, was forced to..
Credit: PA - Press Association STUDIO Duration: 00:45Published
Dallas milk tanker crash caught on video
The driver of a milk tanker truck that careened off an interstate overpass in Dallas on Tuesday, faces charges of Failure to Maintain Proper Control after allegedly falling asleep at the wheel. Rough..
Credit: Reuters Studio Duration: 00:35Published
Former NBA All-Star Porzingis accused of rape: attorney
An attorney for Kristaps Porzingis on Sunday confirmed the seven-foot-three professional basketball player had been accused of rape, but said the sex was consensual and the accuser was trying to extort..
Credit: Reuters Studio Duration: 00:59Published
Kamala Puts Beto On Notice With Trip To Texas
Kamala is coming after Beto — in his own backyard. Hours before the former El Paso congressman unveiled his presidential bid, Harris announced she was heading to Texas. The visit an unmistakable..
Credit: Wochit News Duration: 00:45Published
'Immigration Is a Blessing.' George W. Bush Welcomes New U.S. Citizens in Naturalization Ceremony
Former President George W. Bush welcomed new U.S. citizens during a naturalization ceremony in Dallas, saying that "amid all the complications of policy, may we never forget that immigration is a..
Credit: Time Duration: 01:12Published
Police: Suspect was offered $200 to beat transgender woman
Dallas police say Edward Thomas and others beat the Dallas transgender woman as others stood by and recorded video
CBS News - Published
Texas community hit by 2 tornadoes
An outbreak of tornadoes and severe thunderstorms have killed at least nine people. Two tornadoes hit Alto, a tiny town southeast of Dallas, Texas. Mireya Villarreal reports.
CBS News - Published
1 dead after suspected tornado strikes East Texas
At least one person was killed and about two dozen others were injured after a suspected tornado struck the Caddo Mounds State Historic Site in East Texas during a Native American cultural event in..
USATODAY.com - Published
Traffic dispute leads to brutal beating of transgender woman by 'mob.' One suspect arrested, Dallas police say
'Known suspects' using homophobic slurs then beat her in an incident described by Dallas Mayor Mike Rawlings as 'mob violence.'
USATODAY.com - Published
Arrest in brutal beating in front of crowd of Dallas transgender woman
Police calling attack in broad daylight in front of crowd a hate crime; it was caught on video
CBS News - Published
Dallas police investigating assault of transgender woman as potential hate crime
A transgender woman was assaulted Friday and the Dallas Police Department is asking for the public's help in identifying the suspects.
USATODAY.com - Published
Spokesman For Hacker Group Anonymous Arrested In Texas
Officials said Thursday a self-professed spokesman of the computer hacker group Anonymous was arrested by authorities in Dallas, Reuters reported. "He was arrested and brought in for booking about 11..
WorldNews - Published
You Might Like