In vitro fertilisation
Assisted reproductive technology procedure (ART) in which a women's eggs are fertilized by sperm in a laboratory instead of inside the fallopian tube (in –vivo)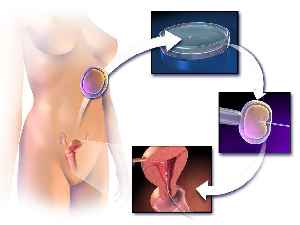 In-Vitro Fertilization (IVF) is a process of fertilization where an egg is combined with sperm outside the body, in vitro. The process involves monitoring and stimulating a woman's ovulatory process, removing an ovum or ova from the woman's ovaries and letting sperm fertilize them in a liquid in a laboratory. After the fertilized egg (zygote) undergoes embryo culture for 2–6 days, it is implanted in the same or another woman's uterus, with the intention of establishing a successful pregnancy.


Dutch doctor 'fathered 49 children' in IVF scandal
A deceased Dutch doctor mired in a fertility scandal fathered at least 49 children, an organisation representing parents and children born through IVF at his now-closed clinic said today. Jan Karbaat,..
WorldNews - Published
Search this site and the web:
You Might Like