San Diego
City in California, United States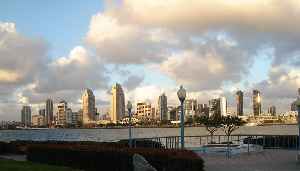 San Diego is a city in the U.S. state of California. It is in San Diego County, on the coast of the Pacific Ocean in Southern California, approximately 120 miles (190 km) south of Los Angeles and immediately adjacent to the border with Mexico.


Navy SEALs Say They Were Warned Against Reporting Chief For Iran War Crimes
Navy SEAL commandos from Team 7's Alpha Platoon said they had seen their highly decorated platoon chief commit shocking acts in Iraq, The New York Times reports. The atrocities included stabbing a..
WorldNews - Published
San Diego church-goers tackle woman holding baby, waving gun
Church-goers tackled a woman who held a 10-month-old baby, waved a gun and threatened to blow up the building at an Easter Sunday service in San Diego, leading to her arrest, police said.
Reuters - Published
Going back in time: Warehouse takes Alzheimer's patients back to 1950s
'Town Square' in San Diego comes complete with a 1959 black Ford Thunderbird parked outside an old school diner, a cinema advertising blockbusters such as A Streetcar Named Desire and The Greatest Show..
Credit: euronews (in English) Duration: 00:20Published
Churchgoers Tackle Woman
According to Newser, congregants at a San Diego church jumped a woman they say arrived with a baby at Sunday services and started making threats.
Credit: Wochit News Duration: 00:45Published
Bernie Sanders Releases 10 Years Of Tax Returns
WASHINGTON (Reuters) - U.S. Democratic presidential contender Bernie Sanders released 10 years of tax returns on Monday, providing details of his growing status as a millionaire fueled by a sharp jump..
Credit: Wochit News Duration: 00:52Published
Trump Administration Appeals Judge's Asylum Policy Ruling
A judge had blocked the administration's policy of sending some asylum-seekers to Mexico to wait out their immigration hearings.
Credit: Newsy Studio Duration: 01:14Published
Federal Judge Blocks Trump Administration Asylum Policy
It's part of a lawsuit filed over the U.S. policy of forcing some asylum-seekers to wait out their immigration hearings in Mexico.
Credit: Newsy Studio Duration: 00:56Published
Navy SEAL May Move To 'Less Restrictive' Confinement
The Chief Special Warfare Operator was charged for violations of the Uniform Code of Military Justice.
Credit: Newsy Studio Duration: 01:21Published
Reduce, Reuse, Relocate? Mexicans Appropriate Border Wall Barbed Wire To Protect Their Own Homes
Last fall, US troops and contractors installed razor wire along the border wall between Tijuana and San Diego. The voluminous bundles of wire has been criticized as security theater, with little..
Credit: Wochit News Duration: 00:44Published
Why Is the US Returning Some Asylum-Seekers to Mexico?
The U.S. has sent more than 100 asylum-seekers to Mexico to ensure that they don't "disappear into the United States." But critics say it's unlawful.
Credit: Newsy Studio Duration: 02:18Published
Prototypes for Trump border wall demolished near Mexico
Demolition crews near the border between Mexico and the U.S. started knocking down prototypes for U.S. President Donald Trump's proposed wall. Rough cut - no reporter narration.
Credit: Reuters Studio Duration: 01:07Published
Reds beat Padres 4-2, extend winning streak to 3 games
Luis Castillo matched a season high with nine strikeouts and Jesse Winker added a pinch-hit homer as the Cincinnati Reds beat San Diego 4-2 Saturday and extended the Padres' losing streak to six..
USATODAY.com - Published
Apple, allies seek billions in U.S. trial testing Qualcomm's business model
Apple Inc and its allies on Monday will kick off a jury trial against chip supplier Qualcomm Inc in San Diego, alleging that Qualcomm engaged in illegal patent licensing practices and seeking up to $27..
Reuters - Published
Search this site and the web:
You Might Like