Singapore
Country in Southeast Asia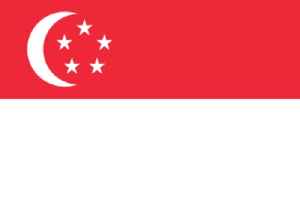 Singapore, officially the Republic of Singapore, is a sovereign island city-state in maritime Southeast Asia. It lies about one degree of latitude north of the equator, off the southern tip of the Malay Peninsula, bordering the Straits of Malacca to the west, the Riau Islands to the south, and the South China Sea to the east. The country's territory is composed of one main island, 63 satellite islands and islets, and one outlying islet, the combined area of which has increased by 25% since the country's independence as a result of extensive land reclamation projects. It has the second greatest population density in the world. The country has almost 5.7 million residents, 61% (3.4 million) of whom are Singaporean citizens. There are four official languages of Singapore: English, Malay, Chinese, and Tamil; with English being the lingua franca. Multiracialism is enshrined in the constitution, and continues to shape national policies in education, housing, and politics.


'Dinosaurs' roam a new Jurassic Mile in Singapore that runs from the city from the airport

Over 20 models from nine different prehistoric species are installed along the kilometer-long path, including bright blue velociraptors climbing on a buggy, a baby dinosaur hatching from an egg, and a..
Credit: euronews (in English) Duration: 00:50
Published
Flight of fancy: Singapore's dining experience that won't take off


Credit: FRANCE 24 English Duration: 01:26
Published
'Dinosaurs' are giving users a roaring good time on new cycling path in Singapore

Cyclists and pedestrians stop to pose with a giant rampaging Tyrannosaurus Rex.View on euronews
Credit: euronews (in English) Duration: 00:50
Published
Impossible Foods launches in Asian grocery stores

Impossible Foods' faux beef burgers will be sold in grocery stores in Hong Kong and Singapore starting Tuesday, the company said as it vies to bolster its presence in Asia and before entering the..
Credit: Reuters Studio Duration: 01:06
Published
Dyson sells Singapore's priciest penthouse

British billionaire James Dyson, the inventor of the bagless vacuum cleaner, is selling his three-storey Singapore penthouse about a year after buying it, and he's reportedly taking a big loss on the..
Credit: Reuters Studio Duration: 01:04
Published
Asia-Pacific countries begin to ease travel bans

Asia-Pacific countries including Singapore, Australia and Japan are gradually easing some international travel restrictions as coronavirus cases slow. Ciara Lee reports
Credit: Reuters Studio Duration: 01:34
Published
U.S. seeing 'clearly a resurgence' of coronavirus

[NFA] The U.S. death toll from the coronavirus topped 213,000 and former FDA commissioner Scott Gottlieb said that the U.S. is in for a "difficult fall and winter." This report produced by Zachary..
Credit: Reuters - Politics Duration: 01:33
Published
Why Singapore's COVID death rate is world's lowest

Singapore has the lowest coronavirus case fatality count globally, with just 27 deaths among the more than 57,000 people who have been infected with COVID-19 in the Southeast Asian island. So why is..
Credit: Reuters Studio Duration: 02:09
Published
Pest or pet? Ant farms fascinate Singaporeans

Most people just want to get rid of them, but ants have become the primary business for an entrepreneur who is selling them as pets in Singapore.
Credit: Reuters Studio Duration: 01:26
Published
Apple Opening 'Floating' Store In Singapore

Apple Opening 'Floating' Store In Singapore
Credit: Wochit News Duration: 00:27
Published
Singapore's concert for the dead goes online

The studio lights dim, the band begins to strum, and it's showtime for a Singapore getai concert - a popular form of entertainment in southeast Asia that features songs, skits and over-the-top costumes..
Credit: Reuters Studio Duration: 01:59
Published
You Might Like



Singapore's biggest bank DBS is launching a crypto exchange

DBS, Singapore's biggest bank, is launching a fiat-to-cryptocurrency exchange, The Block has learned. Dubbed "DBS Digital Exchange," the trading platform would allow users to trade in four crypto..




WorldNews - Published





Why China loves durian, the smelly fruit popular in Thailand, Singapore and Malaysia but banned ...

Arguably the most prized of all produce in Southeast Asia, the durians is...




WorldNews - Published





Singapore to New York: The world's longest flight will restart in November

The world's longest flight is returning to the skies, and this time it's going to fly even further. Singapore Airlines has announced the resumption of flights from its home base at Changi Airport to..




WorldNews - Published





One of the world's longest flights, New York to Singapore, to return. Hopeful sign for air travel?

The flight could make travel easier for Americans on their way to Asia -- if they can find a country that will let them enter




USATODAY.com - Published





Inventor Dyson to sell Singapore penthouse at loss

The British tycoon has reportedly accepted a $62m offer for the massive penthouse one year after buying it.




BBC News - Published





League of Legends: Wild Rift's beta starts soon, but it won't hit the US until next year

Riot is taking Wild Rift, the mobile version of League of Legends, into open beta on October 27th. The developer announced the news today, noting that it will first be available in Indonesia, Japan,..




The Verge - Published





Trump Seals Kim Jong Un Bromance with Shoutout Despite Mega-Missile Show

SEOUL—Let the missiles fall where they may, President Trump is still smitten by North Korea's Kim Jong Un. Trump, who famously said he and Kim "fell in love" in their summit in Singapore in..




WorldNews - Published





China opens up finance sector to foreign investors

The Chinese financial regulators recently approved several offshore finance institutions to set up new business entities in China as part of the plans to open up financial sector to foreign investors...




WorldNews - Published





Singapore government allows flexible work hours for employees working from office

Singapore, October 9 (ANI): Singapore government has allowed flexible hours for people who need to be in the office should be considered as public transport passenger volume climbs with the easing of..




WorldNews - Published





Singapore PM's defamation case against blogger begins

Hearings have begun in Singapore Prime Minister Lee Hsien Loong's defamation suit against a blogger who shared an article about him on Facebook. Lee sued Leong Sze Hian for posting a link to a..




WorldNews - Published





Singapore offers 'pandemic baby bonus' to boost births

The country, which has one of the lowest birth rates in the world, is paying parents to have babies.




BBC News - Published





Coronavirus: 'World's best airport' warns of prolonged crisis

Singapore's Changi Airport says "battle with Covid-19 has just begun" as it paints bleak picture.




BBC News - Published





Covid: NME owner says pandemic impact wasn't all negative

Singaporean digital music company BandLab says it sees opportunities and challenges in the Covid-19 crisis.




BBC News - Published





Singaporean 'ant-repreneur' sells tiny six-legged pets

1 of 9 Singapore: Ants scurry around in transparent boxes stacked outside a Singaporean store that is tapping into an unlikely but growing local trend of keeping the six-legged creatures as pets. John..




WorldNews - Published





Singapore: Drop police report against independent media outlet New Naratif

This joint statement urges the government of Singapore to order the Elections Department (ELD) to immediately withdraw its police report against the independent online media outlet New Naratif, and to..




WorldNews - Published





Singapore firm pushes ahead with Newcastle United bid

Bellagraph Nova says it's still pursuing the Premier League club despite recent criticism.




BBC News - Published





New Zealanders will soon be able to travel to Australia under a one-way travel bubble

The announcement by Prime Minister Scott Morrison comes as the Australian government discusses the possibility of a travel bubble with Singapore.




SBS - Published





Singapore in world first for facial verification

Both facial recognition and facial verification depend on scanning a subject's face, and matching it with an image in an existing database to establish their identity. The key difference is that..




WorldNews - Published

Also reported by •BBC News


Singapore's entrepreneurs have often had to overcome family pressure — but that may be slowly changing

Economic uncertainty following the coronavirus, coupled with government support, may be helping Singaporean entrepreneurs overcome a more personal problem: family objections to a less stable career..




WorldNews - Published





Singapore-based firm offers to invest in film academy for new film city in Uttar Pradesh

The proposal was made during the interaction of Chief Minister Yogi Adityanath with a group of filmmakers and artists over the new film city that will be developed along the Yamuna Expressway near..




DNA - Published





Why the case of a maid who battled a millionaire has gripped Singapore

The case described by some as a "David versus Goliath battle" has stirred up debate in Singapore.




BBC News - Published





Singapore, HK No. 1 for dodgy bank transactions

REPORT: The Monetary Authority of Singapore said that it is 'closely studying' the revelations, which hammered bank shares, sending DBS' loss for the year to 24 percent Bloomberg Singapore and..




WorldNews - Published





Indian citizenship granted to 2,120 Pakistanis, 188 Afghans, 99 Bangladeshis in last 4 years

Apart from 2,120 Pakistani, 188 Afghanistan and 99 Bangladeshi nationals, as many as 60 American, 58 Sri Lankan, 31 Nepali, 20 British, 19 Malaysian, 14 Canadian and 13 Singapore nationals were also..




IndiaTimes - Published





Singapore rolls out Covid tracing tokens

Thousands of devices are being distributed to vulnerable groups such as the elderly.




BBC News - Published





Asia defies Wall Street weakness but economy, election worries cap gains

SINGAPORE/NEW YORK - Asian stocks inched up on Friday, despite Wall Street declines, but struggled to make deeper gains as worries about a faltering economic recovery kept investors to the sidelines or..




WorldNews - Published





Covid-19 Singapore: A 'pandemic of inequality' exposed

Life has returned to normal for many in Singapore, but one group of people still remain in lockdown.




BBC News - Published





Indian cities drop in Global Smart City Index; Singapore on top

Four Indian cities — New Delhi, Mumbai, Hyderabad, and Bengaluru — witnessed a significant drop in their rankings in the global listing of smart cities that was topped by Singapore. In the 2020..




IndiaTimes - Published





Volocopter now accepting reservations for flights in its electric air taxi — but not until 2023 at the earliest

Photo by Sean O'Kane / The Verge Volocopter, the German aviation startup, is now accepting reservations for flights on its 18-rotor electric aircraft. This is the first time members of the public..




The Verge - Published





Eight of 10 imported Covid-19 cases in Singapore came from India




IndiaTimes - Published





To counter China, India inks military pact with Japan

Japan has now become the sixth country, after the US, France, Australia, South Korea and Singapore, with which India has such an agreement to enable military forces to share logistics to support each..




IndiaTimes - Published





Singapore Airlines to shed 4,300 jobs due to virus

SINGAPORE: Singapore Airlines said Thursday it was cutting about 4,300 jobs - about 20 percent of the workforce - due to the devastating impact of the coronavirus, and warned any recovery would be..




WorldNews - Published





President Ram Nath Kovind accepts letter of credence from Singapore's High Commissioner to India

President Ram Nath Kovind also thanked Singapore for its strong support to India at multi-lateral forums, including the UN Security Council.




DNA - Published





Singapore: The mums asking suicidal teens to 'please stay'

Singaporean mothers who lost children to suicide have formed a group to help other at-risk youths.




BBC News - Published





Apple shares a look inside its first ever 'floating' store

Apple's latest retail store has drawn comparisons to a floating lantern, with a unique design incorporating a glass dome that sits directly on the water of Singapore's Marina Bay. We first saw a..




The Verge - Published





Kim Jong-un 'hit on' Sarah Huckabee Sanders during summit with Donald Trump

North Korean dictator Kim Jong-un "hit on" one of US President Donald Trump's senior staff members during their diplomatic summit in Singapore in 2018.This important piece of information has been..




New Zealand Herald - Published





Now, SG declines nod to prosecute Swara Bhasker

Solicitor general Tushar Mehta on Wednesday refused permission to one Usha Shetty to file a petition in the Supreme Court seeking initiation of contempt of court proceedings against actor Swara Bhasker..




IndiaTimes - Published





'During lockdown my son was super stuck to me'

In Singapore, single mum Coco says Covid-19 has been hard for her and five-year-old son Jacob.




BBC News - Published





This giant glowing orb is the world's first floating Apple Store

Photo by Roslan Rahman/AFP via Getty Images Apple's worldwide retail network may be struggling during the coronavirus pandemic, but that hasn't stopped the company from indulging in its penchant..




The Verge - Published





RS bypoll on Sep 11 for seat vacated following Amar Singh's death

The Rajya Sabha bypoll to fill the seat vacated due to the death of former Samajwadi Party leader Amar Singh will be held on September 11, the Election Commission announced Friday. Singh had died in a..




IndiaTimes - Published





Chennai: Customs bust new modus operandi, British currency worth Rs 38 lakh seized from steel plates

In what is said to be a never-seen-before modus operandi, foreign currency worth Rs 38.64 lakh was seized from steel plates that were welded together. The plates were in a courier consignment that was..




DNA - Published





Foreign Office condemns lashing of British man serving drug sentence in Singapore prison

Ye Ming Yuen first arrested in 2016 over alleged drug trafficking involving quantities of cannabis and crystal meth




Independent - Published





China grants its first COVID-19 vaccine patent: Singaporean newspaper

SINGAPORE, Aug. 18 (Xinhua) -- The Chinese government has granted China's first COVID-19 vaccine patent, Singapore's...




WorldNews - Published





Infectious COVID-19 mutation may be 'a good thing', says disease expert

SINGAPORE (Reuters) - A mutation of the novel coronavirus increasingly common throughout Europe and recently detected in Malaysia may be more infectious but appears less deadly, according to a..




WorldNews - Published





Singapore boosts stimulus measures by US$8 billion

Bloomberg Singaporean Deputy Prime Minister Heng Swee Keat (王瑞傑) yesterday announced additional support measures of S$8 billion (US$5.84 billion) to cushion the blow from the COVID-19 pandemic,..




WorldNews - Published





Shane Todd's brothers discuss Singapore inquest

Upon their return from Singapore, Chet, John and Dylan Todd talk with "48 Hours" correspondent Peter Van Sant about their impressions of the court proceedings into their brother's death.




CBS News - Published





Shane Todd's brothers react to news of his death

In an emotional interview with "48 Hours" correspondent Peter Van Sant, Chet, John and Dylan Todd recall the moment they learned their older brother, Shane, died in Singapore.




CBS News - Published





iPad exclusive: A riverboat tour through Singapore

This week, "48 Hours" travels to Singapore to investigate the death of American engineer Shane Todd. Michael Goodwin, Todd's friend and neighbor in Singapore, shows us the sights and sounds of the..




CBS News - Published





Singapore crushes massive ivory haul on eve of World Elephant Day

Shares Singapore began destroying nine tons of seized ivory Tuesday, the largest such action globally in recent years, including contraband tusks that came from more than 300 African elephants. The..




WorldNews - Published





Singapore's recession worse than first thought as virus slams Asia's exporters

SINGAPORE- Singapore's recession was deeper than first estimated in the second quarter as the coronavirus pandemic dealt a major blow to Asia's trade-reliant economies. The city-state has been hit..




WorldNews - Published





TikTok and privacy: What's the problem? Perhaps the video-sharing app gathers too much data

TikTok says it keeps users data in the United States and Singapore and won't hand it over to the Chinese government.




USATODAY.com - Published