The Championships, Wimbledon
Tennis tournament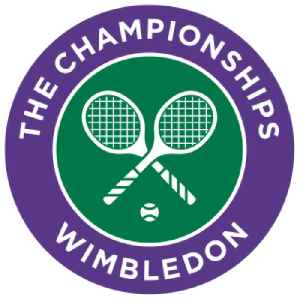 The Championships, Wimbledon, commonly known simply as Wimbledon or The Championships, is the oldest tennis tournament in the world and is widely regarded as the most prestigious. It has been held at the All England Club in Wimbledon, London, since 1877 and is played on outdoor grass courts, and since 2009 with a retractable roof over Centre Court, and since 2019, over No. 1 Court.


Serena withdraws from French Open

Serena Williams' search for a record-equaling 24th Grand Slam title will extend into another year after an Achilles tendon injury forced her to withdraw from the French Open on Wednesday. Freddie..
Credit: Reuters - Politics Duration: 01:09
Published
Sadiq Khan concerned by government's testing system

Mayor of London Sadiq Khan has expressed concern over the government's current testing system. Speaking at an event at Wimbledon, the mayor said that the government needs to "at last get a grip..
Credit: ODN Duration: 00:43
Published
You Might Like



Wimbledon plans for return in 2021, with or without fans

The Wimbledon tennis tournament is planning its comeback in 2021. Wimbledon was the only Grand Slam tournament canceled this year because of the coronavirus...




WorldNews - Published





Simona Halep opts out of playing at US Open

Wimbledon champion Simona Halep will skip the US Open, saying on Monday that she is putting her health first and prefers to stay in Europe amid the coronavirus pandemic. Halep, a former No 1-ranked..




WorldNews - Published





Halep becomes sixth woman in top 10 to pull out of US Open

World number two and reigning Wimbledon champion Simona Halep is the latest top 10 women's player to withdraw from the US Open.




BBC News - Published





Wimbledon, Silverstone & Cricket World Cup: 'Afterwards, all you wanted to do was play, watch and talk sport'

BBC Sport chief sports writer Tom Fordyce relives 14 July 2019, when the Wimbledon's men's final ran alongside the men's Cricket World Cup final at Lord's.




BBC News - Published





Wimbledon: Can Boris Becker beat Tim Henman in the Wimbledon wheelie bin challenge?

Wimbledon legend Boris Becker is the last person who can stop Tim Henman winning the Wimbledon wheelie bin challenge. Can the German rise to the challenge?




BBC News - Published





Halep 'little bit worried' about playing at US Open

Wimbledon champion Simona Halep is a "little bit worried" about playing the US Open, and is yet to decide if she will.




BBC News - Published





Vote for your favourite Wimbledon's women's final

There will be no Wimbledon finals this year so it's time for some nostalgia - vote for your favourite women's singles final.




BBC News - Published





Federer 'missing' Wimbledon but aiming to be back next year

PARIS: Roger Federer on Monday said he is "missing" Wimbledon after the grass-court Grand Slam was cancelled, but hopes to play the tournament in 2021. The 38-year-old, who has undergone two knee..




WorldNews - Published





Quiz: Can you name every Wimbledon men's champion?

Since the Open era began in 1968, 21 men have won the Wimbledon singles title. Can you name them all?




BBC News - Published





Wimbledon: British tennis 'financially stable' despite cancellation - Richard Lewis

The finances of British tennis "won't be severely impacted" by the cancellation of Wimbledon, says chief executive Richard Lewis.




BBC News - Published





'I don't remember when I was last in the UK for weeks outside Wimbledon'

How British tennis player Jay Clarke is keeping in shape during the coronavirus lockdown.




BBC News - Published





Coco Gauff says she had depression a year before stunning Wimbledon run

Coco Gauff says she had depression because of the "pressure that she needed to do well" little more than a year before her stunning Wimbledon run.




BBC News - Published





Factbox: Reaction to cancellation of Wimbledon due to coronavirus

The Wimbledon championships were canceled for the first time since the Second World War on Wednesday as the coronavirus pandemic struck another major sports event off the calendar to wipe out the..




Reuters - Published





Wimbledon canceled for the first time since World War Two

The Wimbledon championships were canceled for the first time since World War Two on Wednesday as the coronavirus pandemic struck another blue-riband sports event off the calendar and wiped out the..




Reuters - Published

Also reported by •USATODAY.com


Wimbledon canceled due to coronavirus pandemic

The Wimbledon tennis championships were canceled for the first time since World War Two as the coronavirus pandemic wiped another blue-riband sports event off the calendar on Wednesday.




Reuters - Published




Wimbledon cancelled due to coronavirus - where does that leave tennis in 2020?

Wimbledon is cancelled for 2020 due to the coronavirus pandemic - so where does that leave tennis for the rest of the year?




BBC News - Published




Wimbledon cancellation seems inevitable as emergency meetings held

A series of emergency meetings is under way to decide whether Wimbledon can go ahead this year - with cancellation looking inevitable.




BBC News - Published




German official: Wimbledon will be canceled this week — the first time since World War II

According to German tennis official Dirk Hordorff, Wimbledon will not take place this year as a result of the coronavirus pandemic.




USATODAY.com - Published





'I'm saying goodbye': Maria Sharapova quits tennis after glittering and controversial career

Former world No.1 Maria Sharapova has revealed she is quitting tennis. The five-time grand slam champion - who won Wimbledon in 2004 as a 17-year-old - has struggled with chronic shoulder problems and..




WorldNews - Published





Greatest moments of the decade: 'I was there - Murray wins Wimbledon'

Jonathan Overend looks back on the day Andy Murray ended Britain's 77-year wait for a Wimbledon men's singles champion.




BBC News - Published





Former No. 4 Tomas Berdych announces retirement from tennis

Associated Press — Former Wimbledon runner-up Tomas Berdych announced his retirement from tennis on Saturday after a 17-year professional career. The 34-year-old Berdych confirmed the decision..




WorldNews - Published





Djokovic's hopes crushed as Federer serves up a masterclass

LONDON - Roger Federer lit up the O2 Arena with a dazzling 6-4 6-3 defeat of Novak Djokovic to hand the Serb an early ATP Finals exit and wreck his bid to end the year ranked number one on Thursday. In..




WorldNews - Published





ATP Finals: Federer Faces Early Exit, Djokovic Cruises

Roger Federer faces an uphill task to qualify for the last four of the ATP Finals after losing to Dominic Thiem on Sunday following a masterclass by Novak Djokovic. Six-time champion Federer was beaten..




WorldNews - Published





Simona Halep gets the better of Bianca Andreescu at WTA Finals

Simona Halep saved a match point on her way to beating Bianca Andreescu and earning an opening win at the season-ending WTA Finals in Shenzhen. The Wimbledon champion prevailed 3-6 7-6 (6) 6-3 in a..




WorldNews - Published





Cori "Coco" Gauff cracks the top-100 in Linz as Novak Djokovic eases through in Shanghai

Cori Gauff will crack the top-100 when the rankings are released (Picture: Corbis via Getty Images) Cori "Coco" Gauff will crack the top-100 for the first time when the WTA rankings are next..




WorldNews - Published





Rafael Nadal eyeing Roger Federer's grand slam record

Rafael Nadal knows the door is open for him to overhaul Roger Federer and become the all-time grand slam record holder. Nadal is favourite to beat Russian Daniil Medvedev in Sunday's US Open final and..




WorldNews - Published





US Open: Defending Wimbledon champion Simona Halep stunned by Taylor Townsend

Simona Halep, seeded No. 4 and coming off her first Wimbledon championship, was shocked in three sets by American Taylor Townsend in the second round.




USATODAY.com - Published





US Open 2019: Garbine Muguruza out but Petra Kvitova & Belinda Bencic through

Former Wimbledon champion Garbine Muguruza is knocked out of US Open in the first round with a 2-6 6-1 6-3 defeat by Alison Riske.




BBC News - Published





Tennis umpire Damian Steiner fired by ATP after giving unauthorized interviews

New York Times first reported ATP fired chair umpire Damian Steiner, who officiated the men's Wimbledon final, for giving unauthorized interviews.




USATODAY.com - Published





Novak Djokovic and Roger Federer placed in same half of US Open draw

Top-ranked defending champion Novak Djokovic could face Roger Federer in the semi-finals and Rafael Nadal in the final under the US Open draw unveiled on Thursday at Flushing Meadows. Djokovic, who..




WorldNews - Published





Halep hits back against Alexandrova, Nishikori goes down

MASON, Ohio – Simona Halep rallied after dropping the first set to defeat Ekaterina Alexandrova 3-6 7-5 6-4 in the second round of the Western & Southern Open on Wednesday. The Wimbledon...




WorldNews - Published





Serena Williams defeats Naomi Osaka in rematch of last year's controversial US Open final

By George Ramsay | CNN Serena Williams progressed to the semifinals of the Rogers Cup on Friday by defeating Naomi Osaka 6-3 6-4, the first time the pair had met since the infamous US Open final in..




WorldNews - Published





Serena wins first match since Wimbledon final

The 37-year-old American, one crown shy of a record-tying 24th Grand Slam singles title, advanced in 75 minutes at her first US Open hardcourt tuneup event. "I feel like my movement is great -- been..




WorldNews - Published





Top-ranked Barty bounced from Rogers Cup

World No. 1 Ashleigh Barty on Tuesday crashed out of Rogers Cup in Toronto, falling in three sets in her second-round opener to 29th-ranked Sofia Kenin of the US. Australia's Barty, the French Open..




WorldNews - Published





Stefanos Tsitsipas reaches semifinals at Citi Open, craving for more

After a Wimbledon setback, Stefanos Tsitsipas looks to get back on track at Citi Open. On Friday, he defeats Benoit Paire, 7-5, 6-0 to reach the semis.




USATODAY.com - Published





Fans come out to watch Wimbledon sensation Coco Gauff cruise to victory at Citi Open

In her first competitive action since Wimbledon, 15-year-old Coco Gauff cruised to a 6-4, 6-2 victory over Maegan Manasse in Citi Open qualifying.




USATODAY.com - Published





Still adjusting to celebrity, Coco Gauff eager to get back on court after Wimbledon breakthrough

The 15-year-old will play the qualifiers at the Citi Open this weekend, her first tournament since her life-changing run at Wimbledon earlier this month.




USATODAY.com - Published





Coco Gauff, the 15-year-old who made a remarkable run at Wimbledon, to play Citi Open

After a remarkable Wimbledon run, 15-year-old tennis sensation Cori "Coco" Gauff is eligible to compete at the Citi Open later this month.




USATODAY.com - Published





I always try to imagine myself as a winner: Novak Djokovic

LONDON: Novak Djokovic gave his near-loveless outing on Centre Court a courageous perspective. The 32-year-old, hit by a wave of 'Let's go, Roger, Let's go' that swept across the grounds on Sunday,..




WorldNews - Published





15-year-old American Coco Gauff soars up WTA rankings after magical Wimbledon run

Coco Gauff's magical Wimbledon run allowed her to move into the WTA's top 150 on Monday. The 15-year-old American rises to No. 141 from No. 313.




USATODAY.com - Published





Djokovic will not ease up in quest to be greatest: Becker

Novak Djokovic has already established himself as one of the best ever to play the game but the Serb, who clinched his 16th Grand Slam at Wimbledon on Sunday, will not be satisfied until he is..




Reuters - Published





Federer does everything right but falls short on match points

How did Roger Federer end up losing the 2019 Wimbledon final?




Reuters - Published





Mind tricks help Djokovic to fifth Wimbledon crown

"When the crowd is chanting 'Roger' I hear 'Novak'," freshly-crowned Wimbledon champion Novak Djokovic said with a smile on Sunday.




Reuters - Published





Wimbledon champion Djokovic deserves more respect - Becker

People have to "wake up to the greatness" of Novak Djokovic after he won his 16th Grand Slam, says Boris Becker.




BBC News - Published





When the crowd is chanting 'Roger' I hear 'Novak', says champion Djokovic

Wimbledon champion Novak Djokovic says a near five-hour final against Roger Federer was his most "mentally demanding" match.




BBC News - Published





Novak Djokovic defeats Roger Federer for fifth Wimbledon title

Defending champion Novak Djokovic won his fifth Wimbledon title on Sunday, defeating eight-time champion Roger Federer in five sets.




USATODAY.com - Published





Factbox: Wimbledon men's champion Novak Djokovic

Factbox on Serbia's Novak Djokovic, who beat Switzerland's Roger Federer 7-6(5) 1-6 7-6(4) 4-6 13-12(3) to win his 16th Grand Slam title on Sunday:




Reuters - Published




Factbox: Novak Djokovic's five Wimbledon titles

Following is a factbox on Novak Djokovic's five Wimbledon titles after the Serb beat Roger Federer in the final on Sunday.




Reuters - Published





Wimbledon 2019: Blood, sweat & tears - the best Wimbledon final ever?

Watch the stand-out moments from the last day at Wimbledon as Novak Djokovic and Roger Federer battle it out in the longest ever singles final.




BBC News - Published





Novak Djokovic eats grass to celebrate his marathon Wimbledon championship

Djokovic outlasted Fedeer in an epic five-set match that made history and celebrated his fifth Wimbledon title like a GOAT.




USATODAY.com - Published