Royal Air Force
Aerial warfare service branch of the British Armed Forces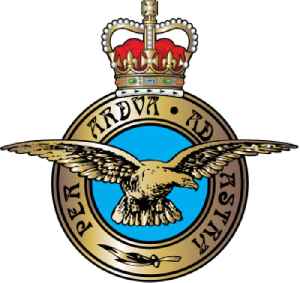 The Royal Air Force (RAF) is the United Kingdom's aerial warfare force. It was formed towards the end of the First World War on 1 April 1918. Following the Allied victory over the Central Powers in 1918, the RAF emerged as the largest air force in the world at the time. Since its formation, the RAF has taken a significant role in British military history. In particular, it played a large part in the Second World War where it fought its most famous campaign, the Battle of Britain.


Prime Minister's £900k rebranded plane unveiled

The RAF plane used by Prime Minister Boris Johnson for official business has been unveiled at Cambridge airport today after a controversial new paint job costing £900k. Report by Patelr. Like us on..
Credit: ODN Duration: 02:46
Published
RAF carries out four air strikes against IS in Iraq in May

The Royal Air Force has carried four sets of air strikes against so-called Islamic State this month, as the UK armed forces continue to support the Iraq government's fight against the terror group...
Credit: PA - Press Association STUDIO Duration: 01:01
Published
You Might Like



Pilot flies private plane to Wales and lands at closed RAF base so he can 'go to the beach'

The incident is being investigated by the Civil Aviation Authority




Independent - Published





Wrecked WW2 aircraft discovered on Cleethorpes beach

The aircraft is believed to have crashed in 1944 soon after taking off from a nearby RAF base.




BBC News - Published





RAF Benson's running stormtrooper aims for 1,000 miles

An RAF squadron leader swaps his uniform for a Star Wars outfit in a bid to raise £50,000.




BBC News - Published





VE Day: The experience of a Caribbean WW2 RAF veteran

Albert Jarrett was among some 10,000 West Indians who crossed the Atlantic to join the war effort.




BBC News - Published




Captain Tom: Cockpit view of RAF flypast in Marston Moretaine

Two wartime planes flew over the NHS fundraiser's Bedfordshire home on his 100th birthday.




BBC News - Published





Coronavirus: Village celebrates RAF veteran's 100th birthday

Residents of Yeaveley in Derbyshire cheered as Douglas Wall passed their homes in his mobility scooter.




BBC News - Published





RAF flypast to honour UK fundraising hero's 100th

Two wartime RAF planes mark the 100th birthday of war veteran and fundraiser Captain Tom Moore.




BBC News - Published





Coronavirus: RAF flypast for Captain Tom's 100th birthday

The aerial salute for the "amazing" war veteran "was meant to be a surprise", Grant Shapps says.




BBC News - Published





Coronavirus: Red Arrows resume 'essential training'

The Royal Air Force's aerobatic team flew a number of sorties from RAF Scampton in Lincolnshire.




BBC News - Published





Coronavirus: Ex-RAF station to become temporary mortuary

The site north-east of Norwich will help the cope with "the predicted peak in coronavirus".




BBC News - Published





Military units deployed to provide ambulance services to help NHS during coronavirus crisis

Army, navy and RAF units begin medical evacuation work on the ground and in the air




Independent - Published





Islamic State: US military says RAF airstrikes may have killed civilians

The UK has been bombing IS for five years - but accepts responsibility for just one civilian casualty.




BBC News - Published





Six RAF jets intercept Russian aircraft heading for Scottish coast

The Russian bombers were tracked heading towards the north-west coast of Scotland on Saturday.




BBC News - Published





RAF fighter jets scrambled to intercept Russian aircraft near Scotland, MoD says

Nato forces move to head off an unknown number of bombers near British airspace




Independent - Published





Final British evacuation flight from Wuhan lands

Britain's final evacuation flight from the Chinese city of Wuhan, the epicenter of a coronavirus outbreak, landed at a Royal Air Force base in central England on Sunday.




Reuters - Published




Luke Wigman: Second world marathon attempt for injured RAF veteran

Luke Wigman suffered traumatic injuries when he stepped on an explosive device in Afghanistan.




BBC News - Published





Coronavirus: Plane carrying Britons evacuated from Wuhan lands at at RAF base

83 Britons to be quarantined for two weeks upon arrival




Independent - Published





Harry Dunn: Johnson to raise 'driving habits' of US staff near RAF base with Mike Pompeo

19-year-old Briton killed last year after being knocked off motorbike outside RAF Croughton




Independent - Published





Claims sonic boom over London and Home Counties 'cracked' windows

Royal Air Force Typhoons were scrambled to intercept an unresponsive aircraft in December.




BBC News - Published





'Forgotten' Shropshire RAF airmen honoured in Spain

Seven men who died when an RAF Wellington bomber crashed in 1950 are remembered with a memorial.




BBC News - Published





Sonic boom causes panic over London after RAF jets scrambled to unresponsive aircraft

People woken as loud explosion causes windows to shake in parts of South East




Independent - Published





Sonic boom: People woken by loud noise which 'shook houses'

The Met Police said the loud bang heard was the result of a sonic boom from RAF planes.




BBC News - Published





Sonic boom shakes houses across north London

The Met Police said the loud bang heard was the result of a sonic boom from RAF planes.




BBC News - Published





Restored 100-year-old RAF bear keeps 'lovely, wonky smile'

Bobby Bear was the beloved childhood toy of Joe Mack, an RAF Pathfinder wireless operator in WW2.




BBC News - Published





Malaysia likely to test India's Tejas LCA for its defence acquisition programme

Malaysia will invite bids from international defence majors in early 2020 for the acquisition of up to 36 aircraft for its Royal Air Force.




DNA - Published





UK weather: RAF scrambled to tackle 'danger to life' flooding as heavy rain pummels Britain

Five severe 'danger to life' warnings in place ahead of another week of downpours




Independent - Published





UK Invictus Games 2020 team unveiled by Duke of Sussex

A former RAF medic and RAF corporal will lead Team UK at next year's Invictus Games in the Hague.




BBC News - Published





Duke and Duchess: Royal plane aborts landing after Pakistan storms

An RAF aircraft carrying the Duke and Duchess of Cambridge twice tried to land in Islamabad.




BBC News - Published





Blind teen flies plane with the help of Britain's Royal Air Force

In our World of Motion series, we've traveled on roads, rails, and across the sea to show you how and why people move. Charlie D'Agata takes to the sky in Scotland where Britain's Royal Air Force..




CBS News - Published





Amit Shah to attend RAF anniversary parade in Gujarat on Monday; honour troops




IndiaTimes - Published





RAF Marham airman's family pay tribute to rugby player

Scott Stevenson died after suffering a head injury when playing for the RAF against the Army.




BBC News - Published





RAF Marham airman dies after rugby league match head injury

Scott Stevenson was playing for the RAF against the Army in a rugby league match when he was injured.




BBC News - Published





RAF bids final farewell to Tucano training plane

The aircraft has been used to train pilots, including Prince William, for the last 30 years.




BBC News - Published





Five-year-old Red Arrows fan 'blown away' by salute

Jacob Newson was lost for words when he met the the Royal Air Force's aerobatic team.




BBC News - Published





Whaley Bridge flooding: Boris Johnson visits evacuated villagers amid race to stop dam bursting

RAF helicopter drops off 400 tonnes of aggregate in race to save damaged dam




Independent - Published





British town evacuated as dam disintegrates

Whaley Bridge, United Kingdom: Hundreds of people were evacuated from a town in central England as a British military helicopter was called in Friday to prevent a reservoir dam from collapsing. The..




WorldNews - Published





Whaley Bridge flooding– live: 'Unprecedented emergency' declared as RAF scrambled in battle to stop dam collapse after thousands evacuated

Emergency services battle to repair damage after 'danger to life' warning issued




Independent - Published





Abdul Mayanja shooting: Pair jailed for killing RAF cadet

Abdul Mayanja was shot dead with a sawn-off shotgun in east London in 2017.




BBC News - Published





Britain Confirms It's Developing Drone Swarms, Joining Arms Race With Russia, U.S. And India

Britain's Royal Air Force has revealed that it is joining Russia, the United States and India in the race to develop drone swarm technology to be deployed alongside its F-35 and Typhoon squadrons,..




WorldNews - Published





UK Develops Warplane to Fly at Speed of 5,000km per Hour to Tackle 'Adversaries'

The "potential adversaries'" hypersonic weapons, mentioned by RAF head Stephen Hillier, are currently being developed by Russia, China and the US. These include the state-of-the-art Russian..




WorldNews - Published





Passenger who tried to open plane door and storm cockpit fined £85,000

Jet2.com has billed a disruptive passenger £85,000 after a flight was forced to divert accompanied by two RAF Typhoon fighter jets. Chloe Haines, 25, tried to open the aircraft door and storm the..




WorldNews - Published





Essex sonic boom: MOD receives four compensation claims

Four compensation claims have been made after RAF jets were scrambled to escort a civilian flight.




BBC News - Published





Farnborough Airport: Red Arrows plane suffers burst tyre on landing

Emergency services were called as a precaution just after the RAF display team landed.




BBC News - Published





William McRae: Bomber Command pilot and banker

McRae recalled how his training in RAF days reinforced his understanding of the need for training of the banks' staff.




The Age - Published





Secret RAF WWII maps unveiled in Buckinghamshire

Maps of Germany were secretly created at a manor house to assist the RAF with airborne response.




BBC News - Published





Wainfleet flooding: RAF ballast drop to cost up to £1m

The breach in the River Steeping led to 580 homes in Wainfleet being evacuated due to flooding.




BBC News - Published





Sonic boom heard across Derbyshire caused by RAF Typhoons

A sonic boom heard across Derbyshire was caused by RAF Typhoons.




BBC News - Published





Passenger tries to open door mid-air on Jet2 flight, leading to fighter-jet escort

A pair of Royal Air Force fighter jets escorted a Jet2 flight back to London Saturday after a woman tried to open the cabin door midflight.




USATODAY.com - Published





RAF jets escort Jet2 flight back to Stansted after passenger becomes 'extremely disruptive'

Typhoon fighter aircraft caused sonic boom that startled residents, police say




Independent - Published





Mob pelts stones at police, RAF in West Bengal; many hurt

West Bengal Chief Minister Mamata Banerjee has ordered DGP Virendra to rush to Bhatpara immediately to bring the situation under control.




DNA - Published