Blackface
Form of theatrical makeup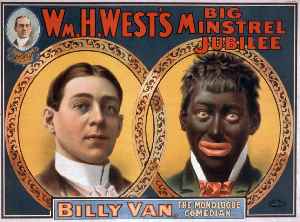 Blackface is a form of theatrical make-up used predominantly by non-black performers to represent a caricature of a black person. The practice gained popularity during the 19th century and contributed to the spread of racial stereotypes such as the "happy-go-lucky darky on the plantation" or the "dandified coon". By the middle of the century, blackface minstrel shows had become a distinctive American artform, translating formal works such as opera into popular terms for a general audience. Early in the 20th century, blackface branched off from the minstrel show and became a form in its own right. In the United States, blackface had largely fallen out of favor by the turn of the 21st century, and is now generally considered highly offensive and disrespectful, though the practice continues in other countries.


Blackface governor Ralph Northam calls slaves 'indentured servants'
Embattled Ralph Northam referred in a TV interview to slaves as "indentured servants from Africa".
BBC News - Published
Understanding the "legacy of oppression" behind blackface
Caution: Some of the images in this video are disturbing. Blackface has a long, painful, and racist history in the U.S. It became popular in the mid-1800's mistrel shows when white performers darkened..
CBS News - Published
Gucci Creative Head Says $890 Sweater Was Not Inspired by Blackface
Gucci's creative director broke his silence Tuesday over an $890 sweater that resembled blackface, saying racism was never his intention.
Credit: Time Duration: 00:54Published
Gucci apologizes for "Blackface sweater"
Gucci pulled a sweater that resembled blackface and released an apology after many people wrote to the company in outrage over the racist garment
CBS News - Published
Search this site and the web:
You Might Like