Miami Heat
American professional basketball team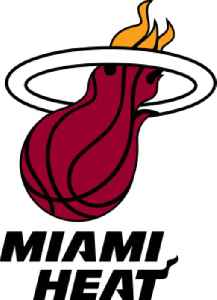 The Miami Heat are an American professional basketball team based in Miami. The Heat compete in the National Basketball Association (NBA) as a member of the league's Eastern Conference Southeast Division. The Heat play their home games at American Airlines Arena, and have won three NBA championships.


You Might Like
Celtics fight back against Heat in conference finals
The Boston Celtics win 117-106 against the Miami Heat in the Eastern Conference finals to close the gap to 2-1 in the best-of-seven series.
BBC News - Published
Stars shine as Celtics regroup to beat Heat in Game 3 of Eastern Conference finals
Jaylen Brown, Jayson Tatum, Kemba Walker and Marcus Smart all scored over 20 points to lead the Celtics to a 117-106 victory to pull within 2-1.
USATODAY.com - Published
Jimmy Butler comes through in clutch as Heat takes Game 1 vs. Celtics in overtime
Jimmy Butler came up with a number of clutch plays down the stretch as the Heat beat the Celtics in OT in Game 1 of the Eastern Conference finals.
USATODAY.com - Published
Heat into Eastern final, as James sets record in Lakers win
The Miami Heat reach the Eastern Conference final while LeBron James sets a new record as the Los Angeles Lakers beat the Milwaukee Bucks.
BBC News - Published
Miami Heat take down top seed Milwaukee Bucks to advance to NBA Eastern Conference final
The Miami Heat eliminated the Bucks with a 103-94 victory in Game 5 on Tuesday, as Milwaukee played without star Giannis Antetokounmpo.
USATODAY.com - Published
NBA round-up: Giannis goes down but Bucks rally to beat Miami Heat
The Milwaukee Bucks may have lost their greatest weapon but they have kept their season alive with a 118-115 overtime victory against the Miami Heat. Reigning NBA Most Valuable Player Giannis...
WorldNews - Published
NBA play-offs: Giannis Antetokounmpo limps out of Milwaukee Bucks' overtime win over Miami Heat
Milwaukee Bucks star Giannis Antetokounmpo limps out of his side's overtime win against Miami Heat on Sunday.
BBC News - Published
NBA roundup: Heat finish first-round sweep of Pacers
Bam Adebayo collected a game-high 19 rebounds to go with 14 points Monday night, leading the fifth-seeded Miami Heat to a 99-87 victory over the fourth-seeded Indiana Pacers and a four-game sweep of..
WorldNews - Published
Obama lauds back-to-back NBA champion Miami Heat
President Obama had some laughs while hosting the 2013 NBA champion Miami Heat at the White House for the second year in a row.
CBS News - Published
NBA trade deadline: Winners, losers and teams in between
The Heat, Warriors and Clippers scored before the end of the trade deadline, but the Lakers, Pistons and Celtics missed out.
USATODAY.com - Published
Herro, Nunn help Heat reach 3-0 in NBA Summer League
Tyler Herro, Kendrick Nunn help Miami Heat reach 3-0 in NBA Summer League
USATODAY.com - Published
Deals get real: Butler joins Heat, Raptors wish Kawhi well
The signings start: Jimmy Butler joins the Miami Heat, and Toronto bids farewell to Kawhi Leonard
USATODAY.com - Published