Cardiff
Capital of Wales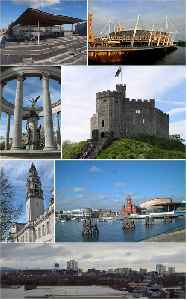 Cardiff is a city, principal area and the capital of Wales, officially known as the City and County of Cardiff. It is the United Kingdom's eleventh-largest city. As Wales' chief commercial centre, Cardiff is the base for the Senedd, most national cultural institutions and Welsh media. At the 2011 census, the unitary authority area population was estimated to be 346,090, and the wider urban area 479,000. Cardiff is a significant tourist centre and the most popular visitor destination in Wales with 21.3 million visitors in 2017. In 2011, Cardiff was ranked sixth in the world in National Geographic's alternative tourist destinations.


British and Irish Lions to play on home turf 2021

It is official, the British and Irish Lions will play in a curtain-raiser Testmatch against Japan in Scotland's own Murrayfield stadium next summer, on June26. It will be the first time the Lions have..
Credit: PA - Press Association STUDIO Duration: 01:16
Published
Wales announces 'sharp and deep' two week 'firebreak'

A two-week "firebreak" lockdown will be introduced across Wales from 6pm on Friday. First Minister Mark Drakeford announced the measures at a Welsh Government press conference in Cardiff today. Report..
Credit: ODN Duration: 01:29
Published
Specially decorated Black History Month postboxes to honour black Britons

Some of the nation's landmark red postboxes have been painted black to honourblack Britons past and present, including Sir Lenny Henry and nursing pioneerMary Seacole. Royal Mail said four postboxes..
Credit: PA - Press Association STUDIO Duration: 01:20
Published
Neco Williams and Wales 'can't wait' to face England after victory over Bulgaria

Wales hero Neco Williams set his sights on a Wembley date with England afterscoring a dramatic Nations League winner against Bulgaria. The Liverpoolteenager, making only his second Wales appearance as..
Credit: PA - Press Association STUDIO Duration: 01:15
Published
Sadiq Khan concerned by Government's testing programme

London Mayor Sadiq Khan says that he is concerned over reports that some ofthe city's residents have been told they would only be able to receiveCovid-19 test if they travelled to the Isle of Wight or..
Credit: PA - Press Association STUDIO Duration: 00:34
Published
Zante to Cardiff passenger 'didn't feel safe'

Steph Whitfield, a passenger who was on a flight from Zante to Cardiff last Tuesday, says she did not feel safe. There are now 16 cases of Covid-19 linked to people who were on the TUI flight - at..
Credit: ODN Duration: 00:21
Published
You Might Like



Coronavirus: Cases on Tui flight from Zante to Cardiff

All passengers on the flight to Cardiff from Zante are told to self-isolate.




BBC News - Published





The Greatest Showman: The story of Cardiff's giant

How a giant went from the slums to being the Queen's bodyguard and an American circus star.




BBC News - Published





Fulham into play-off final despite Cardiff defeat

Fulham withstand a Cardiff fightback to reach the Championship play-off final despite losing the second leg at Craven Cottage.




BBC News - Published




York, Cardiff and Oxford are UK's most sustainable cities, according to study

Wolverhampton scored lowest behind Birmingham and Norwich




Independent - Published





Fulham take charge of play-off semi-final with Cardiff

Fulham score two brilliant first-leg goals to take total control of their Championship play-off semi-final against Cardiff City.




BBC News - Published





Fulham beat Cardiff in play-off semi-final first leg

Fulham score two brilliant first-leg goals to take total control of their Championship play-off semi-final against Cardiff City.




BBC News - Published





Sir Thomas Picton: Statue of 'sadistic slave owner' to be removed in Cardiff

Marble sculpture of Sir Thomas Picton described as an 'affront' to black people




Independent - Published





Westminster on collision course with Edinburgh and Cardiff over plans for repatriation of powers after Brexit

Proposals denounced as 'power grab' by Scottish National Party




Independent - Published





Welsh parliament to debate motion on independence for first time in its history

Support for break from UK has risen to record high as Cardiff took its own path on dealing with coronavirus




Independent - Published





Fulham beat Cardiff to keep alive automatic promotion hopes

Goals from Aleksandar Mitrovic and Josh Onomah give Fulham victory over Championship promotion rivals Cardiff City.




BBC News - Published





Cardiff City 2-0 Leeds United: Leeds miss chance to go top of table

Leeds miss the chance to go top of the Championship, while Cardiff give their promotion hopes a huge boost.




BBC News - Published





Six Nations: Wales v Scotland off because of coronavirus fear

Wales' Six Nations match against Scotland in Cardiff on Saturday is postponed amid attempts to slow down the spread of coronavirus.




BBC News - Published





Six Nations 2020: Wales 23-27 France - Ntamack shines as French Grand Slam hopes survive

France remain on course for a first Grand Slam for 10 years as they celebrated a first victory in Cardiff since 2010 with a 27-23 win.




BBC News - Published





Welsh Open: Kyren Wilson beats Ronnie O'Sullivan 6-5 in first semi-final

Kyren Wilson beats Ronnie O'Sullivan 6-5 to book his places in Sunday's Welsh Open final in Cardiff.




BBC News - Published




Welsh Open: Judd Trump, Mark Williams and Mark Selby reach round two

Judd Trump reaches the second round of the Welsh Open in Cardiff thanks to a 4-1 win over James Cahill.




BBC News - Published





World female parkrun record broken in Cardiff

Charlotte Arter lowered her previous best time by one second in Cardiff on Saturday.




BBC News - Published





Former environment secretary Michael Gove criticised for using plane for 150-mile trip to Cardiff

'It shows just how much ministers are failing on transport and climate,' says environmental group




Independent - Published





Cardiff hospital trials cooling patients after cardiac arrest

Andrew Barnett is backing a trial at a hospital a year after he nearly died while playing football.




BBC News - Published





Yes, the UK media's coverage of Meghan Markle really is racist

Meghan Markle visits Cardiff Castle in January 2018 in Cardiff, Wales. Markle has faced racist attacks from the press since joining the royal family. | Ben Birchall-WPA Pool/Getty Images The UK..




WorldNews - Published





Barricades up in flames for real at Les Mis show in Cardiff

One theatregoer thought the fire was part of the show "until the dead bodies started running off set".




BBC News - Published





Ramsey double sends Wales through to Euro 2020

CARDIFF (Reuters) - Wales reached their second straight European Championship finals after a goal in each half by midfielder Aaron Ramsey gave them a 2-0 home win over Hungary in their Group E..




WorldNews - Published





Brownhill gives Bristol City win at Cardiff

Bristol City are the first visiting side to win at Cardiff City this season thanks to a spectacular goal from Josh Brownhill.




BBC News - Published





Ryan Giggs upbeat on Gareth Bale and Aaron Ramsey's fitness for Wales' European Qualifiers

Wales manager Ryan Giggs says he is in regular contact with Gareth Bale, who remains confident he will be fit to face Azerbaijan and Hungary in their European Qualifiers. Bale has not played for Real..




WorldNews - Published





Cardiff face three-window ban if they fail to make first Sala payment

Cardiff face a three-window transfer ban unless they pay the first instalment of the transfer fee for Emiliano Sala to Nantes. The Argentinian, 28, died when the light aircraft he was...




WorldNews - Published





Tomlin rescues point for Cardiff against Sheff Wed

Substitute Lee Tomlin's late free-kick gives Cardiff City a 1-1 draw at home to Sheffield Wednesday in the Championship.




BBC News - Published





Wales held by group leaders Croatia

Gareth Bale's equaliser against Croatia in Cardiff keeps Wales' European Championship qualifying hopes alive.




BBC News - Published





Cardiff's first black mayor says people constantly mistake him for a waiter at official events

'It happens about 30 to 40 per cent of the time,' says politician




Independent - Published





Cardiff to appeal to Cas after order to pay Emiliano Sala transfer fee

• Fifa ruled Cardiff must pay Nantes for striker • Sala was killed in plane crash in January Cardiff City will appeal to the Court of Arbitration for Sport against Fifa's ruling that they must..




WorldNews - Published





FIFA: Cardiff to pay 6 million euros for Sala transfer

The amount corresponds to the first instalment of the 17 million-euro fee Cardiff had agreed to pay Nantes before Sala died in a plane crash on January 21 while travelling to join his new club. Cardiff..




WorldNews - Published





FIFA orders Cardiff to pay Nantes €6m in Emiliano Sala transfer-fee dispute

Cardiff City must pay French club Nantes an initial six million euros ($6.5 million) in their dispute over the payment of the transfer fee for Emiliano Sala, FIFA said on Monday.




France 24 - Published





Cardiff ordered to pay £5.3m to Nantes for Sala transfer

Cardiff City have been told to pay a transfer fee of £5.3m to Nantes for striker Emiliano Sala.




BBC News - Published





Derby held to draw by Cardiff

Derby's Scott Malone scores against his former club and Robert Glatzel strikes his first goal for Cardiff in an enthralling draw.




BBC News - Published





Classy James gives Wales friendly win over Belarus

Manchester United winger Daniel James gives Wales a 1-0 victory in their friendly against Belarus in Cardiff.




BBC News - Published





Wales 17-22 Ireland: Jacob Stockdale brace gives Ireland edge over Wales

Two Jacob Stockdale tries help Ireland knock Wales off the top of the world rankings with a 22-17 victory in their World Cup warm-up match in Cardiff.




BBC News - Published





Arter sent off as Fulham hold on for draw at Cardiff

Harry Arter is sent off on his return to Cardiff as 10-man Fulham hold on for a draw in the Championship.




BBC News - Published





Addison to start at full-back for Ireland against Wales in Cardiff

Ulster's Will Addison will make his first appearance since January as Joe Schmidt makes 11 changes for Ireland against Wales.




BBC News - Published





Wales debuts for Carre and Lane in World Cup warm-up against Ireland

Wales hand Test debuts to Owen Lane and Rhys Carre in Saturday's World Cup warm-up against Ireland in Cardiff.




BBC News - Published





Ashley Williams: Wales captain left out of squad for Euro 2020 qualifier

Captain Ashley Williams is left out of the Wales squad for their Euro 2020 qualifier against Azerbaijan in Cardiff next month.




BBC News - Published





Wales v England: Ruaridh McConnochie, Maro Itoje & Courtney Lawes start

Wing Ruaridh McConnochie will win his first England cap in Saturday's tournament warm-up match against Wales in Cardiff.




BBC News - Published




Childbirth: Cardiff hospital trials virtual reality during labour

The technology is described as something which can take pregnant women "out of the moment".




BBC News - Published





Romelu Lukaku trains with Anderlecht amid Man Utd exit reports

The Belgium striker returned to his former club on Monday as claims he is set to move to Serie A refuse to go away striker Romelu Lukaku spent Monday training with Anderlecht as reports regarding his..




WorldNews - Published





Manchester United transfer news: Ole Gunnar Solskjaer expecting more new faces after deal agreed for ...

Ole Gunnar Solskjaer expects Manchester United to complete "one or two" deals before next week's transfer deadline after agreeing a fee with Leicester City for England centre-back Harry Maguire...




WorldNews - Published





Cardiff murder: Police launch investigation after man found dead in city centre

Officers called to reports of assault near popular nightlife area




Independent - Published





Swarms of flies plaguing residents in Cardiff traced to steelworks

'They even get in when windows are closed,' complains victim of infestation




Independent - Published





Joshua-Ruiz rematch set for New York or Cardiff

Anthony Joshua's rematch with Andy Ruiz Jr looks set to take place in New York in November or Cardiff in December.




BBC News - Published





Extinction Rebellion bring London streets to standstill amid fresh wave of coordinated protests across UK

Protesters park colourful boats with slogan 'Act Now' in middle of roads in Bristol, Cardiff, Leeds and Glasgow




Independent - Published





Vodafone Launches its 5G Network in the UK

Following EE's 5G network switch-on on 30 May, Vodafone has today activated 5G connectivity in seven UK cities. It plans to extend this network to 19 UK cities by the end of the year. Birmingham,..




WorldNews - Published





South Africa beat Afghanistan by nine wickets for first World Cup win

Imran Tahir takes 4-29 as South Africa win their first match at the World Cup with a nine-wicket victory over Afghanistan in Cardiff.




BBC News - Published





Cricket World Cup: Jason Roy hits 153 as England beat Bangladesh in Cardiff

Jason Roy's 153 helps England dominate Bangladesh and return to winning ways in the World Cup.




BBC News - Published





Cricket World Cup: Bowlers star as Sri Lanka edge Afghanistan

Sri Lanka's bowlers perform excellently to help their side defend a low score as they beat by Afghanistan by 34 runs in a rain-affected match in Cardiff.




BBC News - Published