Philadelphia 76ers
American professional basketball team from 1946, in Syracuse 1946–1963, then in Philadelphia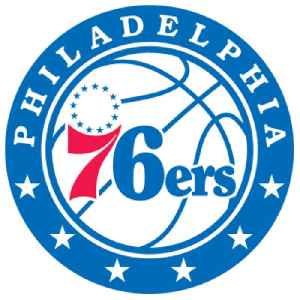 The Philadelphia 76ers are an American professional basketball team based in Philadelphia. The 76ers compete in the National Basketball Association (NBA) as a member of the league's Eastern Conference Atlantic Division and play at Wells Fargo Center. Founded in 1946 and originally known as the Syracuse Nationals, they are one of the oldest franchises in the NBA, and one of only eight to survive the league's first decade.


Damian Lillard's historic night overshadows Sixers, Raptors series wins
SportsPulse: Jeff Zillgitt breaks down the action of a wild Tuesday night in the NBA playoffs as the Blazers, Sixers and Raptors all advanced.
USATODAY.com - Published
Joel Embiid, Sixers dominate Nets to close out series, advance to face Raptors
The Philadelphia 76ers raced out to a big lead and never looked back in closing out the Brooklyn Nets in Game 5.
USATODAY.com - Published
Dwyane Wade Plays Final Game For Miami Heat
Dwayne Wade played his final game at home in Miami against the Philadelphia 76ers. Wade played for 16 years in the Miami Heat, joining the team in 2003. According to Deadspin, Wade's style was..
Credit: Wochit News Duration: 00:32Published
Dwayne Wade Sends Chrissy Teigen And John Legend's Drinks Flying After Courtside Crash
Dwayne Wade crashed into Chrissy Teigen and John Legend courtside, sending their drinks flying on Tuesday. And a photographer for the Miami Herald took the perfect shot of the action. Teigen and Legend..
Credit: Wochit News Duration: 00:32Published
NBA playoffs: Sixers, Bucks and Rockets take commanding leads
SportsPulse: USA TODAY Sports' Martin Rogers breaks down all the playoff action from Saturday night's slate of games.
USATODAY.com - Published
Embiid returns, leads 76ers past Nets 112-108 for 3-1 lead
Joel Embiid had 31 points and 16 rebounds, and passed to Mike Scott for the go-ahead 3-pointer with 18 seconds left as the Philadelphia 76ers beat the Brooklyn Nets 112-108 to take a 3-1 series lead
USATODAY.com - Published
Jimmy Butler, Jared Dudley ejected after skirmish between 76ers, Nets
Tempers boiled over in the third quarter of Game 4 between the Philadelphia 76ers and Brooklyn Nets on Saturday afternoon.
USATODAY.com - Published
Embiid starting Game 4 for 76ers against Nets
Joel Embiid back in starting lineup for Philadelphia 76ers for Game 4 of their playoff series against Brooklyn Nets
USATODAY.com - Published
Embiid listed as doubtful for 76ers' Game 4 vs Nets
The Philadelphia 76ers are listing Joel Embiid as doubtful for Game 4 of their first-round series against the Brooklyn Nets
USATODAY.com - Published
76ers show off firepower to take down Nets in Game 3 for 2-1 series lead
Ben Simmons and Tobias Harris provided plenty of punch while Joel Embiid sat out to lead the Sixers to a 131-115 victory in Brooklyn.
USATODAY.com - Published
Simmons scores 31 points, 76ers beat Nets without Embiid
Ben Simmons scored a career playoff-high 31 points, Tobias Harris added 29 points and 16 rebounds and the Philadelphia 76ers shook off the absence of Joel Embiid to beat the Brooklyn Nets 131-115 for a..
USATODAY.com - Published
Embiid not playing in Game 3 because of sore knee
Joel Embiid is not playing for the Philadelphia 76ers in Game 3 against the Brooklyn Nets because of a sore left knee
USATODAY.com - Published
Simmons triple-double leads 76ers to Game 2 win over Nets
Ben Simmons had a triple-double to lead the Philadelphia 76ers to a 145-123 Game 2 win over the Brooklyn Nets
USATODAY.com - Published
You Might Like