Philadelphia 76ers
American professional basketball team from 1946, in Syracuse 1946–1963, then in Philadelphia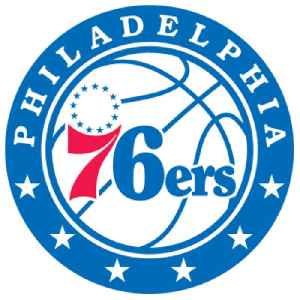 The Philadelphia 76ers are an American professional basketball team based in the Philadelphia metropolitan area. The 76ers compete in the National Basketball Association (NBA) as a member of the league's Eastern Conference Atlantic Division and play at Wells Fargo Center. Founded in 1946 and originally known as the Syracuse Nationals, they are one of the oldest franchises in the NBA, and one of only eight to survive the league's first decade.


Brett Brown returning as Philadelphia 76ers head coach for 2019-20 season
Brett Brown is returning to the Philadelphia 76ers for the 2019-20 season, the Sixers confirmed Monday.
USATODAY.com - Published
What's next for 76ers? Is coach Brett Brown out? Will Jimmy Butler, Tobias Harris stay?
The Philadelphia 76ers have reached a critical moment. Do they keep their coach, Brett Brown? What about free agents Jimmy Butler and Tobias Harris?
USATODAY.com - Published
Ben Simmons Finally Showed Up
After four straight games of curious anonymity, Ben Simmons finally arrived—and just in time. Thanks to Simmons' 21 points and bevy of rebounds and assists, the Philadelphia 76ers lived to fight..
Credit: Wochit News Duration: 00:56Published
Kawhi Leonard Is Saving The Raptors' Season By Doing Something Michael Jordan, LeBron James, and Kobe Bryant never accomplished
The Toronto Raptors evened their second-round series with the Philadelphia 76ers at 2-2 on Sunday, thanks to a heroic performance from Kawhi Leonard. Leonard scored 39 points on 13-of-20 shooting to go..
Credit: Wochit News Duration: 00:39Published
Joel Embiid Was So Dominant In A Playoff Game That It Sparked An Argument
Joel Embiid helped the Philadelphia 76ers take a 2-1 series lead over the Toronto Raptors on Thursday. Embiid dominated earning 33-points, 10-rebounds, 3-assists and 5-blocks. It was a return to form..
Credit: Wochit News Duration: 01:02Published
Dwyane Wade Plays Final Game For Miami Heat
Dwayne Wade played his final game at home in Miami against the Philadelphia 76ers. Wade played for 16 years in the Miami Heat, joining the team in 2003. According to Deadspin, Wade's style was..
Credit: Wochit News Duration: 00:32Published
Dwayne Wade Sends Chrissy Teigen And John Legend's Drinks Flying After Courtside Crash
Dwayne Wade crashed into Chrissy Teigen and John Legend courtside, sending their drinks flying on Tuesday. And a photographer for the Miami Herald took the perfect shot of the action. Teigen and Legend..
Credit: Wochit News Duration: 00:32Published
Sixers face major concerns this offseason
SportsPulse: USA TODAY Sports' Jeff Zillgitt details the big decisions facing the 76ers this offseason after their heartbreaking Game 7 loss.
USATODAY.com - Published
Kawhi Leonard's bouncing buzzer-beater in Raptors' Game 7 win had everyone in absolute awe
Kawhi Leonard ended the Philadelphia 76ers' season with a buzzer-beater that will be remembered forever by NBA fans.
USATODAY.com - Published
Leonard hits bouncer at buzzer, Raptors beat 76ers in Game 7
Kawhi Leonard hit a shot from the corner over Joel Embiid at the buzzer that bounced off the rim four times before falling to give the Toronto Raptors a 92-90 victory over the Philadelphia 76ers in..
USATODAY.com - Published
Raptors beat 76ers in Game 7 thriller on Kawhi Leonard's buzzer-beater
Kawhi Leonard's final shot bounced off the rim four times before finally dropping through to give the Raptors a 92-90 win over the Sixers in Game 7.
USATODAY.com - Published
Watergate prosecutor says Trump will 'pay political price' for resistance on Mueller report
This week, House speaker Nancy Pelosi stood before reporters in the US Capitol and called for patience. Just days after the the Trump administration showed its disdain for Congress by refusing to..
WorldNews - Published
Sixers force a Game 7, will need Embiid more than ever
SportsPulse: The Sixers staved off elimination with a convincing win at home. With final game in Toronto, it's clear Philadelphia needs Joel Embiid to be at his best.
USATODAY.com - Published
76ers bounce back to handle Raptors and force decisive Game 7
Two nights after getting blown out by 36 points, the Sixers rebounded with a 112-101 win over the Raptors to force a Game 7 back in Toronto.
USATODAY.com - Published
You Might Like