Native Americans in the United States
Indigenous peoples of the United States (except Hawaii)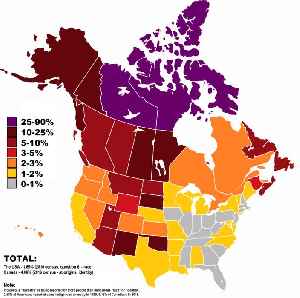 Native Americans, also known as American Indians, Indigenous Americans and other terms, are the indigenous peoples of the United States, except Hawaii and territories of the United States. There are 574 federally recognized tribes living within the US, about half of which are associated with Indian reservations. The term "American Indian" excludes Native Hawaiians and some Alaskan Natives, while "Native Americans" are American Indians, plus Alaska Natives of all ethnicities. The US Census does not include Native Hawaiians, Samoans, or Chamorros, instead being included in the Census grouping of "Native Hawaiian and other Pacific Islander".


Teen who stared at Native American activist slams media

Nicholas Sandmann, the former high school teenager from Kentucky who gained national attention for staring at a Native American activist in front of the Lincoln Memorial with a 'MAGA' hat on, slammed..
Credit: Reuters Studio Duration: 02:23
Published
NFL's Kansas City Chiefs ban fans from wearing headdresses, "American Indian-Themed Face Paint"

ATTENTION EDITORS: RESENDING WITH COMPLETE SCRIPT VIDEO SHOWS: STILL PHOTOS OF KANSAS CITY CHIEFS FANS DRESSED IN NATIVE AMERICAN ATTIRE SHOWS: KANSAS CITY, MISSOURI, UNITED STATES (FILE-SEPTEMBER 29,
Credit: Reuters - Sports Duration: 00:23
Published
Ryan Reynolds and Paul McCartney nominated for Native American Chief role

The Deadpool actor and Beatles legend have been nominated to be Chief for Walpole Island First Nation, a reservation with a community of 5000 located on an island bordering Michigan and Canada.
Credit: Cover Video STUDIO Duration: 00:49
Published
Beirut blast: 5 Indians suffered minor injuries, says MEA

Ministry of External Affairs Spokesperson Anurag Srivastava on August 06 said that five Indians suffered minor injuries in Beirut blast. He said, "We have sought an assessment on damage from Lebanon,..
Credit: ANI Duration: 02:08
Published
Ram Temple: Indians celebrate 'bhoomi pujan' outside Capitol Hill in Washington

Indians in the United States celebrated the foundation laying ceremony of Ayodhya's Ram Temple. Indians gathered outside Capitol Hill in Washington for the celebration. People wore saffron clothes,..
Credit: HT Digital Content Duration: 03:05
Published
You Might Like



To understand why Trump and his AG make such a terrifying team, you have to ...

The United States was founded on pluralism, diversity and tolerance as core principles, even as these principles were found inapplicable to displaced Native Americans and Africans brought to America..




WorldNews - Published





CBSN Originals presents "Speaking Frankly | Symbolic Justice"

With renewed calls for racial justice in America come fresh demands to take down Confederate monuments, rid sports teams of Native American mascots, and rebrand products that use racist caricatures...




CBS News - Published





Savanna's Act, a bipartisan bill to address 'tragic issue' of missing and murdered Native Americans, passes US House

Savanna's Act is named for Savanna LaFontaine-Greywind, a 22-year-old pregnant Spirit Lake tribal member from North Dakota who was killed in 2017.




USATODAY.com - Published




Kumeyaay Native Americans Refuse to Fight Back as Woman Attacks Them

A group of Southern California Native Americans opted not to strike back as they were being pummeled by a woman who didn't like their protest against Trump's border wall. This was posted by a group..




TMZ.com - Published





How controlled fires have helped prevent mega-fires for centuries

Here's how Native Americans used controlled burns to maintain forests and why it's needed now more than ever.  




USATODAY.com - Published





Last hostage from group of 7 Indians kidnapped in Afghanistan has returned to India: MEA

The seven Indians were kidnapped by Taliban terrorists in the restive northern Baghlan province. Two of those Indians had returned to India last month. The last remaining Indian national (out of the..




IndiaTimes - Published





Majority of kids who die of coronavirus are Hispanic, Black or Native American, CDC finds

Hispanic, Black and Native American children accounted for 78% of coronavirus deaths even though these groups represent just 41% of the population.




USATODAY.com - Published





Black, Native American, and Fighting for Recognition in Indian Country

Enslaved people were also driven west along the Trail of Tears. After a historic Supreme Court ruling, their descendants are fighting to be counted as tribal members.




NYTimes.com - Published





Padres going all in: San Diego lands starter Mike Clevinger in trade with Indians

The Padres have made a number of trades in recent days, but none bigger than the acquisition of right-handed pitcher Mike Clevinger from the Indians.




USATODAY.com - Published





Six MLB teams to watch as 4 p.m. ET trade deadline looms — from the Indians to the Dodgers

In a season filled with firsts for Major League Baseball, the trade deadline, too, shall be unprecedented. Here's are six teams to monitor.




USATODAY.com - Published





Only Native American on Federal Death Row Executed

The only Native American on federal death row was put to death Wednesday, despite objections from many Navajo leaders who had urged President Donald Trump to halt the execution on the ground it would..




WorldNews - Published

Also reported by •New Zealand Herald •CBS News


Republican Convention: Kentucky teen says US must unite around Trump

A Kentucky teenager known for video of his interaction with a Native American man during duelling demonstrations at the Lincoln Memorial says the country must unite around a president "who calls the..




New Zealand Herald - Published





California ski resort changing name, citing slur

California's popular Squaw Valley Ski Resort will change its name because the word "squaw" is a derogatory term for Native American women, officials announced Tuesday. The site was the scene of the..




USATODAY.com - Published





Scheduled federal execution of Navajo man raises sovereignty concerns

The scheduled execution of the only Native American man on federal death row is highlighting the Navajo Nation's struggle for sovereignty.




USATODAY.com - Published





Washington dropped its racist nickname, but it's still used at nearly 100 middle schools, high schools

National Congress of American Indians examined K-12 schools with Native American mascots, nicknames and found 98 still use the racial slur.




USATODAY.com - Published





US Presidential candidate Joe Biden, running mate Harris extend Ganesh Chaturthi greetings to Indians

It is to be noted that Kamala Harris' Indian heritage has dominated headlines in India.




DNA - Published





Kansas City Chiefs ban fans from wearing headdresses and face paint

Kansas City Chiefs ban fans from wearing headdresses or face paint that "appropriates American Indian cultures" at their home stadium.




BBC News - Published

Also reported by •CBS News


Congress addresses crisis of missing and murdered Native American women

Bipartisan lawmakers in Congress have introduced bills to address the crisis of missing and murdered Native American women. CBS News reporter Grace Segers joins CBSN from Washington with more.




CBS News - Published





'We've Already Survived an Apocalypse': Indigenous Writers Are Changing Sci-Fi

Long underrepresented in genre fiction, Native American and First Nations authors are reshaping its otherworldly (but still often Eurocentric) worlds.




NYTimes.com - Published





Indians can now fly to US, UK, Canada, UAE Under 'Air Bubble' Agreement, all visas permitted

It must be noted that India has not allowed entry of all types of visa holders into the country except for those holding essential visa approved by the Ministry of Home Affairs.




DNA - Published





Nagasaki And The Shimoda Case: When The U.S. Was Tried For War Crimes And Found Guilty

Article by WN.Com Correspondent Dallas Darling. The mention of "war crimes" usually brings the Nazis and the Holocaust to mind. But the United States has its own dark history of scorched earth..




WorldNews - Published





Coronavirus ravages Mississippi Indian reservation

As confirmed coronavirus cases skyrocket in Mississippi, the state's only federally recognized American Indian tribe has been devastated. COVID-19 has ripped through Mississippi Band of Choctaw Indian..




USATODAY.com - Published





Native Americans Feel Devastated by the Virus Yet Overlooked in the Data

Statistical gaps can make it difficult to properly allocate public resources to Native Americans. When that's the case, one leader said, "tribal nations have an effective death sentence."




NYTimes.com - Published





Execution Date Set For Only Native American on Death Row

(FLAGSTAFF, Ariz.) — The only Native American on federal death row is scheduled to be executed in late August, the U.S. government announced Wednesday. Lezmond Mitchell, who is Navajo, had been among..




WorldNews - Published





Exeter to keep Chiefs name & logo after review of club branding

Exeter Chiefs decide to retain their current name and logo following calls to lose their Native American branding.




BBC News - Published





US election: Biden pledges billions to improve racial equality

The Democratic candidate vows to boost opportunities for Black, Latino and Native American businesses.




BBC News - Published





Disney Plus needs to add some context to racist 'Peter Pan' now

Disney depicts these tribesmen as comically stereotypical Native Americans, though — Neverland being fictional — they can't really be American at all.




USATODAY.com - Published





Providence mayor launches reparations process

Providence, Rhode Island Mayor Jorge Elorza is looking at providing reparations to residents of African and Native American heritage. On Wednesday he signed an executive order that would examine the..




USATODAY.com - Published





Squaw Valley Ski Resort considers name change

California's Squaw Valley Ski Resort received international name recognition by hosting the 1960 Olympics. Now that name, considered offensive to Native Americans, is being reconsidered in the wake of..




USATODAY.com - Published





Football fans react to Redskins "retiring" name

Some football fans are upset while others support "retiring" the Redskins name and Indian head logo from the Washington DC-based NFL team. It follows pressure from sponsors and decades of criticism..




USATODAY.com - Published





Mount Rushmore: Isn't it time to talk about its Native American history?​​​​​​​

As the U.S. and NFL reckon with their relationship to Native Americans, Mount Rushmore remains almost completely devoid of important history.




USATODAY.com - Published





Washington NFL team to retire Redskins name and logo

The NFL's Washington team announced on Monday it will retire its Redskins name and logo in a decision made after sponsors stepped up pressure to scrap a name that the franchise has used since 1933 but..




WorldNews - Published





More groups call for complete ban on Native American mascots as momentum shifts

"This is the closest I think Native peoples have come in nearly 30 years," Crystal Echo Hawk says of Washington's name change.




USATODAY.com - Published





Justices rule swath of Oklahoma, including most of Tulsa, remains tribal reservation

WASHINGTON — The Supreme Court ruled Thursday that a large chunk of eastern Oklahoma remains an American Indian reservation, a decision that state and federal officials have warned could throw..




WorldNews - Published





US Supreme Court rules half of Oklahoma is Native American land

The justices decide an eastern swathe of the state should be recognised as part of a reservation.




BBC News - Published

Also reported by •NYTimes.com


Supreme Court gives Native Americans jurisdiction over eastern half of Oklahoma

Legal authority over virtually half of Oklahoma – home to 1.8 million residents and including Tulsa, its second-largest city – was at issue.




USATODAY.com - Published





As Redskins review name, Dan Snyder's once-touted Native American foundation has gone dark

The Washington Redskins Original American Foundation, formed in 2014 by Daniel Snyder, has had a steep decline in donations in recent years.




USATODAY.com - Published





Honouring a culture or appropriating it - Exeter Chiefs fans at odds over branding

Supporters of Exeter Chiefs are at odds over the Premiership club's Native American branding.




BBC News - Published





Massive win for Native Americans as judge orders US oil pipeline shut

Washington - Native Americans fighting against an oil pipeline amid concerns over environmental damage were handed a victory on Monday by a federal court, which ordered the project be shut down by next..




WorldNews - Published





Dakota Access Pipeline to Shut Down Pending Review, Federal Judge Rules

The ruling, a victory for the Native American and environmentalist groups who oppose the pipeline, said that it must be emptied of oil by Aug. 5.




NYTimes.com - Published





Since Lakota Lives Matter Too, Trump's Visit To Mount Rushmore Couldn't Come At A Worse Time

Article by WN.Com Correspondent Dallas Darling A major reconsideration of how the history of colonization, conquest, slavery, and white supremacy is taught and viewed, especially through monuments, is..




WorldNews - Published





Tearing Down Statues Will Liberate History From White Supremacy, Genocide Denial-And Trump

Article by WN.Com Correspondent Dallas Darling Starting with George Washington, John Adams, and Thomas Jefferson, Philonise Floyd, the brother of George Floyd, an African American man who died while..




WorldNews - Published





Native Americans to protest against Trump visit to Mount Rushmore

Indigenous leaders say the South Dakota monument to presidents is "a symbol of white supremacy".




BBC News - Published





Theodore Roosevelt statue to be removed by New York museum

The statue depicts the ex-president on horseback flanked by a Native American man and an African man.




BBC News - Published





Facing Arizona surge, Navajos reimpose virus curfew

The Navajo Nation has reimposed 57-hour weekend curfews to protect citizens from a surge in coronavirus cases in neighboring Arizona after the largest Native American reservation managed to flatten its..




Reuters - Published





New Mexico Takes Down Statue of Its Conquistador

The agitation against honoring Juan de Oñate reflects a tension that has long festered between Native Americans and Hispanics over Spain's conquest of New Mexico more than four centuries ago.




NYTimes.com - Published





Richmond Columbus statue toppled & thrown in lake

A statue of Christopher Columbus in Richmond, Virginia was torn down by demonstrators, set on fire and then thrown into a lake. Protesters spoke of the struggles of Native Americans, saying they began..




USATODAY.com - Published





Nepal blames Indians for rise in COVID-19 cases

Nepal has over 400 COVID-19 cases with two deaths




DNA - Published





Govt to bring back 169 Indians to Kolkata from Dhaka under Vande Bharat Mission on Monday

A total of 169 Indians will be brought back to Kolkata from Dhaka in an Air India flight under the government's mega evacuation mission, official sources said. West Bengal Minister Partha Chatterjee..




IndiaTimes - Published