Dharamshala
City in Himachal Pradesh, India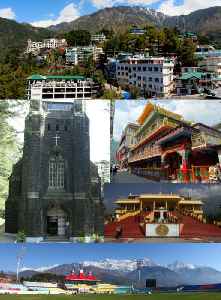 Dharamshala is the district headquarters of Kangra district of Himachal Pradesh, India. Kangra District was part of the British province of Punjab. The administrative headquarters of the district were initially at Kangra, but were moved to Dharamshala in 1855. Dharamshala is 18 km (11 mi) from Kangra.


You Might Like
WFP's Nobel win reminder of everyone's responsibility to narrow gap between rich and poor, says Dalai Lama
DHARAMSALA: Tibetan spiritual leader Dalai Lama on Saturday congratulated the executive director of the UN World Food Programme, a day after the organisation won this year's Nobel Peace Prize. The..
WorldNews - Published
Dalai Lama expresses concern over poor health of Shinzo Abe
Dharamshala: Dalai Lama on Saturday expressed concern over the poor health of Japan Prime Minister Shinzo Abe who had on Friday resigned due to health issues. In a letter to Abe, Dalai Lama wrote, "I..
WorldNews - Published
US thanks India for hosting Dalai Lama since 1959
Washington, Jul 6 (PTI) The US on Monday thanked India for hosting the Dalai Lama since 1959 as it commemorated the 85th birthday of the Tibetan spiritual leader. The Dalai Lama has been living in..
WorldNews - Published
Also reported by •IndiaTimes
UP minister targets Congress on CAA at Dharamshala
IndiaTimes - Published
Only those ready to say 'Bharat Mata Ki Jai' can stay in India: Dharmendra Pradhan makes a case for citizenship
"Should we just let this country be a Dharamshala?" asked Dharmendra Pradhan
DNA - Published
No truck with Dalai Lama please, China to India
China officially reminded India this month that any interaction which senior Indian leaders or government functionaries might have with the Dalai Lama was going to be detrimental to the bilateral..
IndiaTimes - Published
Every state, district has role in helping India become 5 trillion dollar economy: PM Modi
Prime Minister Narendra Modi Thursday said every state and district in the country had role in India's effort to become a five trillion dollar economy by 2025. Modi was inaugurating a two-day event in..
IndiaTimes - Published
PM Narendra Modi attends Global Investors Meet in Dharamshala
Himachal Pradesh governor Bandaru Dattatreya and chief minister Jai Ram Thakur were also present at the event along with the Prime Minister. Earlier today, Modi reached Dharmshala where he was welcomed..
IndiaTimes - Published
Investor meet to begin in Dharmshala from today, PM Modi to address gathering
IndiaTimes - Published
'Deputy Speaker heckled by BJP youths at Dharamshala'
With the nearing by-elections ahead at Dharamshala, this assembly constituency has been divided into four zones and Hans Raj has been given charge for one zone. He was attending the program of Bhartiya..
IndiaTimes - Published
India vs South Africa: First T20I abandoned due to rain
Dharamshala (Himachal Pradesh): The first T20I match between India and South Africa was abandoned without a ball bowled due to persistent rain at HPCA...
WorldNews - Published
Prayers mark the Dalai Lama's 84th birthday
Donning traditional dresses, hundreds of Tibetans on Saturday joined the 84th birthday celebrations of their spiritual leader the Dalai Lama at the main temple Tsuglakhang in Dharamsala. The Dalai..
IndiaTimes - Published