House of Lords
Upper house in the Parliament of the United Kingdom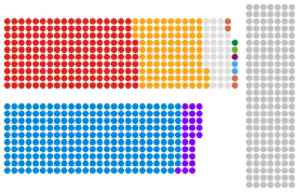 The House of Lords, also known as the House of Peers and domestically usually referred to simply as the Lords, is the upper house of the Parliament of the United Kingdom. Membership is granted by appointment or by heredity or official function. Like the House of Commons, it meets in the Palace of Westminster.


Lords peer struggles with mask while on train

Conservative former minister Lord Duncan of Springbank held his mask in frontof his face as he asked a minister a question, which is likely to raisequestions over whether this was in line with the..
Credit: PA - Press Association STUDIO Duration: 00:35
Published
You Might Like



Jeremy Corbyn makes fresh complaint over rejected House of Lords nominees

Anger is growing on the left after Labour peerages were blocked, as Lord Fowler, a Tory, criticised the chamber's expansion Jeremy Corbyn has raised renewed concerns over the decision to reject his..




WorldNews - Published





Facebook and Google should audit algorithms that boost fake news, say UK Lords

The global coronavirus pandemic has left governments, the tech industry and citizens reeling, not just from the devastating effects of the virus, but from the slew of misinformation that has..




WorldNews - Published





House of Lords to refer itself to UK's information watchdog after accidentally broadcasting peers' telephone numbers

Members of the public heard contact details




Independent - Published





Democracy campaigners slam decision to hold virtual House of Lords sittings in private

Unlike Commons, sittings under new virtual regime will not be broadcast




Independent - Published





Tory government tells EU that Royal Navy will be sent in to protect UK waters from European fishing vessels

The government's fishing minister has warned the EU that the UK has taken "sufficient" steps to protect its waters after Brexit, as fears grow of a French blockade. The Royal Navy boasts three extra..




Independent - Published





UK's House of Lords debates CAA, expresses concern over impact

The peers in the Upper House of the UK Parliament held a debate over the impact of India's Citizenship (Amendment) Act (CAA) and sought representations by the UK government to counterparts in India..




IndiaTimes - Published





House of Lords bid to derail Boris Johnson plan to extend terror sentences

Peers will also call for more funding for deradicalisation programmes and supervision after release




Independent - Published





Lords reform: Government facing revolt over 'absurd and indefensible' elections for hereditary peers

Exclusive: Plans to axe by-elections for peers supported by 'large numbers' of Tories and aristocrats




Independent - Published





Daily allowance in House of Lords set to rise to £323

Above-inflation hike in tax-free payment is triggered automatically by MPs' rise




Independent - Published





Speaker: John Bercow claims 'conspiracy' to keep him out of the House of Lords

Labour MP says Boris Johnson's refusal of peerage to former speaker may be 'a kind of bullying'




Independent - Published





Brexit could mean £5 billion tax loss from finance: academic

A shift in banking and trading from London to the European Union after Brexit could mean a loss of 3-5 billion pounds ($3.9-$6.6 billion) a year in taxes, an academic and former banker told a committee..




Reuters - Published




'Unsustainable': Speaker calls for ban on a new appointments to House of Lords

'I would advocate an effective moratorium on new appointments,' says Lord Fowler




Independent - Published





UK government suffers fourth defeat on Brexit legislation in House of Lords

Prime Minister Boris Johnson's government suffered a fourth defeat on its Brexit legislation when members of parliament's upper chamber voted on Tuesday to ensure protections for child refugees after..




Reuters - Published





Brexit: Boris Johnson suffers new Lords defeat over bid to to scrap protections for child refugees

Boris Johnson's Brexit bill has gone down to its fourth defeat in less than 24 hours in the House of Lords, as peers voted to approve Lord Dubs' amendment to reinstate a commitment to protect..




Independent - Published





Boris Johnson suffers second defeat in Lords as peers vote against plans to allow lower courts to overrule EU law

Boris Johnson has suffered a second defeat in the House of Lords in a matter of hours over plans to allow British judges at lower courts overturn European Court of Justice rulings after Brexit.




Independent - Published





Boris Johnson defeated in House of Lords as peers vote for EU citizens to be given physical proof of right to stay in UK after Brexit

Peers have inflicted a first defeat on Boris Johnson by voting for EU citizens to be given physical proof of their right to stay in the UK after Brexit, to prevent "another Windrush".




Independent - Published





John Bercow could be blocked from peerage unless he joins Labour

By convention, Jeremy Corbyn can only nominate representatives of his own party to House of Lords




Independent - Published





Boris Johnson considers moving House of Lords to York

'It's one of a range of things we're looking at. Trust me we're going to be radical,' says party chairman




Independent - Published





Brexit: Boris Johnson condemned by peers over plans to let courts overrule EU law ahead of Lords clash

Report warn PM's plan would cause 'significant legal uncertainty' as peers prepare for Brexit battle




Independent - Published





Labour leadership: Rebecca Long-Bailey vows to abolish House of Lords

Favoured candidate of party left says she would 'go to war with the political establishment' as leader




Independent - Published





Labour leadership: Clive Lewis warns party only has 'very slim' chance of winning next general election without alliances

Exclusive: MP's leadership manifesto contains plans to abolish House of Lords, introduce proportional representation and vow not block Scottish independence referendum




Independent - Published





Zac Goldsmith remark about 'seedy lists of party apparatchiks' comes back to haunt him after Tory peerage

Former Conservative MP appears to have changed his mind about House of Lords - after being appointed to House of Lords




Independent - Published





Johnson and Corbyn in tense walk to Queen's Speech

"It doesn't look like there's much love lost there", said the BBC's Laura Kuenssberg as the pair walked to the House of Lords.




BBC News - Published





Zac Goldsmith to be awarded peerage and place in House of Lords by Tories despite losing seat as MP for second time in three years

Zac Goldsmith to be awarded place in House of Lords by Tories despite losing seat as MP for second time in three years




Independent - Published





How Boris Johnson has changed his mind over 'unelected bureaucrats' – Martyn McLaughlin

Boris Johnson's decision to send Nicky Morgan to the House of Lords so she can remain Culture Secretary is shameless, writes Martyn McLaughlin. If the tubthumping rhetoric directed by Boris Johnson..




WorldNews - Published





Dominic Cummings said 'if I got control of Number 10... I would bring in people from wherever, make them ministers, whack them in the House of Lords', in resurfaced video footage

Boris Johnson's senior adviser claimed process of making non-MPs government ministers could be done 'very, very quickly'




Independent - Published





Tories gave dozens of donors seats in House of Lords after they donated millions to party, investigation finds

Party accused of 'cronyism'




Independent - Published





Bonfire Night: How the Gunpowder Plot backfired for Guy Fawkes and his fellow conspirators

Thwarted bid to blow up House of Lords made 17th century Britain even less tolerant




Independent - Published





Britain should pay £39bn Brexit 'divorce bill' even if it leaves without a deal, report says

House of Lords committee warns of 'serious' damage to UK's international reputation if cash is withheld




Independent - Published





Brexit on October 31 a 'priority' for British government: Queen

British Prime Minister Boris Johnson repeated on Monday that Britain must leave the EU on October 31, as divorce talks resumed in Brussels in a pivotal week that could define how and when Brexit..




WorldNews - Published





Britain, EU enter make-or-break Brexit week

British Prime Minister Boris Johnson repeated on Monday that Britain must leave the EU on October 31, as divorce talks resumed in Brussels in a pivotal week that could define how and when Brexit..




WorldNews - Published





UK parliament upper house will sit "at earliest opportunity": Lords speaker

Britain's upper chamber of parliament, the House of Lords, will resume sitting as soon as possible, its speaker said after the country's supreme court ruled that parliament had been suspended..




Reuters - Published




Could a no-deal Brexit still happen on 31 October?

A new law to avoid a no-deal exit has passed the House of Lords - but is no deal still possible?




BBC News - Published





UK's House of Lords passes bill aimed at blocking no-deal Brexit

The UK parliament's upper chamber on Friday approved a bill that aims to block a no-deal Brexit at the end of October by forcing Prime Minister Boris Johnson to seek a delay to Britain's departure from..




France 24 - Published





Brexit: Bill to block no-deal to be rushed through House of Lords after 'late-night pact'

MPs are racing against time to get the law on the statute books before parliament is suspended next week




Independent - Published





The moment MPs back Brexit delay bill

The bill has passed its stages in the House of Commons and now heads to the House of Lords.




BBC News - Published





Brexit: Conservative peers launch last-ditch effort to block no-deal bill

More than 100 amendments tabled in House of Lords in attempt to eat up time for debate




Independent - Published





Boris Johnson to appoint string of Brexit supporters to House of Lords

Nigel Farage is not expected to be among those honoured for their part in the Leave campaign




Independent - Published





UK Labour peers poised to hold no-confidence vote in leader Corbyn: BBC

Labour members of Britain's House of Lords are poised to hold a vote of no confidence in leader Jeremy Corbyn over his handling of claims of anti-Semitism in the party, the BBC reported on Thursday.




Reuters - Published





Brexit: Lords back attempt to stop next prime minister suspending parliament to force through no-deal

The House of Lords have backed an attempt to stop the next prime minister suspending parliament to force through a no-deal Brexit.




Independent - Published





Labour antisemitism: Peers take out newspaper advert telling Corbyn he has 'failed test of leadership'

Labour members of House of Lords claim Mr Corbyn is failing to defend party's 'anti-racist values'




Independent - Published





Brexit: Peers launch fresh bid to stop Boris Johnson suspending parliament to force no-deal

House of Lords will vote on proposal to ensure MPs have an opportunity to vote in the weeks before the Halloween deadline




Independent - Published





Health minister collapses at despatch box during House of Lords debate

Baroness Blackwood suffers from pre-existing medical condition




Independent - Published





Vulnerable children 'may be trapped in care system' as government quietly axes adoption scheme

Exclusive: Attempt in House of Lords to force U-turn amid warnings that youngsters with disabilities, from ethnic minorities and siblings at risk




Independent - Published