Judaism
Ancient, monotheistic, Abrahamic religion with the Torah as its foundational text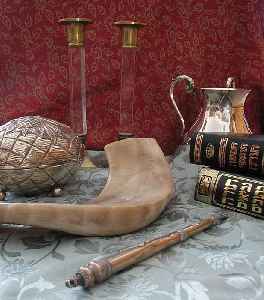 Judaism is the ethnic religion of the Jewish people. It is an ancient, monotheistic, Abrahamic religion with the Torah as its foundational text. It encompasses the religion, philosophy, and culture of the Jewish people. Judaism is considered by religious Jews to be the expression of the covenant that God established with the Children of Israel. Judaism encompasses a wide body of texts, practices, theological positions, and forms of organization. The Torah is part of the larger text known as the Tanakh or the Hebrew Bible, and supplemental oral tradition represented by later texts such as the Midrash and the Talmud. With between 14.5 and 17.4 million adherents worldwide, Judaism is the tenth largest religion in the world.


Polish Judas ritual 'anti-Semitic' - Jewish congress
An effigy beaten by children in a Polish town has stereotypical Jewish features.
BBC News - Published
Jewish congress condemns revival of folk tradition in Poland as anti-Semitic
The World Jewish Congress has condemned as anti-Semitic the revival of a folk tradition of burning an effigy of Judas in the Polish town of Pruchnik.
Reuters - Published
Mass 'Priestly Blessing' held at Jerusalem's Western Wall
Thousands gathered at the Western Wall in Jerusalem on Monday to attend a special 'Priestly Blessing' prayer during the Jewish holiday of Passover. Rough cut (no reporter narration).
Credit: Reuters Studio Duration: 00:45Published
Man Dubbed "Patient Zero" Spread Measles From NY To MI
A man dubbed "Patient Zero," who spread measles to Oakland County, Michigan, was a traveler from Israel who came via New York, according to state health officials. There have reported 39 measles cases..
Credit: Wochit News Duration: 00:39Published
Why Does The Date Of Passover Always Change?
The Jewish celebration of Passover always happens in the spring, but the first day doesn't always occur on the same date, at least not on our modern Gregorian calendar. Passover is the celebration of..
Credit: Wochit News Duration: 00:36Published
NYC Declares Public Health Emergency
According to UPI, New York City Mayor Bill de Blasio has declared a state of emergency in response to a measles outbreak in a Brooklyn ultra-Orthodox Jewish community. Since last October, the community..
Credit: Wochit News Duration: 00:43Published
Mike Pompeo Says Trump Is The Modern Savior Of Jewish People
According to Business Insider, "Secretary of State Mike Pompeo said it is "certainly" possible that President Donald Trump may be the modern-day savior of the Jewish people. Speaking to the Christian..
Credit: Wochit News Duration: 00:43Published
Sarah Sanders Won't Answer If Donald Trump Thinks Democrats Hate Jews: 'Ask The Democrats'
President Trump alledegly told Republican donors at his Mar-a-Lago resort, "The Democrats hate Jewish people," according to Axios in reference to anti-Israel comments made by Minnesota Rep. Ilhan..
Credit: Newsweek Duration: 00:33Published
Ultra-Orthdox Jews try to block women's rally in Jerusalem
The woemn were praying at Jerusalem's Western Wall but ultra-Orthodox protesters tried to stop them.
Credit: euronews (in English) Duration: 00:50Published
Festival of Freedom: 6 facts about the Passover holiday
Whether you're personally participating or not, it's important to understand this significant Jewish holiday. Here are six key facts to help you out.
USATODAY.com - Published
Passover starts Friday night. What you need to know about the Jewish holiday
On Friday night, Jews around the world will celebrate Passover, an 8-day holiday that remembers the exodus of the Jewish people from slavery in Egypt.
USATODAY.com - Published
Search this site and the web:
You Might Like