Cambodia
Country in Southeast Asia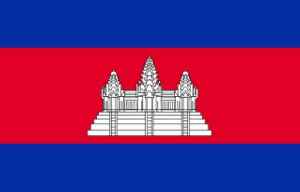 Cambodia, officially the Kingdom of Cambodia, is a country located in the southern portion of the Indochina peninsula in Southeast Asia. It is 181,035 square kilometres in area, bordered by Thailand to the northwest, Laos to the northeast, Vietnam to the east and the Gulf of Thailand to the southwest.


Cambodia villagers cope with flood aftermath

Cambodian villagers found themselves wading in knee-deep water in their shophouses and homes days after flash floods swept through parts of the country earlier in the week, killing 39.
Credit: Reuters Studio Duration: 01:02
Published
Landmine-sniffing 'hero' rat awarded gold medal

Magawa has sniffed out 39 landmines and 28 unexploded munitions in his career as a mine-sniffing rat in Cambodia, earning him a gold medal from UK veterinary charity. Soraya Ali reports.
Credit: Reuters Studio Duration: 01:23
Published
Unhappy elephant gets a little help from Sinatra

The trick to calming an unhappy elephant? Sing him Frank Sinatra songs - so says one of the vets tasked with assessing whether Kaavan can be moved from poor conditions in a zoo in Pakistan's capital to..
Credit: Reuters Studio Duration: 01:26
Published
Notorious Cambodian prison commander dead at 77

The Khmer Rouge commander known as "Comrade Duch," Pol Pot's premier executioner and security chief who oversaw the mass murder of at least 14,000 Cambodians at the notorious Tuol Sleng prison, died on..
Credit: Reuters Studio Duration: 02:08
Published
You Might Like



Former CBS News foreign correspondent Bert Quint has died at age 90

Former CBS News foreign correspondent Bert Quint has died at the age of 90. Quint spent three decades with CBS News covering hotspots like Cambodia and Vietnam.




CBS News - Published





Cambodian PM says no wage hikes for civil servants, armed forces for 2021 due to COVID-19

PHNOM PENH, Oct. 7 (Xinhua) -- Cambodian Prime Minister Samdech Techo Hun Sen said on Wednesday that there will be no wage hikes for the civil servants...




WorldNews - Published





Cambodia 'demolishes' US-built facility on naval base, amid fears of secret China deal

Cambodia has demolished a US-built facility on the country's largest...




WorldNews - Published





Rat that detected dozens of landmines gets award for animal bravery

Meet Magawa, the "hero rat" who just won an animal bravery medal for sniffing out dozens of landmines in Cambodia.




CBS News - Published





Mine-detecting rat receives prestigious gold medal

Mine-detecting rat, Magawa, has sniffed out dozens of landmines and unexploded munitions in Cambodia.




BBC News - Published





Lightning Strike in Cambodia Kills 6, Injures 4 People, Reports Suggest

BANGKOK (Sputnik) - Six people have been killed and four others were injured as a result of a lightning strike on a residential building in northwestern Cambodia's Battambang province, the Khmer Times..




WorldNews - Published





Khmer Rouge prison commander Comrade Duch dies

Comrade Duch, a former senior figure of the Khmer Rouge convicted of crimes against humanity in Cambodia, has died. He was serving a life sentence after being...




WorldNews - Published





Khmer Rouge chief jailer Duch, guilty of war crimes, dies at 77

The Khmer Rouge's chief jailer, who admitted overseeing the torture and killings of as many as 16,000 Cambodians while running the regime's most notorious prison, has died. Kaing Guek Eav, known as..




New Zealand Herald - Published





Cambodia's 'Rubbish School' where kids pay with plastic

With no tourists because of the pandemic, a guide in Cambodia is instead teaching English




BBC News - Published





Cambodia hoists ASEAN flag to celebrate 53rd founding anniversary of ASEAN

PHNOM PENH, Aug. 7 (Xinhua) -- Cambodia on Friday hoisted the ASEAN flag adjacent to its national flag at the Ministry of Foreign Affairs and International Cooperation in order to celebrate the 53rd..




WorldNews - Published





Another US diplomat tests positive for COVID-19 in Cambodia

PHNOM PENH - Cambodia confirmed on Tuesday that one more US diplomat tested positive for COVID-19, bringing the total number of infected US diplomats in the country to four. A...




WorldNews - Published




Law to ban 'inappropriate' dress in Cambodia set to threaten women's freedoms, rights groups say

A proposed law that would let Cambodian police fine people deemed to be dressed inappropriately could be used to curtail women's freedoms and reinforce a culture of impunity around sexual..




WorldNews - Published





Cambodia reports 5 new COVID-19 cases including 2 U.S. diplomats

Cambodia on Friday confirmed five new COVID-19 cases including two U.S. diplomats, raising the total number of infections in the kingdom to 171, according to the Health Ministry. The new cases included..




WorldNews - Published





WB approves 100 mln USD credit for Cambodia's road connectivity improvement project

PHNOM PENH, July 17 (Xinhua) -- The World Bank has approved a 100-million-U.S. dollar credit for Cambodia's road connectivity improvement project, according to its press statement on Friday. The..




WorldNews - Published





Cambodia confirms 15 new imported COVID-19 cases, 156 in total

PHNOM PENH, July 12 (Xinhua) -- Cambodia on Sunday confirmed 15 new imported COVID-19 cases, bringing the total number of infections in the country to...




WorldNews - Published





Cambodia bans dog meat trade in 'lynchpin' town

Siem Reap, one of the most popular tourist towns in Southeast Asia, has become the first province in Cambodia to ban the dog meat trade in a victory for animal rights activists who called the area a..




WorldNews - Published





Dog meat: First Cambodian province bans sale and consumption

The decision in Siem Reap follows similar moves in parts of China and India in recent months.




BBC News - Published





Uighur activist groups move International Criminal Court against China on charges of genocide

Uighur exiles urged the International Criminal Court on Monday to investigate Beijing for genocide and crimes against humanity, the first attempt to use international law to hold China's ruling..




WorldNews - Published





Cambodia PM says ruling party to dominate politics for up to 100 years

PHNOM PENH (Reuters) - Cambodian Prime Minister Hun Sen said on Monday his ruling party would be a dominant force in politics for as long as a century, telling the opposition it should wait until the..




WorldNews - Published





Thai protesters demand investigation of exile's kidnapping

Protesters in the Thai capital held a small rally outside the prime minister's offices on Friday urging authorities to investigate the suspected kidnapping of an exiled activist by unknown gunmen last..




Reuters - Published





PM Modi discusses Covid-19 pandemic with Cambodian PM

Prime Minister Narendra Modi discussed the Covid-19 pandemic with his Cambodian counterpart Samdech Akka Moha Sena Padei Techo Hun Sen on Wednesday and conveyed India's commitment to further..




IndiaTimes - Published





Cambodia to investigate kidnapping of exiled Thai activist

Cambodia will investigate the suspected kidnapping of an exiled Thai activist in Phnom Penh, a police spokesman told Reuters on Tuesday, five days after unknown gunmen reportedly dragged him off the..




Reuters - Published





Vietnam plans to resume flights to some virus-free countries

HANOI(Reuters) - Vietnam plans to allow a resumption of flights to and from countries that have had no cases of coronavirus for 30 days, state media cited the prime minister as saying on Tuesday, with..




WorldNews - Published

Also reported by •Reuters


Thai exile's kidnapping sparks protests over "missing" critics

Protests flared in Bangkok on Monday against the suspected kidnapping of a Thai activist in Cambodia which has reignited protests against Thailand's military-royalist elite, with some online..




Reuters - Published





Eight countries, including India, ask UN Human Rights Commissioner to be responsible amid COVID-19 crisis

The joint letter was written by the permanent missions of India, Indonesia, Cambodia, Malaysia, Myanmar, the Philippines, Thailand, and Vietnam in Geneva to the OHCHR




DNA - Published





Exiled Thai activist abducted in Cambodia, rights group says

Unknown gunmen abducted a Thai political activist in Cambodia's capital, rights advocates said on Friday, the latest in a series of mysterious disappearances of Southeast Asian dissidents living in..




Reuters - Published




No discussion on RCEP during India-Australia virtual summit: MEA

The RCEP is a proposed free trade agreement in the Asia-Pacific region between the ten member states of the Association of Southeast Asian Nations (ASEAN) namely, Brunei, Cambodia, Indonesia, Laos,..




IndiaTimes - Published





Cambodia lifts entry ban from six countries as coronavirus eases

Cambodia has lifted a ban on entry of visitors from Iran, Italy, Germany, Spain, France and the United States that had been put in place to curb the spread of coronavirus, the health ministry said on..




Reuters - Published





Cambodia says all COVID-19 patients recovered, no new cases for a month

Cambodia's last patient with the new coronavirus has recovered and left hospital, leaving the Southeast Asian country with zero cases, the health ministry said on Saturday, while urging continued..




Reuters - Published





Coronavirus brings curtain down on Cambodia shadow puppet theatre

Cambodia's shadow puppet tradition goes back to the 7th century and has survived the collapse of empires, wars and Khmer Rouge reign of terror that left some 1.7 million people dead.




Reuters - Published





Cambodian official says human rights 'need to be put aside' in drug war

A Cambodian official on Wednesday defended an anti-drug campaign that has been decried as rife with abuses, saying human rights "need to be put aside" to fight drugs that destroy families and fuel..




Reuters - Published





Watch: SBS World News live

Tonight on SBS World News, hundreds more Australians arrive home after charger flights from India and Cambodia, mass quarantine in Tasmania and British Prime Minister Boris Johnson pays tribute to two..




SBS - Published





Almost 200 Australians arrive in Sydney after being locked down in Cambodia

The one-off flight is now on its way to Sydney with 164 Australians and 20 permanent residents and family members on board.




SBS - Published





Vietnam challenges China's monopoly on coronavirus diplomacy

HANOI: Vietnam is challenging China's dominance of coronavirus diplomacy with the donation of medical supplies to Europe and Southeast Asia and even winning plaudits from U.S. President Donald Trump..




WorldNews - Published





Cambodia adopts law to allow for emergency powers to tackle coronavirus

Cambodia's parliament passed a law on Friday to prepare the way for a state of emergency, which Prime Minister Hun Sen has said he might have to declare to reinforce the campaign against the..




Reuters - Published





Almost all bets are off: Casino capitals Macau, Las Vegas slammed by virus

Shares The vast, glitzy gaming halls of Macau are open, but thousands of baccarat tables are empty. The world's biggest gambling hub has barred entry to most travellers and hotels are being used to..




WorldNews - Published





In scrappy Cambodian casino town, Chinese plan future beyond coronavirus

When casino owner Kang Qiang looks out the window of his 20th floor office in this city on the remote Cambodian coast, he sees construction cranes sitting idle.




Reuters - Published





Cambodia PM orders casinos shut down as coronavirus cases climb

Cambodian Prime Minister Hun Sen on Monday ordered all casinos to close to curb the spread of the coronavirus.




Reuters - Published





France, Malaysia charter flights to bring home citizens stranded in Cambodia

France and Malaysia have organized chartered flights to fly out hundreds of their citizens stranded in Cambodia after Southeast Asian nation sealed borders and canceled flights in the wake of the..




Reuters - Published





Cambodia reports four new coronavirus cases, bringing total to 91

Cambodia reported four new coronavirus cases on Tuesday, bringing the total to 91, the health ministry said.




Reuters - Published




Cambodia uses coronavirus crisis to arrest 17 critics, rights group says

The Cambodian government has used the coronavirus outbreak to lock up opposition activists and others expressing concern about the virus and the government's response, U.S.-based Human Rights Watch..




Reuters - Published





Jack Ma Foundation and Alibaba Foundation Donate Medical Supplies to 10 More Asian Nations

HANGZHOU, China--(BUSINESS WIRE)--Mar 21, 2020-- The Jack Ma Foundation and Alibaba Foundation today announced plans to donate much-needed medical supplies to 10 more countries in Asia to help the..




WorldNews - Published





Cambodia halts mainstream Mekong River dam plans for 10 years, official says

Electricity-starved Cambodia will not develop new hydropower dams on the Mekong River for the next 10 years, a senior energy official said on Wednesday, as it reviews its policy to seek energy from..




Reuters - Published





300 Indians stranded at Kuala Lumpur airport

At least 300 Keralites, including students, are stranded at the Kuala Lumpur airport following cancellation of flights to India due to the coronavirus outbreak. Those stranded have come from various..




IndiaTimes - Published





French infant among four new coronavirus cases in Cambodia

Cambodia reported four new cases of coronavirus including in a four-month-old French boy and two people who had traveled to Malaysia for a religious ceremony, the Ministry of Health said late Sunday.




Reuters - Published





'We're not being quarantined. We're being detained.' Americans stuck in Cambodia amid pandemic

When Ryan Knapp and his wife booked a cruise along the Mekong Delta, they thought it would be a dream trip. But it has turned into a nightmare.




USATODAY.com - Published