Palme d'Or
Highest prize awarded at the Cannes Film Festival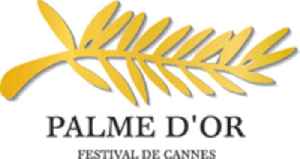 The Palme d'Or is the highest prize awarded at the Cannes Film Festival. It was introduced in 1955 by the festival's organizing committee. Previously, from 1939 to 1954, the highest prize at the festival was the Grand Prix du Festival International du Film. In 1964, The Palme d'Or was replaced again by the Grand Prix, before being reintroduced in 1975.


French actor Alain Delon honoured at Cannes
An emotional Alain Delon received a prize for his six decade-long acting career on Sunday as the Cannes Film Festival shrugged off criticism prompted by his views on women and same-sex couples to give..
WorldNews - Published
Cannes 2019, Day 4: The Brits are back, firing rockets and workers' rights
Elton John brought a shot of star power with "Rocketman", but the kick in the gut came from two-time Palme d'Or-winner Ken Loach, whose heart-wrenching "Sorry We Missed You" makes him an early..
France 24 - Published
Robert Pattinson, Helen Mirren host Cannes party attended by Tarantino
The pair welcomed guests to the event in aid of charity Help Refugees, including the "Once Upon A Time ... In Hollywood" director who returns to the film festival 25 years after "Pulp Fiction" clinched..
Credit: Reuters Studio Duration: 01:38Published
"I needed to see black people on screen", says 'Atlantics' director
Mati Diop, whose Cannes competition spot makes her the first black woman to compete for the Palme d'Or, says it shows how much work there is to do for equality in the industry. Rough cut (no reporter..
Credit: Reuters Studio Duration: 02:03Published
Cannes filmmaker tells Macron: see my police violence movie
Ladj Ly says his debut and Palme D'Or hopeful, 'Les Miserables' gives an insight into France's "yellow vest" street protests and the police tactics used. Rough cut (no reporter narration).
Credit: Reuters Studio Duration: 02:20Published
72nd Cannes Film Festival: Curtain goes up for movie extravaganza
The prestigious Palme d'Or is once again up for grabs – awarded to the best film of the festival. The trophy, made by Swiss luxury jeweller Chopard in 24-carat gold, pays tribute to the coat of arms..
Credit: euronews (in English) Duration: 00:20Published
Ken Loach returns to Cannes
Two-time Palme D'or winner Ken Loach premieres his latest film "Sorry We Missed You" at the Cannes Film Festival. (May 17)
USATODAY.com - Published
Cannes 2019: Zombies, rocks stars and controversy
It's lights, camera, action time at the 72nd Cannes Film Festival. Film critic Lisa Nesselson and presenter Eve Jackson talk about this year's exciting line-up, kicking off with the zombie-killing..
France 24 - Published
Search this site and the web:
You Might Like