Kendall Jenner
American television personality and model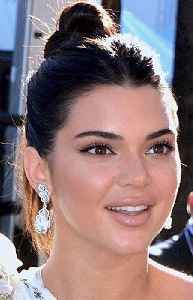 Kendall Nicole Jenner is an American media personality, socialite, and model. Jenner was born to Caitlyn Jenner and Kris Jenner, and rose to fame in the reality television show Keeping Up with the Kardashians. Jenner began modelling at the age of 14. After working in commercial print ad campaigns and photoshoots, Jenner had breakout seasons in 2014 and 2015, walking the runways for high-fashion designers during the New York, Milan, and Paris fashion weeks. Jenner has done multiple editorials and cover shoots for LOVE and various international Vogue editions, and is a brand ambassador for Estée Lauder.


Kendall Jenner Calls Out Kris: Uneven Bangs As A Kid

Almost everyone has had a questionable haircut as a child — even celebrities like Kendall Jenner. Case in point: On Saturday afternoon, the supermodel shared an adorable throwback photo from when she..
Credit: Wochit News Duration: 00:32
Published
You Might Like
Kendall Jenner proudly announces she's a 'stoner'
Kendall is a fan of weed (Picture: Don Arnold/WireImage) Kendall Jenner has unveiled her drug habits, announcing that she's a 'stoner'. The 24-year-old is rarely seen falling out of clubs, but..
WorldNews - Published
Kendall Jenner, Devin Booker and the Biebers Hike in Idaho
Kendall Jenner traveled northeast with boyfriend Devin Booker -- double dating with pals Justin and Hailey Bieber -- during a trek to ID. Kendall and her Phoenix Suns BF have been making the rounds..
TMZ.com - Published
Kendall Jenner and Devin Booker Out On the Town
Kendall Jenner and Devin Booker were out again Friday night, making it hard to believe it's just a friendship thing. They looked super stylish leaving the super exclusive Giorgio Baldi restaurant in..
TMZ.com - Published
Kendall Jenner's Malibu Doggy Run with Devin Booker, Post-Bubble Couple!
The bubble life is over -- so it's back to the couple life for Kendall Jenner and Devin Booker. The two have been inseparable since Devin's Phoenix Suns were bounced from the NBA Bubble last week .....
TMZ.com - Published
Kylie and Kendall Jenner endorsed 'knock-off' Apple products on Instagram
They promoted AirPods clones, whose design may be in breach of Apple's intellectual property rights.
BBC News - Published
Gigi and Kendall walk Burberry show
Supermodels including Bella and Gigi Hadid, Kendall Jenner and Irina Shayk walk the Burberry runway at London Fashion Week. (Feb. 18)  
USATODAY.com - Published
Kendall Jenner front row for Longchamp
Brand ambassador Kendall Jenner explains why she picked a black and white outfit to sit in the front row at Longchamp, as creative director Sophie Delafontaine unveils a Parisian-flavored fall-winter..
USATODAY.com - Published
The worst-dressed stars at the Emmys: Kendall Jenner, Lena Headey, Karamo Brown, more
It's the biggest night in television, but everyone's fashion didn't shine at the Emmys Sunday. Here are the stars who missed the mark.
USATODAY.com - Published
Kardashian West, Jenner, Paltrow arrive at Emmy Awards
Sisters Kim Kardashian West and Kendall Jenner, Amy Adams, Michael Douglas, Catherine Zeta-Jones, and Phoebe Waller-Bridge arrive at the 2019 Emmy Awards in Los Angeles. (Sept. 23)
USATODAY.com - Published
Kendall, Gigi, Bella walk for Burberry
Kendall Jenner, Gigi and Bella Hadid were among the models to walk the Burberry show at London Fashion Week, (Sept. 17)
USATODAY.com - Published
Kendall Jenner goes topless in a stunning black and white photo for her Kendall + ...
She's was recently featured in a rare Kardashian–Jenner photo that featured all of her sisters. Kendall Jenner went it alone in a steamy snap posted Monday for her Kendall + Kylie clothing. The..
WorldNews - Published
Kendall Jenner's alleged stalker deported back to Canada
John Ford was arrested for trespassing at Jenner's home twice; one time he was found in her swimming pool
CBS News - Published
Pete Davidson, Kendall Jenner walk in Alexander Wang fashion show
Embracing Manhattan's iconic Rockefeller Center as his venue, Alexander Wang offers a huge hug to his city and American fashion as he showed his latest collection al fresco. (May 31)
USATODAY.com - Published