Oman
Arab sultanate in Western Asia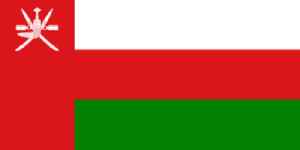 Oman, officially the Sultanate of Oman, is an Arab country on the southeastern coast of the Arabian Peninsula in Western Asia. Its official religion is Islam.


Trump: Strait near Oman will not be closed, or at least not for long
U.S. President Donald Trump on Friday said the Strait of Hormuz, a key commercial shipping route, would not be closed following attacks on two oil tankers in the Gulf of Oman, or at least not for long.
Reuters - Published
Oman following Yemen escalation with 'great concern': Omani media
Oman is following with "great concern the military escalation" in Yemen's war as well as a missile strike on Saudi Arabia's Abha airport, the Oman TV News website said on Friday, citing a Foreign..
Reuters - Published
Airbnb's New $5K Around-The-World Adventure
If camping on a cliff in Colorado, seeing the wonders of Oman, or going on a six-day Galapagos Slow Food Safari sounds fun, Airbnb Adventures may be for you. Airbnb guests can now travel around the..
Credit: Wochit News Duration: 00:47Published
Kumzari: the Omani language on the verge of extinction
The tiny fishing village of Kumzar lies in the northern tip of Oman at the strategic trade artery called the Strait of Hormuz, and as a result, has developed an uncommon identity.
Credit: euronews (in English) Duration: 02:58Published
Cyclone Vayu spares Gujarat, changes course towards Oman; alert continues
IndiaTimes - Published
India won't use Pak airspace for PM Narendra Modi's flight to Bishkek.
A day after Pakistan allowed to let Prime Minister Narendra Modi's aircraft fly over its airspace to Bishkek in Kyrgyzstan, India has decided to fly via Oman, Iran and Central Asian countries..
IndiaTimes - Published
Dubai bus crash: 11 Indian victims' bodies flown home, one cremated in UAE
Twelve Indians were among 17 people killed in Dubai Thursday when a bus, mostly with Eid vacationers coming from Oman, entered a restricted lane and rammed into a low-clearance sign.
IndiaTimes - Published
Search this site and the web:
You Might Like