Sikhs
Ethnic group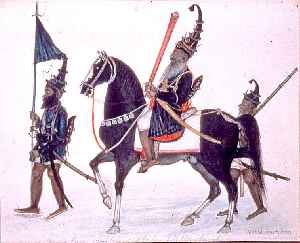 Sikhs are people associated with Sikhism, a monotheistic religion that originated in the 15th century, in the Punjab region in the northern part of the Indian subcontinent, based on the revelation of Guru Nanak. The term "Sikh" has its origin in the Sanskrit words शिष्य, meaning a disciple or a student. A Sikh, according to Article I of the Sikh Rehat Maryada, is "any human being who faithfully believes in One Immortal Being; ten Gurus, from Guru Nanak to Guru Gobind Singh; Guru Granth Sahib; the teachings of the ten Gurus and the baptism bequeathed by the tenth Guru".


Lok Sabha Election 2019: Sikh hardliner Bibi Jagir Kaur gets Khadoor Sahib
The controversial politician who is three-time MLA, will have her first outing as a Lok Sabha candidate
DNA - Published
Anti-Sikh riots: SC to hear bail application of Sajjan Kumar in August
The CBI told a bench of Justices S A Bobde and S A Nazeer that offence for which Kumar was convicted was of "gruesome nature" as it was a "genocide".Kumar, 73, who is lodged in jail, had resigned from..
DNA - Published
Pakistani Khalistani shouts slogans to incite Indian Sikh pilgrims
IndiaTimes - Published
Captain Amarinder Singh slams Canada for giving in to pressure on Khalistan
Amarinder Singh said decision to remove all references to Khalistani extremism in its 2018 report on terrorist threats to Canada, was clearly aimed at protecting political interests in a poll year on..
IndiaTimes - Published
Amarinder protests Canada dropping references to Sikh extremism from terrorism report
IndiaTimes - Published
Vaisakhi: the festival of giving back and celebration
Sikh volunteers cook food for the homeless across London to mark the new year festival.
BBC News - Published
You Might Like