Vikings
Norse explorers, warriors, merchants, and pirates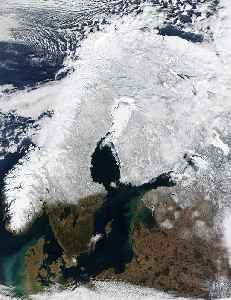 Vikings were the Norse people from southern Scandinavia who from the late 8th to late 11th centuries raided and traded from their Northern European homelands across wide areas of Europe, and explored westwards to Iceland, Greenland, and Vinland. While the term viking historically referred to an activity undertaken by Norsemen, cognate with Normans, in modern English and other vernaculars, the term viking also commonly includes the inhabitants of Norse home communities during this period. This period of Nordic military, mercantile and demographic expansion had a profound impact on the early medieval history of Scandinavia, the British Isles, France, Estonia, Kievan Rus' and Sicily.


You Might Like
First Viking ship excavation in a century begins in Norway
Just three other well-preserved vessels from the period have been discovered in the Scandinavian country.
BBC News - Published
Sheringham Viking Festival 'warrior' finds faith in Norse gods
Viking re-enactor Richard Mehmed says he found faith with Norse gods while "wielding a six-foot axe".
BBC News - Published
Coin seller jailed for hiding part of £3m Viking hoard
Paul Wells hid historic coins, dug up near Leominster in Herefordshire, in a magnifying glass handle.
BBC News - Published
Viking drops 'cruise' from its name and website, saying 'We are about the destination'
"We are about the destination," Viking founder and chairman Tor Hagen said, explaining his company's name and URL change on Jan. 15.
USATODAY.com - Published
Vikings deal Saints another playoff heartbreak with overtime win
Two years after the "Minneapolis Miracle," the Vikings finished off the Saints by regrouping against New Orleans in overtime.
USATODAY.com - Published
Flamborough Fire Festival Viking ship burnt
It is the fifth time the coastal village of Flamborough has celebrated its Viking heritage with a fiery party.
BBC News - Published
Metal detectorists who hid €14m Viking haul of coins and jewels are jailed
Two British metal detectorists have been jailed for stealing the "emblematic" Viking-era Leominster Hoard of coins and priceless jewellery worth up to £12 million (€14m) — much of which is..
WorldNews - Published
Metal detectorists convicted of trying to sell £3m Viking treasure hoard on black market
Pair are undone by phone photos showing trove much larger than they claimed
Independent - Published
Detectorists stole Viking hoard that 'rewrites history'
Most of the coins and jewellery, believed to have been hidden by Vikings, are still missing.
BBC News - Published
Cowboys' comeback bid against Vikings falls flat in final minute
The Cowboys didn't have an answer for Dalvin Cook and squandered a chance to take the lead against the Vikings in the final minute.
USATODAY.com - Published
Treasure hunter sued by Church of Scotland over £2m Viking hoard he found on its land
Law says finder receives all rewards - but kirk chiefs claim Derek McLennan promised them half of bounty
Independent - Published
Unearthed Viking 'drinking hall' offers 'unparalleled' opportunity to study Norse history
A Viking "drinking hall" that may have been used by a high-ranking chieftain 800 years ago has been unearthed in Orkney, archaeologists have said. The site, which is believed to have been a high-status..
WorldNews - Published