Mark Kelly
American astronaut and engineer, candidate for the United States Senate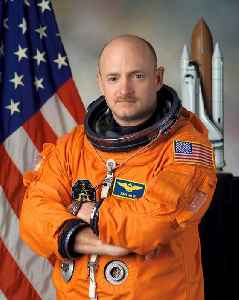 Mark Edward Kelly is an American astronaut, engineer, and former U.S. Navy captain. He is the author of multiple books as well as an aerospace executive and consultant, and is the Democratic nominee in the 2020 United States Senate election in Arizona.


You Might Like
Trump 'pisses' McSally off with McCain comments: Top moments from debate with Mark Kelly in battleground Arizona
McSally makes her strongest comments to date about the feud between the late U.S. Sen. John McCain and Trump; Kelly talks about his wife, Gabby Giffords.
USATODAY.com - Published
Biden Holds Steady Lead Over Trump in Arizona, Latest Poll Finds
The Democratic nominee leads 49 percent to 41 percent in Arizona, a state that hasn't voted for a Democrat for president since 1996. In the Senate race, Mark Kelly, a Democrat, leads the incumbent,..
NYTimes.com - Published
To push back against Martha McSally, Mark Kelly enlists the senator who beat her before.
NYTimes.com - Published
Supreme Court fight highlights importance of Senate race in Arizona
An Arizona Senate race is taking on new importance following the death of Supreme Court Justice Ruth Bader Ginsburg. The contest between former astronaut Mark Kelly and Senator Martha McSally could..
CBS News - Published
Mark Kelly campaign launches first Snapchat AR lens for a Senate race
As the Arizona Senate election heats up ahead of November, Democratic candidate Mark Kelly's team launched its own Snapchat account on Wednesday, including the first custom Snapchat AR lens from a..
The Verge - Published
Mark Kelly vs Martha McSally: Why Democrats See Hope on Supreme Court Fight
If Mark Kelly wins a special election, he could end up casting a crucial vote on President Trump's nominee.
NYTimes.com - Published
Senator Martha McSally on the tight race to keep her Arizona seat
Arizona Republican Senator Martha McSally faces a tough race to win a full term against her Democratic opponent, former astronaut Mark Kelly. McSally joined CBSN's "Red and Blue" to discuss her..
CBS News - Published
Former astronaut Mark Kelly running for Senate in Arizona
Former NASA astronaut Mark Kelly has announced he's running for the late John McCain's Senate seat in Arizona. If he wins the Democratic primary, he would face Republican Martha McSally in 2020. Jim..
CBS News - Published
How the Arizona Senate Race Could Be a Test for the Gun Control Debate
As the Senate contemplates new gun laws in the wake of mass shootings, gun control is not an issue Mark Kelly and Martha McSally can easily avoid.
NYTimes.com - Published
GOP will stop shooting survivor Gabby Giffords' husband, 'dead in his tracks,' official says
Mark Kelly, Arizona Democratic candidate for U.S. Senate, is the husband of former Rep. Gabrielle Giffords who survived a mass shooting near Tucson.
USATODAY.com - Published
Arizona G.O.P. Leader Said Party Would Stop Mark Kelly 'Dead in His Tracks'
Mr. Kelly, a Democrat running for United States Senate, is married to Ms. Giffords, the former congresswoman who survived a gunshot to the head in a 2011 attack.
NYTimes.com - Published