Seine
River in France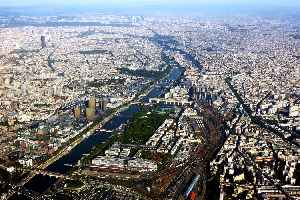 The Seine is a 777-kilometre-long (483 mi) river and an important commercial waterway within the Paris Basin in the north of France. It rises at Source-Seine, 30 kilometres (19 mi) northwest of Dijon in northeastern France in the Langres plateau, flowing through Paris and into the English Channel at Le Havre. It is navigable by ocean-going vessels as far as Rouen, 120 kilometres (75 mi) from the sea. Over 60 percent of its length, as far as Burgundy, is negotiable by commercial riverboats, and nearly its whole length is available for recreational boating; excursion boats offer sightseeing tours of the river banks in Paris, lined with top monuments including Notre-Dame, the Eiffel Tower, the Louvre Museum and Musée d'Orsay.


'It's a funeral': Tears, prayers and hymns as Paris mourns Notre-Dame
Thousands of Parisians gathered in the streets around Notre-Dame on Monday evening and held a vigil on the banks of the River Seine after a devastating fire tore through the city's beloved cathedral.
France 24 - Published
World 'watches and weeps' as Notre-Dame burns
From tourists gathered on the banks of the Seine to religious and state leaders from around the world, there was an outpouring of shock and sadness Monday night as flames ravaged Notre-Dame cathedral..
France 24 - Published
Paris Mourns Notre Dame After Fire
(CNN)At dawn on Tuesday, as the first blush of sunrise illuminated Notre-Dame de Paris, residents gathered on the left bank of the river Seine to see the damage wrought by a devastating fire that..
Credit: Wochit News Duration: 00:41Published
Parisians Watched In Tears As Notre-Dame Burned
Notre Dame Cathedral, the beloved landmark in the heart of Paris, was engulfed in flames last night. The anguish and disbelief as Persians watched the historic structure burn soon filled social media...
Credit: Wochit News Duration: 00:39Published
'Moment of tears' for Paris: NY Cardinal Dolan
New York Cardinal Timothy Dolan expressed sorrow and solidarity with Parisians after Europe's iconic Notre-Dame cathedral was devastated by a massive inferno on Monday. Rough Cut (no reporter..
Credit: Reuters Studio Duration: 01:34Published
Search this site and the web:
You Might Like