John Daly (golfer)
American professional golfer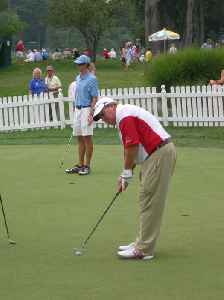 John Patrick Daly is an American professional golfer on the PGA Tour.


Cart-riding John Daly shoots 76 for a 151, will miss PGA cut
John Daly and his bum right knee rode away from the PGA Championship happy to get the chance to play, even with the aid of a cart that caused some controversy
USATODAY.com - Published
Cart ride ends: John Daly will miss the cut at PGA Championship
John Daly's ride at the PGA Championship is officially over. The event's 1991 champion shot a 6-over 76 on Friday to cap an 11-over total.
USATODAY.com - Published
His appeal to masses is obvious, but the John Daly show is getting old at PGA Championship
At the PGA Championship, there is a sense that John Daly's act is tired, that he is afforded courtesies that his conduct cost him any right to expect.
USATODAY.com - Published
John Daly arrives at Bethpage Black for PGA Championship smoking a cigarette
Daly is qualified to play in the 101st PGA Championship because he is a past winner,
USATODAY.com - Published
John Daly wishes Tiger Woods had known 'all the facts' before criticizing him over golf cart
John Daly, who struggles with arthritis, said his Type 2 diabetes is another reason he'll use a cart at the PGA Championship this week.
USATODAY.com - Published
Tiger Woods takes shot at John Daly for using cart at PGA Championship
Tiger Woods, who once won a major while hobbling on one good leg, isn't impressed with John Daly using a cart for PGA Championship.
USATODAY.com - Published
You Might Like