South China Morning Post
Hong Kong newspaper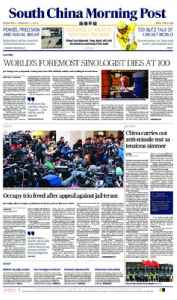 The South China Morning Post, with its Sunday edition, the Sunday Morning Post, is a Hong Kong English-language newspaper and Hong Kong's newspaper of record, owned by Alibaba Group. The journal was founded by Australian-born anti-Qing dynasty revolutionary Tse Tsan-tai and British journalist Alfred Cunningham in 1903. The first edition of the paper was published on 6 November 1903. The journal's circulation has been relatively stable for years—the average daily circulation stands at 100,000.


Senior China official says trade war with U.S. could cut growth by 1% point: SCMP
A senior official of China's ruling Communist Party said the trade dispute with the U.S. could reduce China's growth pace this year by as much as 1 percentage point, the South China Morning Post..
Reuters - Published
US Naval Chief: 'Freedom Of Navigation' In S China Sea Get Too Much Attention
Freedom of navigation exercises in the South China Sea are being given more attention than they deserve, the head of United States naval operations said Wednesday, according to The South China Morning..
WorldNews - Published
Huawei Chairman Hua: We'll Commit To 'No Spy' Agreements To Win Government Contracts
The chairman of Huawei Technologies said Tuesday the company is prepared to include provisions in its government contracts not to facilitate "back door" espionage by Beijing, The South China..
WorldNews - Published
France Grants Asylum To Grace Meng, Wife Of Ex-Interpol Chief
The wife of former Interpol president Meng Hongwei said Monday France has granted asylum requests for both her and her two young boys, The South China Morning Post reported. The decision, the report..
WorldNews - Published
Search this site and the web:
You Might Like