South China Morning Post
Hong Kong newspaper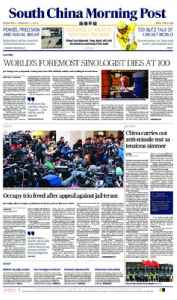 The South China Morning Post (SCMP), with its Sunday edition, the Sunday Morning Post, is a Hong Kong-based English-language newspaper founded in 1903. It is Hong Kong's newspaper of record, owned by Alibaba Group. The newspaper was founded by Tse Tsan-tai and Alfred Cunningham in 1903.


Cathay Pacific to cut 6,000 jobs - report

Hong Kong's Cathay Pacific Airways will cut around 6,000 jobs, or 18% of its workforce, and axe regional brand Cathay Dragon to help it weather the coronavirus pandemic, the South China Morning Post..
Credit: Reuters Studio Duration: 01:22
Published
You Might Like



Chinese forces prepare for possible military invasion of Taiwan

Beijing: The presence of the People's Liberation Army is increasing in China's southeast coast as it prepares for a possible military invasion of Taiwan, according to the defence observers cited by..




WorldNews - Published

Also reported by •New Zealand Herald


China celebrates safe landing of secretive spacecraft as 'important breakthrough'

The spacecraft was launched using a Chinese Long March 2F rocket, seen here in 2016 launching the Tiangong 2 space lab. | Photo: AFP via Getty Images Chinese state media says the country has safely..




The Verge - Published





Britain to change immigration rules if China imposes security law on Hong Kong, Johnson says

The United Kingdom is prepared to change its immigration rules if China imposes a national security law on Hong Kong, British Prime Minister Boris Johnson said on Wednesday in an op-ed for the South..




Reuters - Published




Beijing to unveil plans for national security laws in Hong Kong: report

Beijing will announce a resolution for national security legislation in Hong Kong, proscribing secession, foreign interference and terrorism, the South China Morning Post newspaper reported on..




Reuters - Published





Hong Kong to offer HK$100 billion COVID-19 relief package: SCMP

Hong Kong government will offer a relief package worth more than HK$100 billion ($12.90 billion) to help workers and businesses struggling with COVID-19 crisis, the South China Morning Post reported..




Reuters - Published





China, U.S. to set aside differences in G20 coronavirus summit: SCMP

China and the United States are expected to call a timeout on their coronavirus blame game and focus on the challenges of the pandemic when leaders of the G20 nations hold talks via video conference on..




Reuters - Published




Hotel in China being used for coronavirus quarantine collapses with 70 inside, reports say

A hotel in China has collapsed with 70 people trapped inside. The hotel was being used as a coronavirus quarantine location according to the official news source People's Daily, Reuters and the South..




USATODAY.com - Published





Fear of Coronavirus pushes up mobile payments, cryptocurrency in China

Following some research that Coronavirus or COVID-19 can stay alive on surfaces for 5-20 days, banks in China are now spraying disinfectants on money to prevent circulation spreading the virus. With..




WorldNews - Published





Cathay Pacific asks employees to take unpaid leave as virus hits demand: paper

Hong Kong's Cathay Pacific Airways Ltd has asked all its 27,000 employees to take three weeks of unpaid leave in coming months as it battles a fall in demand caused by a virus outbreak, the South China..




Reuters - Published





Chinese delegation plans to travel to Washington to sign trade deal: SCMP

A Chinese trade delegation is planning to travel to Washington on Jan. 13 for the signing of the U.S.-China Phase 1 trade deal, the South China Morning Post reported on Sunday citing a source briefed..




Reuters - Published





Louis Vuitton to close Hong Kong shop as protests bite: report

Louis Vuitton, the world's biggest luxury goods brand by sales, is preparing to shut one of its shops in Hong Kong where protests have hit demand as high rental costs bite, the South China Morning Post..




Reuters - Published





China objects to Malaysia's U.N. submission on South China Sea: SCMP

China has protested against Malaysia filing a submission https://www.un.org/Depts/los/clcs_new/submissions_files/submission_mys_12_12_2019.html with the United Nations last week seeking to establish..




Reuters - Published





Pirates capture crew members of Hong Kong-flagged tanker: SCMP

A Hong Kong-registered crude oil tanker was attacked and its sailors kidnapped by pirates off the coast of Nigeria in the early hours of Wednesday, the South China Morning Post cited the city's Marine..




Reuters - Published





China accuses UN rights chief of inflaming Hong Kong unrest

HONG KONG — China accused the U.N. high commissioner for human rights of emboldening "radical violence" in Hong Kong by suggesting the city's leader conduct an investigation into reports of excessive..




WorldNews - Published





Cycling: Track Cycling World Cup leg to go ahead in Hong Kong this weekend

The track cycling World Cup leg in Hong Kong this weekend will go ahead as planned after a lull in violence across the city, which has been racked by anti-government protests for the past six months,..




Reuters - Published




Donald Trump, Xi Jinping set for November 17 meeting in Chile to sign interim trade war deal: source

Chinese President Xi Jinping and US President Donald Trump are tentatively expected to meet on November 17 with the aim of signing an interim trade deal, a source briefed on the arrangements told the..




WorldNews - Published





U.S.-China made no progress in deputy-level trade talks: South China Morning Post

The United States and China made no progress in deputy-level trade talks held on Monday and Tuesday in Washington, the South China Morning Post (SCMP) said, citing unnamed sources with knowledge of the..




Reuters - Published




White House denies report China's Liu He plans to leave Washington on Thursday: CNBC

The White House has denied a report from the South China Morning Post that said that Chinese Vice Premier Liu He is planning to leave Washington on Thursday after just one day of minister-level..




Reuters - Published




Streets of Hong Kong become protest battlefield on China National Day

Riot police advance during a protest in Sham Shui Po district, on China's National Day in Hong Kong, China October 1, 2019. HONG KONG: Hong Kong police fired tear gas and rubber bullets at..




WorldNews - Published





Hong Kong protester shot by live bullet by police

Hong Kong: The South China Morning Post and television reports said at least one person was wounded in the chest by police firing live rounds. Police did not respond to requests for comment but have..




WorldNews - Published





Trump adviser says U.S. president ready to escalate trade war if no deal agreed soon: SCMP

A trade adviser to Donald Trump has said the U.S. president is ready to escalate the ongoing trade war with China if a trade deal is not agreed soon, the South China Morning Post reported on Thursday.




Reuters - Published





China to buy U.S. goods to sweeten trade deal: SCMP

China is expected to buy more agricultural products in hope for a better trade deal with the United States, South China Morning Post reported https://bit.ly/2manJ5q on Tuesday, citing a source.




Reuters - Published





Hong Kong leader to announce withdrawal of extradition bill: media report

Hong Kong leader Carrie Lam is expected to announce later on Wednesday the formal withdrawal of a proposed extradition bill that sparked three months of protests in the Chinese-ruled city, the South..




Reuters - Published




South Korea's Economy Faces 'Perfect Storm' Amid Japan Trade Dispute And Plunging Exports

As the foreign ministers of China, Japan and South Korea gathered for trilateral talks in Beijing on Wednesday to improve relations, a stark reminder came of the perilous situation South Korea's..




WorldNews - Published





Twitter, Facebook Suspend Accounts Linked To Chinese Efforts To Undermine Hong Kong Protests

The social-media platform Twitter has suspended hundreds of accounts alleged to be part of a Chinese government-backed campaign to sow political discord in Hong Kong, and it will no longer accept..




WorldNews - Published





5 Reported Killed As India, Pakistan Clash Over Disputed Kashmir

Five people were killed in cross-border fire between India and Pakistan, officials said Thursday, amid heightened tensions between the nuclear-armed rivals since New Delhi controversially stripped..




WorldNews - Published





UPDATE: New Zealand Promises To Reform Policies After White Supremacists Send Hate-Filled Letters From Prison

One day after New Zealand prison officials apologized for allowing the accused terrorist behind the Christchurch mosque attacks to send a "hateful" letter which included a call to arms for other white..




WorldNews - Published





U.S. Commerce Secretary Says No Date Set For Next Round Of China Trade Talks

U.S. Commerce Secretary Wilbur Ross suggested Wednesday the United States and China have not determined when to hold their next round of face-to-face trade talks, the South China Morning Post reported...




WorldNews - Published





Chinese Mar-a-Lago Intruder 'Playing Games With The Court," U.S. Judge Says

The Chinese woman arrested in March while trying to enter U.S. President Donald Trump's Mar-a-Lago with a trove of electronics appeared briefly in federal court on Tuesday in Fort Lauderdale,..




WorldNews - Published





Philippines vows justice for handcuffed Chinese man who fell to death

Philippine authorities have vowed to pursue those behind the death of a 27-year-old Chinese man in Manila over the weekend, after the Chinese embassy urged them to bring the perpetrators to justice and..




WorldNews - Published





Stoltenberg Says NATO Needs To Address China's Growing Presence Around The World

NATO Secretary-General Jens Stoltenberg said the North Atlantic security body needed to understand the variety of implications related to China's growing influence around the world on Wednesday,..




WorldNews - Published





U.S. Millionaire Accused Of Killing Wife Captured In Mexico After 4 Years On Run

More than four years after he vanished, wealthy real estate investor Peter Chadwick is now back in U.S. custody and facing 25 years to life for the alleged murder of his wife, 46-year-old Quee Choo..




WorldNews - Published





Indonesian President Threatens To Lay Off Firefighters Over Rampant Forest Fires

After thousands of extra personnel have been deployed to extinguish forest fires in Indonesia, President Joko Widodo threatened to fire military and police officers fighting the blazes if they were not..




WorldNews - Published





Beijing Reaffirms 'Unflagging Support' For Hong Kong Chief Executive Carrie Lam Amid Violence

Beijing has reiterated its "unflagging support" for embattled Hong Kong Chief Executive Carrie Lam Cheng Yuet-ngor and warned that the city was entering "a most dangerous phase" with rampant..




WorldNews - Published





Extradition Bill Crisis Boosts Hong Kong Voter Registration To Biggest Gain Since At Least 2003

The number of registered voters between the ages of 18 and 35 has jumped more than 12 percent from last year – the surge resulting from hundreds of thousands of young Hongkongers signing up to vote..




WorldNews - Published





Beijing: Negotiations For The World's Largest Free-Trade Agreement Making 'Positive Progress'

Chinese officials said the recent ten days of talks in Zhengzhou hosting the 27th round of negotiations for the Regional Comprehensive Economic Partnership made "positive progress," but the South China..




WorldNews - Published





'Pro-China' Boris Johnson 'enthusiastic' about belt and road plan

(SCMP) – Boris Johnson, Britain's prime minister-designate, said his government would be very "pro-China", in an interview with a Hong Kong-based Chinese-language broadcaster shortly before he..




WorldNews - Published





3 More U.S. Universities Express Support For Chinese-American Scientists Suspected Of Spying

Three more American universities have issued statements in support of scholars and researchers of Chinese ethnicity, a group that has been increasingly targeted over suspicions of spying for Beijing,..




WorldNews - Published





Beijing Probes Former Senior Space Official For Discipline Violations, Not Espionage

China said the investigation into former military official Qian Weiping was not related to espionage claims as initially reported by a Hong Kong-based newspaper on Wednesday, but is for suspected..




WorldNews - Published





Huawei Denies Helping North Korea Illegally Collect Data From Czech Republic

Chinese telecoms giant Huawei on Tuesday denied media reports suggesting it had engaged in potentially unlawful activities in North Korea and the Czech Republic, while playing down European..




WorldNews - Published





Japanese Workers Told To Stay Home During Olympics To Prevent Transport Chaos

Japanese authorities have told the nation's famously diligent workers to stay away from the office during next year's Olympics to avoid traffic chaos, the South China Morning Post reports...




WorldNews - Published





Iran to woo Chinese tourists with visa-free entry 'within weeks'

Iran is hoping to attract up to one million Chinese tourists from next month in a bid to shore up its falling economy, badly hit by US sanctions.Vali Teymouri, Iran's deputy director for tourism..




WorldNews - Published





U.S. Cancels Speech By Ex-Hong Kong Envoy For Fear Of Derailing Trade Talks

A scheduled speech at a Washington think tank by the former United States general consul to Hong Kong has been postponed on the orders of the U.S. State Department, according to a person with direct..




WorldNews - Published





Singapore Detains Myanmar Nationals Accused Of Backing Rakhine Insurgents

Singapore authorities said Wednesday they had arrested a group of Myanmar nationals accused of rallying support for armed violence against the Myanmar government, the South China Morning Post reported...




WorldNews - Published





'King Tut' Bust Auctioned For $6 Million Over Egyptian Protests

A 3,000-year-old quartzite head of Egyptian "Boy King" Tutankhamen was auctioned off for $6 million Thursday in London despite a fierce outcry from Cairo, the South China Morning Post reported...




WorldNews - Published





Former Head Of Chinese Shipbuilder Sentenced On Corruption Charges

A Shanghai court handed down a lenient sentence to the corrupt former head of one of China's biggest shipbuilders after he shed new light on other crimes, state media reported on Thursday, the South..




WorldNews - Published





Mother Begs UN To Stop French Doctors From Taking Son Off Life Support

The mother of a Frenchman in a vegetative state for more than a decade pleaded for United Nations help on Monday to stop her son's "murder," after a court ruled his life support could be halted,..




WorldNews - Published