Sundar Pichai
Indian American engineer and business executive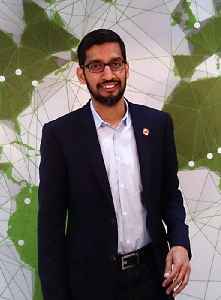 Pichai Sundararajan, known as Sundar Pichai, is an Indian-American business executive. He is the chief executive officer (CEO) of Alphabet Inc. and its subsidiary Google LLC.


Google Claims Its Carbon Footprint Is Now Zero

CEO Sundar Pichai has announced that the firm has completely wiped out its carbon footprint by investing in "high-quality carbon offsets".
Credit: Cover Video STUDIO Duration: 00:50
Published
You Might Like



Trump-led conservatives accuse Big Tech of election interference, escalate bias charges ahead of Senate showdown

At a Capitol Hill hearing, Facebook's Mark Zuckerberg, Twitter's Jack Dorsey and Google's Sundar Pichai will face charges they censor conservatives.




USATODAY.com - Published





2020 is giving us another chance to watch Mark Zuckerberg and Sundar Pichai get grilled by Congress

Photo by MANDEL NGAN/POOL/AFP via Getty Images Facebook CEO Mark Zuckerberg, Google CEO Sundar Pichai, and Twitter CEO Jack Dorsey have agreed to testify virtually before the Senate Commerce..




The Verge - Published





Senate committee issues official subpoenas to Mark Zuckerberg, Sundar Pichai, and Jack Dorsey

Mark Zuckerberg previously testified before the House Financial Services Committee in October 2019. | Photo by Chip Somodevilla/Getty Images Thursday morning, the Senate Commerce committee voted..




The Verge - Published





US Senate subpoenas heads of Google, Facebook and Twitter

Sundar Pichai, Mark Zuckerberg and Jack Dorsey will be quizzed by senators.




BBC News - Published





'Modi is my son', says 'Dadi of Shaheen Bagh' named among TIME's 100 most influential people

Along with Bilkis, Prime Minister Narendra Modi, actor Ayushman Khurrana, biologist Ravindra Gupta and Alphabet CEO Sundar Pichai were on the list of '100 Most Influential People of 2020' that was..




DNA - Published





How Fortnite's epic battle with Apple could reshape the antitrust fight

Photo by Amelia Holowaty Krales When Tim Cook finished up his appearance in front of the House Judiciary panel in July, the conventional wisdom was that the Apple CEO had gotten off easy. He was..




The Verge - Published





10 questions Jeff Bezos, Sundar Pichai, Mark Zuckerberg and Tim Cook should have been asked

Bezos, Zuckerberg, Pichai and Cook could have been asked some real, pointed questions with relevance about today or antitrust concerns.




USATODAY.com - Published





Zuckerberg, Pichai, Bezos and Cook lambasted in Big Tech hearing

Google chief executive Sundar Pichai has been subjected to a withering cross-examination on the search giant's alleged "stealing" of content and assisting of China by the US House of Representatives'..




WorldNews - Published





4 Big Tech CEOs draw scrutiny on Capitol Hill

Four Big Tech CEOs - Facebook's Mark Zuckerberg, Amazon's Jeff Bezos, Sundar Pichai of Google and Tim Cook of Apple - are testifying on their companies' practices on the issue of market dominance in..




USATODAY.com - Published





4 Big Tech CEOs getting heat from Congress on competition

Four Big Tech CEOs — Facebook's Mark Zuckerberg, Amazon's Jeff Bezos, Sundar Pichai of Google and Tim Cook of Apple — are set to answer for their companies' practices before Congress as a House..




WorldNews - Published





Opinion | Why Amazon, Facebook, Google and Apple are Bad for America

On Wednesday, four big tech CEOs — Apple's Tim Cook, Amazon's Jeff Bezos, Google's Sundar Pichai and Facebook's Mark Zuckerberg — will...




WorldNews - Published





Google announces $10 billion 'digitization' fund for India

NEW DELHI: US tech giant Google is investing in a $10 billion fund to help accelerate India's transition to a digital economy in the next five to seven years. Sundar Pichai, CEO of Alphabet Inc's..




WorldNews - Published





PM Narendra Modi interacts with Google CEO Sundar Pichai

In a series of tweets, PM Modi said that the interaction as 'extremely fruitful' and lauded Google's efforts in different sectors.




DNA - Published





Tech sector in India, US hits out at Trump for suspension of H-1Bs

The tech sector in both India and America has slammed US president Donald Trump's decision to suspend H-1B and L-1 work visas. These visas are used extensively by Indian IT companies, as also US tech..




IndiaTimes - Published





Alphabet shares fall as Google misses on sales, YouTube revenue disappoints

Alphabet Inc's new Chief Executive Sundar Pichai unveiled sales figures that investors have long demanded, but shares fell 5% as Google's advertising business and the new data about YouTube and Google..




Reuters - Published





Google boss Sundar Pichai calls for AI regulation

Mr Pichai argued for a "sensible approach" after Europe said it was considering a facial recognition ban.




BBC News - Published





Alphabet legal head Drummond exits, giving its new CEO chance to shake up team

Alphabet's new Chief Executive Sundar Pichai on Friday gained the opportunity to reshape the leadership of Google's parent with the exit of Chief Legal Officer David Drummond, whose outsized strategic..




Reuters - Published





Alphabet's legal head David Drummond to retire amid board probe of harassment policies

Alphabet's new Chief Executive Sundar Pichai on Friday gained the opportunity to reshape the leadership of Google's parent with the exit of Chief Legal Officer David Drummond, whose outsized strategic..




Reuters - Published





Sundar Pichai To Get $2 Mn In Salary, $240 Mn Stock Package In 2020

Sundar Pichai, the chief executive officer (CEO) of Alphabet Inc and its subsidiary Google LLC, will be taking home an annual salary of $2 million in 2020. In addition, Pichai will also be receiving a..




WorldNews - Published





Alphabet grants Pichai largest ever stock award, again

Alphabet Inc's newly instated Chief Executive Officer Sundar Pichai would receive a hefty $240 million in performance-based stock awards over the next three years, the highest ever promised to any..




Reuters - Published





"Sundar (Pichai) Only Sheriff In Town": New Alphabet Boss Ends Confusion

If you want to know how Alphabet Inc.'s new Chief Executive Officer Sundar Pichai will run the company you don't need to look very far -- he's essentially been doing it for several years already...




WorldNews - Published





Under Pichai, Alphabet's moonshot projects may face more scrutiny

Alphabet's leadership change has some investors hoping that the owner of Google will take a hard look at the cash-burning ventures championed by its founders.




Reuters - Published





Who is Sundar Pichai and what does Alphabet do?

The chief executive of Google is now in charge of its parent company Alphabet.




BBC News - Published





Sole CEO means simpler business for Alphabet: analysts

Alphabet's change of leadership should simplify the company's unorthodox management structure under new boss Sundar Pichai without creating unwanted turbulence in strategy at one of Silicon Valley's..




Reuters - Published





Factbox: Alphabet's 'Other bets' in focus as Google's Pichai takes helm

Google Chief Executive Officer Sundar Pichai will replace Larry Page as CEO of parent Alphabet Inc, heralding a new chapter for the company that helped reshape the global tech industry under its..




Reuters - Published





Google co-founders step down as Pichai named Alphabet CEO

Google co-founders Larry Page and Sergey Brin are stepping down from their roles at the helm of parent firm Alphabet and handing the reins to current Google CEO Sundar Pichai, the company said on..




WorldNews - Published

Also reported by •Reuters


Alphabet's new CEO Pichai now sole target on Google regulatory battles

Alphabet Inc's new chief executive, Sundar Pichai, will have the hot seat all to himself as regulators around the world investigate the company, U.S. politicians demand that it be broken up, and..




Reuters - Published





Google co-founders hand over control of parent firm Alphabet to Sundar Pichai

Google chief executive Sundar Pichai will assume the CEO role at parent firm Alphabet in a shakeup at the top of the Silicon Valley titan, the company said Tuesday.




France 24 - Published





Factbox: New Alphabet chief started at Google, made name with Android

Google Chief Executive Officer Sundar Pichai will replace company co-founder Larry Page as CEO of parent Alphabet Inc , the company said in a blog post on Tuesday.




Reuters - Published





Larry Page steps down as CEO of Google parent Alphabet; Sundar Pichai will be CEO of both companies

Google co-founders Larry Page and Sergey Brin will continue as co-founders, shareholders and members of Alphabet's board of directors, the company said.




USATODAY.com - Published





Google chief Pichai takes helm of parent Alphabet as co-founders step aside

Google Chief Executive Sundar Pichai will replace company co-founder Larry Page as CEO of parent Alphabet Inc , the company said in a blog post on Tuesday.




Reuters - Published





Is Mark Zuckerberg the most hated person in tech?

The Facebook co-founder upsets politicians, columnists and pundits with his political ad stance. But what of Pichai, Cook and Musk?




USATODAY.com - Published





Leaked: Google CEO Concedes Company Is 'Struggling' With Transparency

In a leaked video, Sundar Pichai admits at an all-hands that Google is "genuinely struggling" with employee trust as it defends the hiring of former DHS official. ......




WorldNews - Published





Google commits $1 billion to ease housing crisis in the Bay Area

CEO Sundar Pichai said the internet company will pave the way for 20,000 new homes in the region over the next decade




CBS News - Published





Why Google has no plans of going back to China

Last year there was quite a furore when rumours about tech giant Google launching its services in China. There were reports that employees were unhappy about these alleged plans of entering China...




WorldNews - Published





Google CEO Sundar Pichai defends YouTube practices despite scandals

The CEO of Google, which owns YouTube, is speaking out about a series of recent controversies over misinformation and hate speech on the site. In a new interview with Axios on HBO, Sundar Pichai said..




CBS News - Published





Google's Sunder Pichai and Nasdaq's Friedman to receive 2019 Global Leadership Award

Google's India-born CEO Sundar Pichai and Nasdaq president Adena Friedman have been chosen for the prestigious Global Leadership Awards 2019 by business advocacy group USIBC in recognition of the two..




WorldNews - Published