Tiger
Largest species of the cat family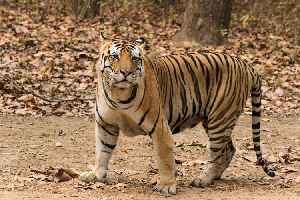 The tiger is the largest species among the Felidae and classified in the genus Panthera. It is most recognizable for its dark vertical stripes on reddish-orange fur with a lighter underside. It is an apex predator, primarily preying on ungulates such as deer and bovids. It is territorial and generally a solitary but social predator, requiring large contiguous areas of habitat, which support its requirements for prey and rearing of its offspring. Tiger cubs stay with their mother for about two years, before they become independent and leave their mother's home range to establish their own.


LSU players aim to 'come together as family' after suspension of coach Will Wade
With coach Will Wade suspended, LSU players will try to come together before the Tigers face Yale in the first round of the NCAA tournament.
USATODAY.com - Published
Auburn dominates Tennessee, wins first SEC tournament title in 34 years
For the second time in team history and first time since 1985, the Tigers are the SEC Tournament champs after a dominating 84-64 win over Tennessee.
USATODAY.com - Published
Tiger found in Texas house finds new home
Lara Cottingham, with Houston's BARC Animal Shelter, says a tiger found in a house by two people who went into the nearly vacant building looking for a place to smoke marijuana, will be moved to a..
Credit: Reuters Studio Duration: 00:43Published
Gujarat: Tiger pug marks turns out to leopard's
HOPES DASHED: Forest officials confirm no other tiger in Gujarat
DNA - Published
Search this site and the web:
You Might Like