PricewaterhouseCoopers
Professional services networks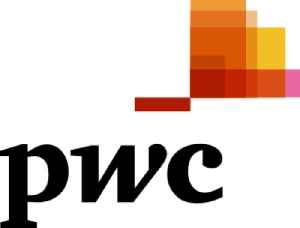 PricewaterhouseCoopers is a multinational professional services network of firms operating as partnerships under the PwC brand. The term "PwC" may be used to refer to an individual member firm within the PwC network, or to several or all of them collectively. PwC ranks as the second largest professional services firm network in the world and is considered one of the Big Four accounting firms, along with Deloitte, EY and KPMG.


Iranian hackers targeted Western universities: report
Government-backed Iranian hackers have targeted universities in Europe, the United States and Australia in recent months, consultancy PricewaterhouseCoopers has found, Dutch broadcaster NOS reported on..
Reuters - Published
Majority of the world's CEOs expect a slower economy in 2020, survey says
PwC polled 1,581 CEOs from 83 countries and found that 53% expect the pace of global economic growth to decline in the year ahead.
USATODAY.com - Published
MoD hires PwC to lure private companies to take over Army workshops
IndiaTimes - Published
From armchairs to iPhones, India's millennials rent it all
Tens of thousands of young Indians are switching from buying to renting so they can live life with few strings attached. From ride-hailing apps to communal office spaces, the sharing economy is a..
IndiaTimes - Published
This is how technology has made paying your taxes easier
Economies around the world have made it substantially easier for personal businesses to pay taxes thanks to technology, according to Paying Taxes 2020, an annual study of tax administration around the..
WorldNews - Published
UAE Government Plans on Using Blockchain for 50% of Its Operations
The United Arab Emirates (UAE) government is considering using futuristic technologies including blockchain or distributed ledger technology (DLT) in more than half of its operations in the near..
WorldNews - Published
Factbox: In Dallas, rare conviction for police officer who shot unarmed black man
A Dallas jury on Tuesday took the rare step of convicting a police officer of murder for shooting dead Botham Jean, a 26-year-old black PwC accountant, after she accidentally walked into his apartment..
Reuters - Published
Something fishy? PwC farewells Minerals Council
CBD is told PwC has informed the Minerals Council it will not be pursuing more work with the outfit's COAL21 project, established to advocate for low-emission coal technologies.
The Age - Published
Google, Facebook have tight grip on growing U.S. online ad market: report
The U.S. internet advertising industry is projected to hit $160 billion by 2023 from $107 billion last year, led by fast-growing categories like mobile video with Alphabet Inc's Google and Facebook Inc..
Reuters - Published
You Might Like