Andy Beshear
63rd Governor of Kentucky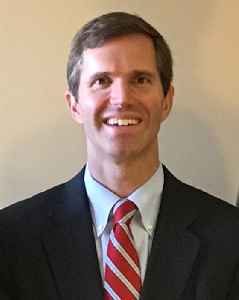 Andrew Graham Beshear is an American attorney and politician. Since December 2019, he has served as the 63rd Governor of Kentucky. A member of the Democratic Party, he is the son of Steve and Jane Klingner Beshear, the 61st Governor and first lady of Kentucky.


Kentucky Gov. requests evidence in Taylor case

Kentucky Gov. Andy Beshear on Wednesday (Sept. 23) requested that the state attorney general post online "all the information, facts and evidence" that he can release on the Breonna Taylor case for the..
Credit: Reuters Studio Duration: 01:46
Published
You Might Like



Andy Beshear and family enter quarantine after coming in contact with person with COVID-19

Kentucky Gov. Andy Beshear is entering quarantine, he said Sunday, after coming in contact with someone who tested positive for the coronavirus.




USATODAY.com - Published





Louisville reacts to decision in Breonna Taylor case

Louisville Courier-Journal reporter Tessa Duvall joined CBSN to discuss the latest developments in the Breonna Taylor case, after Attorney General Daniel Cameron announced a grand jury's decision to..




CBS News - Published





Kentucky gov. announces investigation into Louisville police, National Guard fatally shooting man

Kentucky Gov. Andy Beshear said state police will conduct an investigation into a fatal shooting by Louisville police and National Guard early Monday.




USATODAY.com - Published




Protester who hung effigy of Kentucky Gov. Andy Beshear fired from job at car dealership

Terry Bush, president of the Kentucky 3 Percenters group, only hoisted the effigy, his wife Patsy said Wednesday morning.  




USATODAY.com - Published





Coronavirus live updates: Historic warplanes to fly over Southern California on Memorial Day; Kentucky Gov. Andy Beshear hanged in effigy

Nearly 98,000 people have died from coronavirus in the United States, more than a quarter of the global total, according to Johns Hopkins University.




USATODAY.com - Published




Kentucky Gov. Andy Beshear hanged in effigy as Second Amendment supporters protest coronavirus restrictions

What began as a Memorial Day weekend celebration of constitutional rights turned into a protest of Gov. Andy Beshear's administration.




USATODAY.com - Published




Kentucky Gov. Andy Beshear apologizes to Tupac Shakur over coronavirus unemployment claim

Gov. Andy Beshear has squashed his beef with Tupac Shakur, a Kentucky man whose unemployment claim was considered fraudulent because of his name.




USATODAY.com - Published





UPS employee dies of COVID-19 infection in Kentucky

A United Parcel Service Inc worker employed in Kentucky died over the weekend from a COVID-19 infection, Gov. Andy Beshear said at a public health briefing on Monday.




Reuters - Published





Rand Paul, first senator with coronavirus, attended fundraiser with 3 others who tested positive

Three Kentucky Democrats – Rep. John Yarmuth, Gov. Andy Beshear and Louisville Mayor Greg Fischer – also attended but have tested negative.




USATODAY.com - Published





Coronavirus pandemic will delay Kentucky primary election, pushing it to June

As the state government tries to slow the spread of COVID-19, Secretary of State Michael Adams recommended Gov. Andy Beshear delay the primary.




USATODAY.com - Published





Kentucky Asks Churches to Cancel Services as the Coronavirus Spreads

"God gives us wisdom to protect each other and we should do that," Gov. Andy Beshear of Kentucky said. The recommendation is one of many disruptions to American life, as the number of known cases..




NYTimes.com - Published





Kentucky nonviolent felons get voting rights back

Professing his belief in redemption, Kentucky Gov. Andy Beshear signed an executive order Thursday to restore voting rights for more than 140,000 nonviolent offenders who have completed their..




USATODAY.com - Published





Gov. Matt Bevin concedes in Kentucky gubernatorial election

Republican Gov. Matt Bevin says he will not contest results showing Democrat Andy Beshear winning the Kentucky governor's race. (Nov. 14)  




USATODAY.com - Published




Kentucky Governor Race: Matt Bevin Concedes to Andy Beshear

Matt Bevin, Kentucky's sharp-elbowed governor conceded defeat after a recanvass of votes confirmed the victory of Andy Beshear, son of a two-term Democratic governor.




NYTimes.com - Published





Republican Bevin concedes Kentucky governor's race

Matt Bevin, the Republican Kentucky governor backed by U.S. President Donald Trump, conceded defeat on Tuesday in a tight race against Democrat Andy Beshear.




Reuters - Published

Also reported by •USATODAY.com


Kentucky Gov. Bevin seeks vote recanvass

Republican Gov. Matt Bevin asked Wednesday for a recanvass of Kentucky election results that showed him more than 5,000 votes behind Democrat Andy Beshear, who discounted the challenge and began..




USATODAY.com - Published





Kentucky Governor Could Challenge Election Before State Legislature

Trailing Andy Beshear by about 5,000 votes, Gov. Matt Bevin is calling for a recanvass of ballots next week. A showdown between lawmakers could follow.




NYTimes.com - Published





Watch live: Bevin speaks after Beshear claims victory - live updates

Matt Bevin refuses to concede to Andy Beshear




CBS News - Published





Beshear vs. Bevin: Kentucky governor's race could be decided by state legislature

After Kentucky Gov. Matt Bevin refused to concede to Andy Beshear, Senate President Robert Stivers said the legislature may get the final say.




USATODAY.com - Published





Kentucky and Virginia Democrats Push New Agendas After Election

Andy Beshear, who leads in the Kentucky governor's race, vowed to increase funding for public education and health care, while Gov. Ralph Northam of Virginia said he would push for gun control...




NYTimes.com - Published





Democrat Andy Beshear says it's time to move forward after Kentucky governor's election

Gov. Matt Bevin isn't conceding. But Democratic Andy Beshear, who claimed victory in Kentucky's tight governor's election Tuesday, is moving forward with a transition. Beshear took questions from..




CBS News - Published




Andy Beshear claims victory in Kentucky governor's race, but Matt Bevin won't concede

Kentucky's Republican Governor Matt Bevin is refusing to concede after results show Democratic candidate Andy Beshear won the election by a narrow margin. Lexington Herald-Leader reporter Bill Estep..




CBS News - Published





Watch live: Andy Beshear speaks after declaring victory in Kentucky

Current Gov. Matt Bevin says he isn't conceding




CBS News - Published





Democrats declare victory in Kentucky, take Virginia legislature

Democrats are claiming a significant election day prize in Kentucky. State Attorney General Andy Beshear says he defeated Republican Gov. Matt Bevin. The race is officially too close to call, but..




CBS News - Published





Kentucky Gov. race: Too close to call, Dem leads

The hotly contested governor's race in Kentucky was too close to call early Wednesday, with Democratic Attorney General Andy Beshear holding a narrow lead - and declaring victory. Republican Gov. Matt..




USATODAY.com - Published

Also reported by •WorldNews


A Bevin-Beshear recount? Here's what could happen in the Kentucky governor's race

After one of the wildest finishes to a gubernatorial election in Kentucky history, Andy Beshear declared victory and Gov. Matt Bevin wouldn't' concede. What now?




USATODAY.com - Published





Democrat Andy Beshear addresses supporters as he holds narrow lead in Kentucky governor race

Democrats took full control of the Virginia legislature for the first time in more than two decades Tuesday while the race for governor in deeply Republican Kentucky was too close to call despite a..




CBS News - Published





Democrats Win Big in Virginia and Hold Slim Lead in Kentucky Governor's Election

With backing from Kentucky's urban centers, the Democratic candidate, Andy Beshear, had an edge over Gov. Matt Bevin, the Republican.




NYTimes.com - Published





In upset, Democrat poised to defeat Trump-backed Kentucky governor

Kentucky's Republican governor, Matt Bevin, appeared poised on Tuesday to lose to Democratic challenger Andy Beshear, despite the state's strong Republican leanings and an election-eve rally headlined..




Reuters - Published





Democrat Andy Beshear and incumbent Republican Governor Matt Bevin face off in Kentucky

Incumbent Republican Governor Matt Bevin and Democrat Andy Beshear are deadlocked in the polls as Kentuckians cast their ballots on Election Day. Lexington Herald-Leader reporter Daniel Desrochers..




CBS News - Published





Trump to rally for Kentucky Gov. Matt Bevin on eve of surprisingly close election

Donald Trump heads to Kentucky on Monday to hold a rally for Gov. Matt Bevin, a Republican a tight election contest against Democrat Andy Beshear.




USATODAY.com - Published





Watch live: Trump rallies supporters in Lexington, Kentucky

Republican Gov. Matt Bevin is trying to fend off Democratic challenger Andy Beshear in a close race




CBS News - Published





Kentucky Governor's Race Tests Impact of Impeachment in States

Matt Bevin, the unpopular Republican incumbent, has strongly aligned himself with President Trump and invoking impeachment as a cudgel against his opponent, Andy Beshear.




NYTimes.com - Published





Local Matters: Kentucky governor's race in a dead heat

The Kentucky governor's race is in a dead heat with both Democratic candidate Andy Beshear and incumbent Republican Governor Matt Bevin tied in the polls. Lexington Herald-Leader reporter Daniel..




CBS News - Published





Kentucky gubernatorial race tied as Trump, Pence prepare to visit the state

A new poll found GOP Governor Matt Bevin and Democrat Andy Beshear tied, each with 46% support from voters




CBS News - Published





Could Kentucky, a deep red state, elect a Democrat as its next governor?

Kentucky Attorney General Andy Beshear is challenging incumbent Governor Matt Bevin in a closely watched gubernatorial race




CBS News - Published