Houston Rockets
American professional basketball team based in Houston, Texas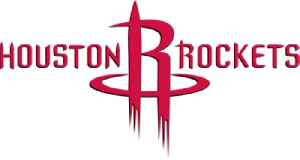 The Houston Rockets are an American professional basketball team based in Houston, Texas. The Rockets compete in the National Basketball Association (NBA), as a member of the league's Western Conference Southwest Division. The team plays its home games at the Toyota Center, located in downtown Houston. The Rockets have won two NBA championships and four Western Conference titles. The team was established as the San Diego Rockets, an expansion team originally based in San Diego, in 1967. In 1971, the Rockets moved to Houston.


NBA playoffs: Sixers, Bucks and Rockets take commanding leads
SportsPulse: USA TODAY Sports' Martin Rogers breaks down all the playoff action from Saturday night's slate of games.
USATODAY.com - Published
Rockets beat Jazz 104-101 for 3-0 series lead
James Harden overcome a horrible shooting performance and scored 14 of his 22 points in the fourth quarter, leading the Houston Rockets to a 104-101 win over the Utah Jazz for a commanding 3-0 lead in..
USATODAY.com - Published
Has Houston Proved It Can Win the NBA Championship?
The Houston Rockets picked up an impressive road win Tuesday night, knocking off the Raptors to win their sixth straight game. Should the Rockets be favored to win the NBA championship?
Credit: Sports Illustrated Duration: 02:00Published
How Should James Harden's Scoring Streak Be Remembered?
James Harden's 32-game streak of scoring at least 30 points ended last night in Houston's win over Atlanta. SI Now's Robin Lundberg and Ryan Asselta weigh in on how people should remember the Rockets..
Credit: Sports Illustrated Duration: 01:42Published
Do the Rockets Have the Warriors' Number?
After a 118-112 win on Saturday, the Rockets are now 3-0 this season against the Warriors. Does Houston have Golden State's number, or do the Warriors have some bigger issues to deal with?
Credit: Sports Illustrated Duration: 00:53Published
Is There Ever a Reason to Doubt LeBron?
LeBron James and the Lakers were "activated" in the second half to come back from a 19-point deficit and beat the Houston Rockets, 111-106. Should we rethink ever doubting King James?
Credit: Sports Illustrated Duration: 01:42Published
Should Rockets Star James Harden Be Allowed to Complain About NBA Officiating?
Following Houston's loss to Los Angeles on Thursday, Rockets star James Harden and Chris Paul criticized NBA official Scott Foster. SI Now's Robin Lundberg and Amy Campbell discuss if Harden and Paul..
Credit: Sports Illustrated Duration: 01:37Published
James Harden has triple-double as Houston Rockets cruise to Game 2 win over Utah Jazz
James Harden put on an MVP performance to lead the Houston Rockets to a second straight rout of the Utah Jazz in their first-round NBA playoff series.
USATODAY.com - Published
Harden's triple-double helps Rockets rout Jazz again
James Harden put on an MVP performance with 32 points, 13 rebounds and 10 assists to lead the Houston Rockets to a second straight rout of the Utah Jazz, 118-98 Wednesday night
USATODAY.com - Published
Celtics, Rockets and Bucks eye 2-0 1st-round series leads
Celtics looking for improvement after ugly Game 1 win; Rockets, Jazz expecting more competitive games in their Game 2 matchups
USATODAY.com - Published
Harden scores 29 as Rockets rout Jazz 122-90 in Game 1
James Harden had 29 points and 10 assists to help the Houston Rockets rout the Utah Jazz 122-90 on Sunday night in Game 1 of a best-of-seven first-round playoff series
USATODAY.com - Published
Gordon X-factor for Rockets as playoffs begin against Jazz
While teams focus on stars James Harden and Chris Paul, Houston's Eric Gordon could be X-factor as Rockets begin playoffs with first-round series against Utah
USATODAY.com - Published
You Might Like