Boycott, Divestment and Sanctions
International campaign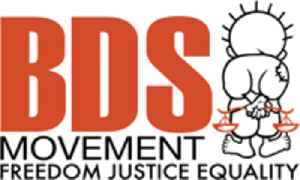 The Boycott, Divestment and Sanctions movement is a Palestinian-led campaign promoting various forms of boycott against Israel until it meets what the campaign describes as Israel's obligations under international law, defined as withdrawal from the occupied territories, removal of the separation barrier in the West Bank, full equality for Arab-Palestinian citizens of Israel, and "respecting, protecting, and promoting the rights of Palestinian refugees to return to their homes and properties". The campaign is organized and coordinated by the Palestinian BDS National Committee.


Germany labels Israel boycott movement BDS anti-Semitic
MPs in German parliament say the BDS movement uses methods reminiscent to those used by the Nazis.
BBC News - Published
Also reported by •WorldNews
Veteran PLO Negotiator Ashrawi Says U.S. Travel Visa Denied
Veteran PLO negotiator Hanan Ashrawi said Monday her U.S. travel visa was denied by the U.S. State Department for the first time, The Independent reported. Just one month ago, a Palestinian activist..
WorldNews - Published
Israel counters Eurovision boycott with Google ads
Israel has launched a PR campaign to counter calls for a boycott of the upcoming Eurovision Song Contest final in Tel Aviv, using Google ads which refer to the boycott but lead to a glossy website..
Credit: Reuters Studio Duration: 01:37Published
Why Progressives Are Increasingly Critical of Israel
Their criticism is rooted in issues that predate Netanyahu, but his relationship with President Trump, in part, seems to have accelerated the trend.
Credit: Newsy Studio Duration: 05:38Published
Search this site and the web:
You Might Like