Charlamagne tha God
American radio personality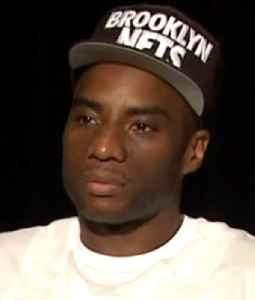 Lenard Larry McKelvey, known professionally as Charlamagne tha God, is an American radio presenter, television personality, and author. He is a co-host of the nationally syndicated radio show The Breakfast Club with DJ Envy and Angela Yee, and stars in Guy Code, Guy Court and Girl Code. He was also a VJ for The Week in Jams with DJ Envy and Sofi Green. In 2015, Charlamagne began hosting the MTV2 show Uncommon Sense. He was previously on The Wendy Williams Experience with Wendy Williams on VH1. In the shock-jock tradition, one of Charlamagne's personal mantras is "bite my tongue for no one."


What's Behind Biden's 'You Ain't Black' Gaffe?

Joe Biden recently appeared on the popular African American radio show "The Breakfast Club" with radio host Charlamagne tha God. Biden said "if you have a problem figuring out whether you're for me..
Credit: Wochit News Duration: 00:32
Published
Radio Host: Biden Will Depress The Black Vote

On Sunday, host of Breakfast Club radio Charlamagne tha God said Joe Biden could depress the black vote. "On top of possible Russian interference and voter suppression, Democrats have to worry about..
Credit: Wochit News Duration: 00:33
Published
Biden apologizes for 'ain't black' comment during radio interview

Former Vice President Joe Biden apologized on Friday for telling a black radio host that he "ain't black" if he was still weighing whether to support him or incumbent Donald Trump in the Nov. 3 U.S...
Credit: Reuters Studio Duration: 01:27
Published
You Might Like
Search this site and the web: