Spaniards
People native to any part of Spain or that hold Spanish citizenship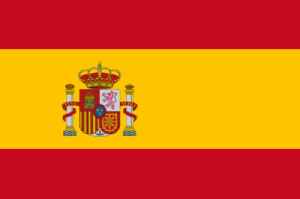 Spaniards, or Spanish people, are a Romance nation native to Spain. Within Spain, there are a number of National and regional ethnic identities that reflect the country's complex history and diverse cultures, including a number of different languages, among which Spanish is the majority language and the only one that is official throughout the whole country.


Nadal to skip U.S. Open over COVID-19 concerns

Rafael Nadal confirms he will not defend his U.S. Open tennis crown this year becasue of health concerns in North America. The Spaniard is the highest profile men's player to withdraw from the event..
Credit: Reuters Studio Duration: 01:17
Published
Mikel Arteta draws on Arsene Wenger's support ahead of FA Cup final

Arsenal head coach Mikel Arteta has not spoken to Arsene Wenger ahead ofSaturday's FA Cup final – but his former manager may have played an indirectrole in preparing the Spaniard for his first shot..
Credit: PA - Press Association STUDIO Duration: 00:52
Published
You Might Like



Rafael Nadal is the big favourite for Italian Open, but break may hurt him,' says ...

Felix Auger-Aliassime says Rafael Nadal is the 'big favourite' for the Italian Open in Rome despite him not playing competitive tennis for months. Nadal opted not to defend his US Open title this..




WorldNews - Published





Nadal's absence from US Open adds twist to Goat race

Mumbai — Rafa Nadal's decision to skip the US Open because of health concern has added another twist to the intriguing three-way battle for the most career men's Grand Slam titles and, in many..




WorldNews - Published





Aitor Karanka: Birmingham City confirm Spaniard as new head coach

Ex-Middlesbrough and Nottingham Forest boss Aitor Karanka is named head coach of Championship club Birmingham City.




BBC News - Published




Rahm in pole position ahead of final round in Ohio

Jon Rahm will take a four-stroke lead into the final round of the Memorial Tournament as he bids to replace Rory McIlroy as world number one. The Spaniard will top the Official World Golf Ranking for..




WorldNews - Published





Marquez versus Marquez as MotoGP spins wheels of family fortune

PARIS — Motorcycling is often a family affair, and yet before Alex Marquez joined Marc at Honda for this season two brothers had never raced together for the same team in MotoGP. Honda had more..




WorldNews - Published





Sebastian Vettel: This Formula One season could be my last

Four-times world champion Sebastian Vettel recognised on Thursday his Formula One career could be over at the end of the season. The German is starting his final year with Ferrari, with Spaniard Carlos..




WorldNews - Published





With black masks and silence, Spain mourns its coronavirus dead

Grieving Spaniards wore black and fell silent across the nation at midday on Wednesday at the start of 10 days of mourning for more than 27,000 dead from the coronavirus crisis.




Reuters - Published





Thousands rally against Spain virus response, urge PM to quit

Thousands of Spaniards answered a call on Saturday from far-right party Vox to protest against lockdown measures and the increasingly beleaguered government of leftist Pedro Sanchez. Motorists thronged..




WorldNews - Published





Spaniards ordered to wear masks in public if they can not keep two metres apart

Spain's government on Wednesday made it compulsory for everyone older than six to wear masks in indoor public spaces, and outdoor ones when it is impossible to keep more than two metres apart.




Reuters - Published





Some Spaniards to see lockdown eased as daily deaths fall again

Spain registered its lowest daily number of coronavirus deaths on Sunday since mid-March and half of its population prepared for an easing of one of Europe's strictest lockdowns, though not yet the..




Reuters - Published




Half of Spaniards will see lockdown eased from Monday as death toll falls

Spain's daily death toll from the coronavirus fell to its second lowest since mid-March on Saturday, as half the country prepared to move to the next phase of an exit from one of Europe's strictest..




Reuters - Published





Spaniards enjoy flowers and haircuts as coronavirus lockdown eases

Hairdressers, ironmongers and florists opened for business with restrictions on Monday as Spain began a four-phase plan to reopen by end-June, while the 24-hour death tally from the coronavirus..




Reuters - Published





Surfing and strolling, Spaniards reclaim the outdoors

Spaniards revelled in a second day of freedom on Sunday, flocking outdoors in time-slots for age groups on the first weekend adults were allowed out since one of the world's strictest coronavirus..




Reuters - Published




Spaniards head outdoors for first time in 7 weeks as coronavirus deaths fall

Spaniards revelled in their new-found freedom this weekend after coronavirus lockdown restrictions were eased to allow healthy adults out to play sports and take walks for the first time in seven..




Reuters - Published




Adios, indoor jogging! Spaniards rush outside to exercise after 49 days of lockdown

Joggers, cyclists and surfers across Spain hurried out their homes on Saturday, allowed to exercise outdoors for the first time in seven weeks as the government began easing tough coronavirus..




Reuters - Published




Spaniards to stroll out of lockdown as temporary hospital, symbol of pandemic battle, closes

Spain closed a giant temporary hospital in Madrid that had become a symbol of its fight against the coronavirus pandemic on Friday and people prepared to emerge from their homes for walks in the street..




Reuters - Published





Insults and fines: autistic young Spaniards struggle under lockdown

For Susana Cristo and other parents of autistic children, Spain's strict coronavirus lockdown is proving especially harrowing and has led to insults, harassment and even fines.




Reuters - Published





Some Spaniards head back to work in face masks as country loosens lockdown

Spaniards at the country's main transport hubs were handed face masks on a rainy Monday morning as the government relaxed some of the tough lockdown measures designed to rein in the coronavirus health..




Reuters - Published





Spaniards in lockdown bang pots in protest during king's speech

Banging pots and pans from their balconies, thousands of Spaniards under lockdown amid the coronavirus pandemic nearly drowned out King Felipe's broadcast address to the nation on Wednesday in protest..




Reuters - Published




Deserted streets, talking drones as Spain imposes state of emergency over virus

The streets of Spanish cities were eerily quiet on Monday, with the silence interrupted by police loudspeakers telling people to go home, as Spaniards spent their first working day under a lockdown due..




Reuters - Published




Spanish streets deserted as government plans to extend state of emergency

Madrid's streets were eerily quiet on Monday as Spaniards spent their first working day under a state of emergency which a minister said will need to be extended beyond the two weeks initially..




Reuters - Published





Playgrounds taped off, streets deserted as Spain's coronavirus death toll doubles

Spaniards hunkered down in silent cities on Sunday with children's playgrounds blocked off with police tape, after the government imposed sudden, severe restrictions on public life and the coronavirus..




Reuters - Published





Spain hunkers down as government orders strict limits on public life

Spaniards hunkered down at home on Sunday after the government imposed severe restrictions on public life to try to stop the spread of coronavirus, as cases of infection surged at a similar rate as in..




Reuters - Published





Spain Goes Under Lockdown to Fight Coronavirus; PM's Wife Tests Positive

Spain will put its 47 million inhabitants under partial lockdown as part of a 15-day state of emergency to combat the coronavirus epidemic, Prime Minister Pedro Sanchez said on Saturday in a live..




WorldNews - Published





Spanish government to decree lockdown - draft

Spain's government will say all Spaniards must stay home except to buy food or drugs, go to hospital, go to work or other emergencies according to a draft decree seen by Reuters on Saturday, confirming..




Reuters - Published





Spanish court ruling citing gender equality helps woman retire early

A Spaniard has won a legal battle to include in her work record the time she spent attending a social program for women that was created in the Franco era, enabling her to qualify for early retirement..




Reuters - Published





Spaniards repatriated from China to be discharged, no virus found

All 19 Spanish citizens who were repatriated from China on Jan. 31 amid concerns over the coronavirus epidemic will be discharged from hospital on Thursday after testing negative for the virus, the..




Reuters - Published





Begovic replaces Reina at AC Milan

AC Milan have signed Bournemouth goalkeeper Asmir Begovic to replace Spaniard Pepe Reina who completed a six-month loan deal to Premier League club Aston Villa on Monday.","content":"AC Milan have..




WorldNews - Published





Mikel Arteta: Arsenal make contact with Manchester City to make Spaniard next boss

Arsenal's legal team are in contact with their Manchester City counterparts over Mikel Arteta becoming the next Gunners boss.




BBC News - Published





Socialists in lead as far-right Vox surges in Spain election

Spaniards have voted again again after Prime Minister Pedro Sanchez failed to secure support from other parties following an inconclusive election in April.




SBS - Published





Spain goes to the polls for the fourth time in four years

Spaniards are voting again after Prime Minister Pedro Sanchez failed to secure support from other parties following an inconclusive election in April.




SBS - Published





5 men cleared of rape on grounds that girl was unconscious

Spaniards are voicing outrage after five men were acquitted of rape on the grounds that their 14-year-old victim had been unconscious at the time




CBS News - Published





Spain gears up for express election amid increasingly divided society

Spain's main political parties kicked off a highly condensed electoral campaign on Thursday night, just 10 days before Spaniards head to the polls for a repeat election that is likely to show an..




Reuters - Published





Spaniards react to prison sentences for Catalan separatist leaders

Spain's Supreme Court on Monday sentenced nine Catalan separatist leaders to up to 13 years in prison for sedition over their role in a failed independence bid, dividing opinion both in the region and..




Reuters - Published




In Spain, clock is ticking for Franco's exhumation

It was a campaign promise of Spain's Socialist PM Pedro Sanchez: former dictator Francisco Franco would be exhumed from the mausoleum where he's buried. The Valley of the Fallen, a monument to the..




France 24 - Published





DIFFERENCES BETWEEN SPANISH FROM SPAIN AND SPANISH FROM LATIN AMERICA

A Castilian, Spaniards There are many differences between Spanish practiced in Spain and Latin America. Castilian is the origin of the Spanish language. Castilian is the official Spanish language. It..




WorldNews - Published





"Sick and tired": Spaniards fed up with yet another election

Spaniards were frustrated and angry on Wednesday after being called to the polls for a fourth time in four years and some said they would stay away from the ballot box, making it harder to predict how..




Reuters - Published





Massive rally for Catalonia's secession in Barcelona

BARCELONA,(SPAIN): Hundreds of thousands of Spaniards who support the secession of Catalonia gathered in Barcelona on the region's main holiday Wednesday, just weeks before a highly anticipated verdict..




WorldNews - Published





Rafael Nadal celebrates 'unforgettable' US Open triumph

Rafael Nadal says his "unforgettable" US Open triumph against Daniil Medvedev has bolstered his legacy in tennis and admits it was "impossible" to hold in his emotions after his 19th Grand Slam title...




WorldNews - Published





In-form Rafael Nadal ready for hard court test at US Open

New York: Rafa Nadal was forced out of the US Open last year in the semi-finals with a knee injury but the in-form Spaniard on Friday declared himself fit and ready for the punishing hard courts at..




WorldNews - Published





Andy Murray confirms Challenger Tour return at Rafa Nadal Open

• Scot drops down a level to build up match fitness • Murray has lost both singles matches since return from injury Andy Murray will play on the Challenger Tour for the first time in 14 years next..




WorldNews - Published





'Save our oceans,' Oscar winner Bardem tells UN

NEW YORK: Oscar-winning actor Javier Bardem made an impassioned plea at the United Nations to save the world's oceans Monday. The Spaniard, a keen environmental activist, called on countries to agree..




WorldNews - Published





Nadal, Federer decide to re-enter ATP politics

World No. 2 Rafael Nadal on Thursday said that he and Roger Federer made a joint decision to stand for the ATP Player Council. The 33-year-old Spaniard confirmed the choice at the Rogers Cup after..




WorldNews - Published