Milwaukee Journal Sentinel
Newspaper based in Milwaukee, Wisconsin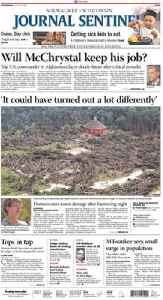 The Milwaukee Journal Sentinel is a daily morning broadsheet printed in Milwaukee, Wisconsin, where it is the primary newspaper. It is also the largest newspaper in the state of Wisconsin, where it is distributed widely. It is currently owned by the Gannett Company.


The Raptors win Game 4 and we now have a series
SportsPulse: The Raptors were dominant in their Game 4 victory over the Bucks and much of the credit deserves to go to the Toronto bench. USA TODAY Sports' Jeff Zillgitt and Milwaukee Journal..
USATODAY.com - Published
Raptors capture pivotal Game 3 victory over Bucks
SportsPulse: USA TODAY Sports' Jeff Zillgitt and Milwaukee Sentinel Journal's Matt Velazquez break down the importance of Toronto's Game 3 victory over Milwaukee.
USATODAY.com - Published
Appeals Court Reinstates Some Wisconsin Lame-Duck Laws
The laws passed by the Wisconsin state legislature last year stripped some powers from the now-current governor and attorney general.
Credit: Newsy Studio Duration: 00:43Published
21 Year-Old Abductor Pleads Guilty In Jayme Closs Case
According to a report by Newser, Jake Patterson has pleaded guilty in the kidnapping of 13-year-old Jayme Closs and the murder of her parents. The 21 year-old Patterson was reportedly arraigned on..
Credit: Wochit News Duration: 00:35Published
Bucks look to keep rolling as East finals shift to Toronto
What I'm Hearing: Matt Velazquez of the Milwaukee Journal Sentinel breaks down the Bucks' collective mindset as the Eastern Conference finals shifts to Toronto for Games 3 and 4.
USATODAY.com - Published
Bucks know shooting can only get better after Game 1
What I'm Hearing: Milwaukee Sentinel Journal reporter Matt Valazquez spoke with the Bucks following their Game 1 win over the Raptors and the consensus feeling is that their shooting can only get..
USATODAY.com - Published
Search this site and the web:
You Might Like