The Verge
American technology news and media website operated by Vox Media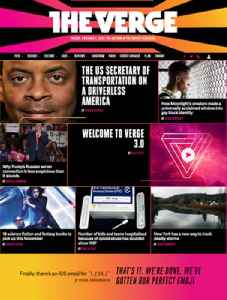 The Verge is an American technology news website operated by Vox Media, publishing news, feature stories, guidebooks, product reviews, and podcasts.


YouTube rolls out 'YouTube Shorts' in India

YouTube has rolled out a new short-form video creator called YouTube Shorts in India and this has been done to give competition to Chinese video-sharing application TikTok. As per a report in the..
Credit: ANI Duration: 01:12
Published
Sony opens invite-only online registration for PlayStation 5 preorders

Sony has decided to open invite-only online registration for customers in order to let them pre-order the upcoming PlayStation 5 console directly from the company. There will only a limited quantity of..
Credit: ANI Duration: 01:09
Published
You Might Like



Fall announcements update: Apple Watch Series 6 to Oculus Quest 2

The fall tech season is in full swing, with Apple announcing new Watches and iPads, Sony announcing pricing for the PlayStation 5, and Facebook revealing a sequel to its standalone Oculus..




The Verge - Published





iOS 14 switches default apps back to Apple's Safari and Mail after a reboot

Photo by Amelia Holowaty Krales / The Verge Apple gives you the option of picking new default browser and email apps in iOS 14 and iPadOS 14. But it's been discovered that, at least in the 14.0..




The Verge - Published





Razer's Opus noise-canceling headphones are discounted for Verge readers

Photography by Cameron Faulkner / The Verge Razer's Opus wireless, over-ear headphones with active noise cancellation are 10 percent off their usual price. Normally $199.99, this brings them down..




The Verge - Published





Tis the season of tech reviews and console reveals

We are fully immersed in the tech review season, and this week's episode of The Vergecast proves it. The Verge's Nilay Patel, Dieter Bohn, and Tom Warren dive into reviews of Samsung's Galaxy..




The Verge - Published





The Peace Reporters

Read this feature on TheVerge.com




The Verge - Published





Capturing the Police

Read this on TheVerge.com




The Verge - Published





Samsung's Find My Mobile feature now works with offline devices

Photo by Brennan King / The Verg Samsung's Find My Mobile feature is a handy tool to help you find a lost phone. With the latest app update, Find My Mobile will now work for Galaxy devices that..




The Verge - Published





The Verge's Back to School Special

Back-to-school season is hitting differently in 2020. This year, first-day-of-school jitters are mixed in with fears of a still-raging pandemic, families stretched to their limits, and economic..




The Verge - Published





Vergecast: the app store chaos episode

Photo by Tom Warren / The Verge This week on The Vergecast, a topic very aligned with the theme of this podcast dominated the show: antitrust in the app store. The Verge's Nilay Patel, Dieter..




The Verge - Published





Microsoft's new Xbox Series S console confirmed in leaked controller packaging

Microsoft is rumored to be unveiling its second, cheaper next-gen Xbox console this month, and it looks like it will definitely be called Xbox Series S. The Verge has obtained photos of Microsoft's..




The Verge - Published





Google plans to release a foldable Pixel in late 2021, according to leaked document

Photo by Vjeran Pavic / The Verg A leaked internal Google document suggests that the company has earmarked the fourth quarter of next year for the release of a foldable Google Pixel phone,..




The Verge - Published





Google has already discontinued the Pixel 4 and 4 XL

Photo by Vjeran Pavic / The Verg Google has discontinued the Pixel 4 and Pixel 4 XL, its flagship phones that were released in October of last year. Both devices are out of stock in Google's store..




The Verge - Published





Indie darling Alto's Adventure and its sequel are finally coming to PS4, Xbox One and Switch

Alto's Adventure and Alto's Odyssey, two mobile games we at The Verge love because of their beautiful art style and polished gameplay, are finally coming to PS4, Xbox One, and the Epic Games Store..




The Verge - Published





Riot Games addresses burnout and crunch by giving employees a week off

Illustration by Alex Castro / The Verge Riot Games, the developer of League of Legends and Valorant, will be giving employees the week of August 10th off to "disconnect, recharge, and reboot,"..




The Verge - Published





Mulan is heading to Disney Plus on September 4th for $30

Image: Disney Disney's live-action adaptation of Mulan will be released on Disney Plus on September 4th for $29.99, the company announced today. Disney executives walked through the new plan..




The Verge - Published





Samsung is launching a 5G version of the Galaxy A51 in the US this week

Photo by Vjeran Pavic / The Verge Samsung's next midrange phone to get 5G connectivity is the Galaxy A51. Originally launched back in April, the A51 costs $400 normally and sits comfortably in the..




The Verge - Published





Donald Trump trying to control the FCC is a 'disaster,' says Sen. Ron Wyden

Photo by SUSAN WALSH/POOL/AFP via Getty Images Sen. Ron Wyden (D-OR) says President Donald Trump's recent handling of Federal Communications Commission nominations is a "disaster." Earlier..




The Verge - Published





Honda recalls 608,000 vehicles for faulty software

Photo by Amelia Holowaty Krales / The Verge Honda is recalling 608,000 vans and SUVs because of faulty software that can, among other things, cause the backup camera to fail and the driver display..




The Verge - Published





TikTok's future in the US: all of the news about Microsoft's deal and Trump's ban threats

Illustration by Alex Castro / The Verge TikTok may get a new owner




The Verge - Published





The biggest problem with Microsoft's fractured TikTok deal

Illustration by Alex Castro / The Verge Microsoft has six weeks to close one of the strangest deals in tech industry history. On Sunday, the company publicly announced it was in talks with President..




The Verge - Published





Google Play Music will begin shutting down in September

Photo by Chris Welch / The Verge Today, Google shared a detailed timeline for Google Play Music's shutdown. Access will be revoked in September for users in New Zealand and South Africa and for..




The Verge - Published





Apple is not interested in buying TikTok

Illustration by Alex Castro / The Verge Apple says it's not interested in acquiring TikTok, despite an Axios report that named the company as a potential buyer for the embattled social network...




The Verge - Published





Ford CEO Jim Hackett is retiring

Photo by Sean O'Kane / The Verge Ford CEO Jim Hackett is retiring, the company announced on Tuesday, and he will be replaced by current chief operating officer Jim Farley. Hackett will stay with..




The Verge - Published





Microsoft's xCloud game streaming will launch on September 15th on Android

Microsoft will launch its game streaming service, known as Project xCloud, on September 15th exclusively on Android devices. Project xCloud will be bundled as part of the Xbox Game Pass Ultimate..




The Verge - Published





Cloak your photos with this AI privacy tool to fool facial recognition

Illustration by Alex Castro / The Verge Ubiquitous facial recognition is a serious threat to privacy. The idea that the photos we share are being collected by companies to train algorithms that are..




The Verge - Published





Google's Pixel conundrum and Microsoft's TikTok conundrum

Photo by Vjeran Pavic / The Verge Hi everybody. I'm back to writing this newsletter after some time off and somehow, magically, still somewhat refreshed by my week off in the woods of northern..




The Verge - Published





Ubisoft reportedly fires one of its most influential execs following allegations of sexual harassment

Illustration by Alex Castro / The Verge One of Ubisoft's most influential executives has been fired after an investigation into allegations of sexual harassment made against him, reports Business..




The Verge - Published





Prosecutors are investigating Amazon's treatment of third-party sellers

Illustration by Alex Castro / The Verge The New York and California attorneys general, along with the Federal Trade Commission, plan to investigate Amazon's online Marketplace platform, Bloomberg..




The Verge - Published





Twitter faces $250 million FTC fine for misusing emails and phone numbers

Illustration by Alex Castro / The Verge Twitter said that the Federal Trade Commission may soon fine it up to $250 million for improper use of users' phone numbers and email addresses. The..




The Verge - Published





Google's live-captioning feature will soon work with voice and video calls on Pixel phones

Illustration by Alex Castro / The Verge Android's real-time captions feature, Live Caption, is gaining the ability to work with voice and video calls, Google announced on Monday. Previously, Live..




The Verge - Published





Google Pay will support mobile checking accounts starting next year

Illustration by Alex Castro / The Verge Google is getting into mobile banking through a new partnership announced on Monday with a total of eight US-based banks, including the US division of the..




The Verge - Published





Apple's AirPods with a wireless charging case are cheaper than ever today at Amazon

Photo by Amelia Holowaty Krales / The Verge Apple's second-generation AirPods that come with a wireless charging case are down to their cheapest price ever at Amazon. Normally $199, they're just..




The Verge - Published





Some Photoshop users can try Adobe's anti-misinformation system later this year

Photo by Amelia Holowaty Krales / The Verge Adobe has released more details on its Content Authenticity Initiative, a system for permanently attaching sources and details to an image. The project is..




The Verge - Published





Qualcomm announces new Snapdragon 768G 5G processor

Illustration by Alex Castro / The Verge The first phones with Qualcomm's Snapdragon 765 processor are just starting to...




WorldNews - Published





Epic Finally Releases Fortnite on Google's Store, Has Weird Opinions About Android Apps

Fortnite was released on Android devices around 18 months ago, but only as a standalone download, not as part of Google's Play Store. That puts apps at a big disadvantage because people only tend to..




WorldNews - Published





Google's silent Chrome experiment crashes thousands of browsers and angers IT admins

Illustration by Alex Castro / The Verge Google left thousands of machines in businesses with broken Chrome browsers this...




WorldNews - Published





Mark Zuckerberg tells employees Facebook will fight back against legal challenges

Facebook CEO Mark Zuckerberg told employees the company would fight back against critics, competitors and the U.S. government in a leaked audio recording published by The Verge on Tuesday. Zuckerberg..




CBS News - Published





Facebook's Zuckerberg says Warren as US president would be bad for tech

Washington: Facebook Inc Chief Executive Officer Mark Zuckerberg told employees in July that the company would "go to the mat" to defeat Democratic candidate Elizabeth Warren's expected effort to break..




WorldNews - Published

Also reported by •Reuters


Factbox: Six things Facebook CEO Mark Zuckerberg told staff in leaked audio

Leaked audio of Facebook Inc Chief Executive Mark Zuckerberg addressing questions from staff in two internal July meetings was published on Tuesday by The Verge.




Reuters - Published





Mark Zuckerberg rallies Facebook employees against critics in leaked audio

Facebook CEO Mark Zuckerberg is rallying his employees against critics and the government in leaked audio published by The Verge today. Axios media reporter Sara Fischer joined CBSN with more on that..




CBS News - Published





Zuckerberg says Facebook would defeat break-up effort if Warren elected president

Facebook Inc Chief Executive Officer Mark Zuckerberg told employees in July he expected the company would face an effort to break up the world's largest social media company if Democrat Elizabeth..




Reuters - Published





The next iPhone may not have reverse wireless charging for your AirPods after all

Photo by James Bareham / The Verge With less than 24 hours remaining until Apple reveals the iPhone 11 — or whatever they...




WorldNews - Published





Amazon's Ring Doorbell Service Partnered With More Than 200 US Police Departments

A new report published by Vice's Motherboard revealed Amazon's surveillance camera brand was partnering with more than 200 law enforcement agencies across the country on Tuesday, according to The..




WorldNews - Published





France Could Fine Facebook, Google For Not Removing Hate Speech From Their Platforms

Social media giants could face hefty fines if they don't expediently remove hateful content within 24 hours under a draft bill approved by France's National Assembly on Friday, according to The Verge...




WorldNews - Published





Facebook's content moderators in Florida endure horrific conditions, report says

Casey Newton, a Silicon Valley editor for The Verge, joins CBSN's Reena Ninan to discuss his new article on the horrific work conditions faced by Facebook's content moderators who work as contractors...




CBS News - Published