CNBC
American television business news channel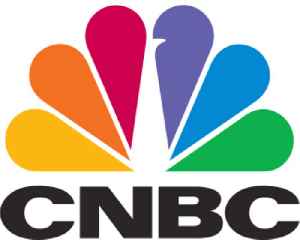 CNBC is an American pay television business news channel that is owned by NBCUniversal News Group, a division of NBCUniversal, with both being ultimately owned by Comcast. Headquartered in Englewood Cliffs, New Jersey, the network primarily carries business day coverage of U.S. and international financial markets; following the end of the business day and on non-trading days, CNBC primarily carries financial and business-themed documentaries and reality shows.


Will Stock Volatility Increase After Election?

On Tuesday, Wells Fargo said stock markets should prepare for volatility to balloon after Election Day. Wells Fargo head of rates strategy Michael Schumacher told CNBC's Trading Nation that options are..
Credit: Wochit News Duration: 00:29
Published
Former Fed Chair Greenspan: 'We Pretend A Great Deal'

In 1996, US Federal Reserve chairman Alan Greenspan famously warned of an 'irrational exuberance' in financial markets. Now, Business Insider reports Greenspan has spoken about his sense of economic..
Credit: Wochit News Duration: 00:45
Published
Analysts Believe S&P 500 Will Soar At The End Of The Year

According to a Piper Sandler senior technical research analyst the S&P 500 will continue to gain following its record high on Tuesday. The S&P 500 was up 0.2% to 3,396.5 in Wednesday morning trading...
Credit: Wochit News Duration: 00:29
Published
Economist: Depression Will Lead To Boom

A prominent Wall Street strategist told CNBC the stock market may see a "wartime boom" next year following the US economy's "depression-like collapse." Jim Paulsen is one of a hand full of economists..
Credit: Wochit News Duration: 00:29
Published
Gold Predicted To Surge 90%

CNBC reports that gold prices could reach $4,000, the CEO of US Global Investors told CNBC Monday. Frank Holmes said: "It's quite easy to see gold going to $4,000." CEO of US Global Investors. Holmes..
Credit: Wochit News Duration: 00:27
Published
Pelosi says GOP doesn't give a 'damn' about aid

[NFA] House Speaker Nancy Pelosi in an interview with CNBC on Thursday attacked her Republican colleagues for not moving on their new coronavirus relief bill proposal, saying they don't give a "damn"..
Credit: Reuters Studio Duration: 02:32
Published
Bill Gates Calls Slow COVID-19 Testing a 'Complete Waste'

In an appearance on CNBC's 'Squawk Box,' Gates gave some sharp criticism of America's response to the COVID-19 pandemic.
Credit: Cover Video STUDIO Duration: 01:24
Published
Veteran Investor Bullish On Gold

Gold is on the rise. According to Business Insider, analysts do not see any sign in it slowing down. Investor Barry Dawes of Martin Place Securities said that he expects gold prices to rise to $3,500..
Credit: Wochit News Duration: 00:34
Published
You Might Like



Alphabet settles shareholder lawsuit over executive sexual misconduct

Illustration by Alex Castro / The Verge Google parent company Alphabet has settled a shareholder lawsuit over its handling of sexual misconduct. The company has announced policy changes related to..




The Verge - Published





Judge orders Eric Trump to testify before Election Day

Eric Trump must respond to a subpoena by the New York Attorney General Letitia James President Donald Trump's middle son is being forced to testify after he has been avoiding it for months. Eric..




WorldNews - Published





Custom iOS 14 widgets have become a TikTok flex

-The most exciting part of iOS 14 isn't picture-in-picture video display or the app library — it's widgets. Instead of once-boring app icons for your calendar or clock that might get placed in..




The Verge - Published





Blame the system for FinCen files, not the banks, experts urge

The leaked FinCen files which sent banking stocks tumbling on Monday should be viewed as exposing flaws in the regulatory system, not wrongdoing by banks, several financial crime experts have told..




WorldNews - Published





Kevin Systrom probably won't take over TikTok, but it's fun to dream

Illustration by Alex Castro / The Verge This week was the deadline for ByteDance to divorce itself of TikTok over security concerns, but at press time no deal has been struck. Instead, we have the..




The Verge - Published





CNBC host Jim Cramer calls Pelosi 'Crazy Nancy' in TV interview, defends himself after backlash

CNBC's Jim Cramer took to Twitter to defend himself after he faced backlash for the remark, arguing he was opposing the president's use of the term.




USATODAY.com - Published





Pelosi wants House to stay in session until COVID deal reached

Pelosi told CNBC that the House was committed to passing an "agreement that meets the needs of the American people."




CBS News - Published





Apple's new App Store guidelines carve out loopholes for xCloud, Stadia, and other apps that Apple had blocked

Illustration by Alex Castro / The Verge Apple has issued new rules for its App Store in an attempt to address many of the issues that have come up over Apple's governance of its digital storefront..




The Verge - Published





What this tragic merger looks like today will shock you

Taboola and Outbrain, best known as the rival chumbox providers who fill space on your favorite websites with garbage like "You Won't Believe What [NAME] Looks Like Today!" and the ever-popular..




The Verge - Published





Nasdaq sinks by more than 3pc, Dow plunges by 558 points

Stocks fell sharply Tuesday on Wall Street to start the week as technology shares were under pressure following their worst sell-off in more than five months last week, CNBC...




WorldNews - Published





Amazon's Prime Air inches closer to takeoff in the US with FAA approval

Amazon unveiled the latest version of its drone last year. | Image: Jordan Stead / Amazon Amazon has been given the Federal Aviation Administration's approval to operate as a drone airline in the..




The Verge - Published





Walmart says it's partnering with Microsoft on a TikTok deal

Photo by Kena Betancur/VIEWpress via Getty Images Walmart says it's partnering with Microsoft on a potential TikTok deal. The retailer is pitching the partnership as a way for it to expand its..




The Verge - Published





Southwest Airlines lowers cash burn rate

Southwest Airlines said Wednesday that daily cash burn has improved slightly more than expected due to a modest improvement in demand. CNBC's Phil LeBeau reports. ......




WorldNews - Published





Walmart teams up with Instacart to rival Amazon for same-day grocery delivery

Photo: Instacart Walmart is partnering with grocery delivery platform Instacart in yet another bid to rival Amazon and its growing offline network of Whole Foods stores and same- and one-day Prime..




The Verge - Published





UK denies being influenced on decision to block Huawei

US President Donald Trump did not directly influence the U.K. government's decision to ban Huawei equipment from its 5G networks, a British minister said, CNBC reports. "We all know Donald Trump,..




WorldNews - Published





Chinese-owned TikTok says got 500 government requests, removes 49m videos

TikTok removed over 49 million videos for content violations in just six months, according to the company's latest transparency report, published Thursday, CNBC reports Less than 1 percent of all..




WorldNews - Published





Former Fox News anchor Shepard Smith to join CNBC as host of 'The News with Shepard Smith'

Shepard Smith has found a new home since his stunning departure from Fox News last year. Here are the details of his new CNBC show.




USATODAY.com - Published





Batman, Mortal Kombat Going To Xbox?! WB Games Selling For $4 BILLION

A report from CNBC in June revealed that Warner Bros.' parent company AT&T were looking to sell WB Interactive Entertainment, aka WB Games. WB's video game division houses the likes of Rocksteady..




WorldNews - Published





Sale of SoftBank's 198 million T-Mobile shares prices at $103 per share

CNBC's David Faber reports the details of SoftBank's sale of 198 million T-Mobile shares. ......




WorldNews - Published





Weimar 2020

Article By WN.com Guest Writer Gilad Atzmon Have you noticed the peculiar fact that despite the lockdown, the economic crisis, tens of millions unemployed and multiple corporations filing for..




WorldNews - Published





U.S. states lean toward breaking up Google's ad tech business: CNBC

The U.S. state attorneys general investigating Alphabet Inc's Google for potential antitrust violations are leaning towards pushing for a breakup of its ad technology business as part of an expected..




Reuters - Published





Disney parks in America will 'likely' require face masks after reopening, CEO says

What will the Disney Parks in America look like when they reopen? Disney CEO Bob Chapek gave his thoughts in an interview with CNBC.




USATODAY.com - Published





Fed's Bullard: Drop in U.S. payrolls 'not a surprise' given shutdowns - CNBC

The massive drop in U.S. private payrolls for April, reported on Wednesday, is "not a surprise" but employment could recover dramatically in the second half of the year if the coronavirus pandemic is..




Reuters - Published





6 million paying customers now on Google's G Suite

San Francisco: Googles G Suite now has six million paid customers, up from 5 million in February last year and the companys video calling service Meet is witnessing 25 times more traction since..




WorldNews - Published





Trump removes lead watchdog expected to oversee $2T aid package

President Trump will remove Glenn Fine as the lead watchdog over the $2 trillion coronavirus aid package. Fine will return to his post as a Pentagon watchdog. CNBC's Eamon Javers reports. ......




WorldNews - Published





Bank of America received 10,000 applications within first hour of small-business loan program

Bank of America Corp has already received about 10,000 applications for federally backed small-business loans within the first hour of starting to accept them, Chief Executive Brian Moynihan said in a..




Reuters - Published





IMF's Georgieva tells CNBC - No way to get to strong recovery without containment

The head of the International Monetary Fund on Friday underscored the importance of strong containment measures to get control of the coronavirus pandemic, and to lay the groundwork for a strong..




Reuters - Published





Trump slams GM CEO Mary Barra over ventilator fiasco

While entrepreneurs and companies around the world are moving quickly to retool their factories to build much needed ventilators to fight Covid-19, GM wanted "top dollar" for doing so, enraging..




WorldNews - Published





U.S. Senate coronavirus bill to help airlines with grants: CNBC

U.S. airlines would receive direct grants and would not be able to lay off employees for a set time under the coronavirus relief legislation agreed to by the U.S. Senate on Wednesday, according to a..




Reuters - Published





House Speaker Pelosi sees 'real optimism' for coronavirus deal in next few hours: CNBC

Democratic U.S. House Speaker Nancy Pelosi said that later on Tuesday Congress could soon reach a deal to pass an economic relief package for the fallout from the coronavirus crisis.




Reuters - Published





Boeing seeks $60 billion in government aid

CNBC's Phil LeBeau takes a look at Boeing's request for aid as the company's stock tumbles. ......




WorldNews - Published





Trump adviser Navarro preparing executive order to reduce U.S. dependency on foreign medicines: CNBC

White House trade adviser Peter Navarro said on Monday he was preparing to bring an executive order to President Donald Trump that would help relocate medical supply chains from overseas to the United..




Reuters - Published





Jack Welch, former General Electric CEO who built company into a powerhouse, has died, according to report

Jack Welch, who built General Electric into an industrial and financial powerhouse, has died, according to CNBC.




USATODAY.com - Published





Defense Secretary Esper 'reluctant' to call Taliban truce a victory

U.S. Defense Secretary Mark Esper speaks to CNBC's Hadley Gamble at the Munich Security Conference. ......




WorldNews - Published





Former CNBC anchor Michelle Caruso-Cabrera becomes latest primary challenger to Rep. Ocasio-Cortez

A dozen candidates have filed to run against Rep. Alexandria Ocasio-Cortez, including five primary challengers.




USATODAY.com - Published





WeWork temporarily closes 100 buildings in China over coronavirus: CNBC

Office sharing startup WeWork has temporarily closed 100 buildings in China due to the coronavirus outbreak, Chairman Marcelo Claure said in a CNBC interview on Monday.




Reuters - Published




White House tells airlines it may suspend China-U.S. flights amid coronavirus outbreak: CNBC

The White House has told airline executives that it is considering suspending flights from China to the United States amid the new coronavirus outbreak, CNBC..




Reuters - Published




US could approve Boeing 737 MAX before mid-year: source

NEW YORK: US air safety regulators could clear the Boeing 737 MAX to return to service before mid-year, a person close to the process said Friday. Boeing shares rallied following a CNBC report that the..




WorldNews - Published





Goldman Sachs to companies: Hire at least one woman director if you want to go public

From June 30, Goldman Sachs Group Inc will only help take a company public if it has at least one diverse board member, as such companies perform better after listing, Chief Executive David Solomon..




Reuters - Published





Asian Shares Mixed as U.S. Says Trade Deal With China Ready

Asian shares meandered in a narrow range on Friday despite another session of record highs on Wall Street. There was little apparent reaction Friday after U.S. Treasury Secretary Steven Mnuchin said..




WorldNews - Published





CNBC survey: 45% of Americans disapprove of impeachment, 44% approve

The U.S. House of Representatives is...




WorldNews - Published





Papa John's CEO says recipe hasn't changed, isn't focused on Schnatter's "not the same pizza" comments

"We haven't made any changes to the way we make it or what goes into our products," Rob Lynch, who came on as CEO in August, told CNBC.




USATODAY.com - Published





U.S. Commerce Secretary: Trump's objectives on U.S.-China trade deal haven't changed

U.S. Commerce Secretary Wilbur Ross on Tuesday told CNBC that President Donald Trump's objectives on a trade deal with China have not changed and that Trump is under no time pressure to complete a..




Reuters - Published





Ross says Trump has flexibility on tariffs toward France, Europe

President Donald Trump has wide latitude in handling trade with France and other European allies, including imposing tariffs, U.S. Commerce Secretary Wilbur Ross told CNBC in an interview in on..




Reuters - Published





Wall St. extends declines as Commerce Secretary Ross comments on China tariffs

U.S. stocks extended declines on Tuesday as U.S. Commerce Secretary Wilbur Ross said on CNBC that U.S. tariffs on Chinese imports due Dec. 15 would be imposed unless there was substantive progress in..




Reuters - Published





Dow, S&P 500 and Nasdaq close at record highs again

The Dow, S&P 500 and Nasdaq close at record highs. Josh Brown, CEO of Ritholtz Wealth Management, and Thomas Fross, Fross & Fross Wealth Management, join CNBC's "Closing Bell" to discuss markets...




WorldNews - Published





Discount broker Charles Schwab in talks to buy TD Ameritrade

Charles Schwab Corp, the largest discount broker in the U.S. financial world, is in talks to buy rival TD Ameritrade, CNBC reported, as profits in the industry come under pressure from a shift to zero..




WorldNews - Published

Also reported by •Reuters


Snapchat checks for deception in political ads

Snap on Monday confirmed that it checks political ads at Snapchat to make sure they are not deceptive or misleading and thus enforce its ban on such material. The strategy seems to be a middle ground..




WorldNews - Published





Futures erase gains on report Beijing 'pessimistic' over trade deal

U.S. stock index futures gave up gains on Monday following a CNBC report that the mood in China over a trade deal with the United States is "pessimistic" due to President Donald Trump's reluctance to..




Reuters - Published