CNBC
American television news channel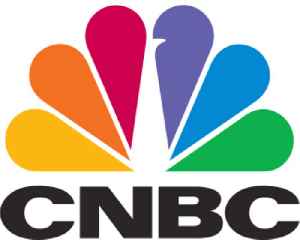 CNBC is an American pay television business news channel that is owned by NBCUniversal Broadcast, Cable, Sports and News, a division of NBCUniversal, with both being ultimately owned by Comcast. Headquartered in Englewood Cliffs, New Jersey, the network primarily carries business day coverage of U.S. and international financial markets; following the end of the business day and on non-trading days, CNBC primarily carries financial and business-themed documentaries and reality shows.


Facebook breakup could boost China rivals: Sandberg
NEW YORK (AFP) - Facebook chief operating officer Sheryl Sandberg said Friday a breakup of big US technology would not address "underlying issues" facing the sector and suggested that such a move could..
WorldNews - Published
U.S. House Passes Sweeping Bill To Expand Gay Rights
Democrats in the U.S. House of Representatives approved sweeping anti-discrimination legislation Friday that would extend civil rights protections to LGBT people by prohibiting discrimination based on..
WorldNews - Published
Wall Street drops on trade uncertainty
Wall Street ended lower on Friday as trade tensions pulled industrial and tech shares down, and the Dow capped a fourth straight week of losses. Fred Katayama reports.
Credit: Reuters Studio Duration: 01:13Published
Buffets Berkshire Reveals Its Stake In Amazon
On Wednesday, Berkshire Hathaway disclosed a filing with the Securities and Exchange Commission. It reveals that it bought 483,300 shares in the first quarter, worth about $904 million. CEO Warren..
Credit: Wochit News Duration: 00:32Published
Kraft Heinz restates earnings
Kraft Heinz will two years' worth of earnings to fix errors that resulted from lapses in procurement practices. Fred Katayama reports.
Credit: Reuters Studio Duration: 01:01Published
Apple, Qualcomm Dismiss All Litigation Over Patent Disputes
The tech companies announced Tuesday that they're dismissing all litigation between them over patents and licensing.
Credit: Newsy Studio Duration: 01:03Published
Mnuchin Says US, China Have Agreed on Trade Deal Enforcement
​The Treasury Secretary said both sides have "pretty much agreed on an enforcement mechanism," which includes "enforcement offices" on both sides.
Credit: Newsy Studio Duration: 00:53Published
Growing Sales For Amazon, Etc. Could Lead To Stores Closing
UBS suggests if a trend in online retail sales continues to increase, 75,000 U.S. stores may need to close.
Credit: Newsy Studio Duration: 01:06Published
FDA Rule Proposal Would Alert Women to Breast Cancer Risk
The FDA proposed a rule change Wednesday that would give women more information about how breast density can affect screening results.
Credit: Newsy Studio Duration: 01:11Published
U.S. stocks drop late in session on trade uncertainty
Wall Street shares extended losses in late trade on Friday after CNBC reported that the next round of U.S.-China negotiations was in flux, looking set to end a seesaw week the same way they started..
Reuters - Published
Trade talks between U.S. and China have stalled: CNBC
The trade talks between the United States and China have stalled, CNBC reported on Friday, citing sources.
Reuters - Published
U.S. Agrees To Lift Metals Tariffs For Canada And Mexico
The United States has reached a deal to lift steel and aluminum tariffs on Canada and Mexico, removing a key obstacle to passing updates to the North American Free Trade Agreement, two people familiar..
WorldNews - Published
Search this site and the web:
You Might Like