CNBC
American television news channel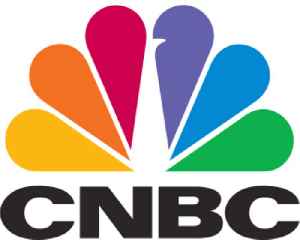 CNBC is an American pay television business news channel that is owned by NBCUniversal Broadcast, Cable, Sports and News, a division of NBCUniversal, with both being ultimately owned by Comcast. Headquartered in Englewood Cliffs, New Jersey, the network primarily carries business day coverage of U.S. and international financial markets; following the end of the business day and on non-trading days, CNBC primarily carries financial and business-themed documentaries and reality shows.


McConnell Proposes Bill To Raise Age For Buying Tobacco To 21
Senate Majority Leader Mitch McConnell announced Thursday he will introduce legislation to raise the federal minimum age to buy tobacco to 21 from 18, CNBC reported. McConnell will introduce the..
WorldNews - Published
North Korea Tests New Tactical Guided Weapon
Korean Central News Agency said North Korea tested a new tactical guided weapon on Thursday morning local time. The report claimed the launch of a "powerful warhead" was overseen by North Korean leader..
WorldNews - Published
Apple, Qualcomm Dismiss All Litigation Over Patent Disputes
The tech companies announced Tuesday that they're dismissing all litigation between them over patents and licensing.
Credit: Newsy Studio Duration: 01:03Published
Mnuchin Says US, China Have Agreed on Trade Deal Enforcement
​The Treasury Secretary said both sides have "pretty much agreed on an enforcement mechanism," which includes "enforcement offices" on both sides.
Credit: Newsy Studio Duration: 00:53Published
Growing Sales For Amazon, Etc. Could Lead To Stores Closing
UBS suggests if a trend in online retail sales continues to increase, 75,000 U.S. stores may need to close.
Credit: Newsy Studio Duration: 01:06Published
FDA Rule Proposal Would Alert Women to Breast Cancer Risk
The FDA proposed a rule change Wednesday that would give women more information about how breast density can affect screening results.
Credit: Newsy Studio Duration: 01:11Published
SEC Charges Volkswagen, Former CEO With Lying to Investors
The U.S. Securities and Exchange Commission is suing Volkswagen and its former CEO in connection with the company's diesel emissions scandal.
Credit: Newsy Studio Duration: 01:05Published
White House Proposes Changes To Student Loan Programs
The Trump administration's 2020 budget plan proposes revising some of the federal student loan programs.
Credit: Newsy Studio Duration: 01:25Published
Saudi's Falih tells Trump 'we are taking it easy' - CNBC
Saudi Energy Minister Khalid al-Falih said on Wednesday that OPEC and its partners were "taking it easy", in response to a tweet from U.S. President Donald Trump requesting that oil producers relax..
Credit: Reuters Studio Duration: 01:30Published
Trump Meets With China's Vice Premier As Deadline Approaches
Sources told CNBC a summit meeting could happen in late March between Trump and China's president in Florida.
Credit: Newsy Studio Duration: 01:13Published
AutoNation CEO Calls Elon Musk's Promise About Self-Driving Cars 'Almost Unethical'
According to a report by Business Insider, AutoNation CEO Mike Jackson chimed in on Tesla CEO Elon Musk's recent promises about autonomous vehicle technology. In an interview with CNBC, Jackson said,..
Credit: Wochit News Duration: 00:59Published
Attorney General Barr To Hold Press Conference On Mueller Report Thursday
Attorney General William Barr will discuss special counsel Robert Mueller's report at a 9:30 a.m. ET press conference on Thursday, CNBC reports. Deputy Attorney General Rod Rosenstein will accompany..
WorldNews - Published
Huawei: No talks with Apple on 5G chipsets
Reuters SHENZHEN, China (Reuters) — Huawei Technologies, one of the world's biggest smartphone makers, has not had talks with Apple Inc. about supplying it with 5G chipsets, Rotating Chairman Ken..
WorldNews - Published
Search this site and the web:
You Might Like