Boeing 737 MAX
Airliner family by Boeing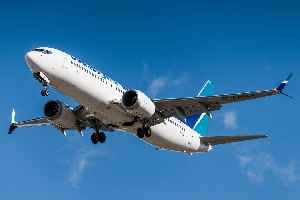 The Boeing 737 MAX is the fourth generation of the Boeing 737, a narrow-body airliner manufactured by Boeing Commercial Airplanes (BCA). It succeeds the Boeing 737 Next Generation (NG). It is based on earlier 737 designs, re-engined with more efficient CFM International LEAP-1B engines, aerodynamic changes, which include its distinctive split-tip winglets, and airframe modifications.


Boeing resumes production of 737 Max planes

The American aerospace manufacturer Boeing has resumed the production of troubled 737 Max airplanes. Boeing said it would restart production "at a low rate as it implements more than a dozen..
Credit: ANI Duration: 01:10
Published
You Might Like



Boeing's 737 Max is Being Readied for a Comeback. What Travelers Need to Know

The plane has been grounded since March 2019 after two deadly crashes, but could fly again by the end of the year. Answers to questions about the process.




NYTimes.com - Published





AP Top Stories June 30 A

Here's the latest for Tuesday, June 30th: Republicans, Democrats want consequences for Russia over Afghanistan reports; Arizona closing many public places; California fire destroys multiple homes;..




USATODAY.com - Published





Boeing cleared for 737 Max test flights after grounding

Key test flights that could help revive the grounded Boeing 737 Max could begin as early as Monday after being given the green light by US regulators. The Federal Aviation Administration told Congress..




WorldNews - Published





Exclusive: U.S. senators draft plan to reform new plane design approvals after 737 MAX crashes

Two key U.S. senators are circulating a bipartisan draft bill that would reform how the Federal Aviation Administration certifies new aircraft in the wake of two fatal Boeing 737 MAX crashes that..




Reuters - Published




Southwest CEO: Boeing 737 Max could fly again by late 2020

Southwest Airlines hopes to get its grounded Boeing 737 Max aircraft back in the air by the end of the year, CEO Gary Kelly said Thursday.




USATODAY.com - Published





U.S. to mandate new safety-management tools for aircraft makers

The Federal Aviation Administration said Tuesday it would require Boeing Co and other aircraft manufacturers to adopt new safety-management tools following two fatal Boeing 737 MAX crashes that killed..




Reuters - Published




Coronavirus: Boeing to cut 15,000 jobs in Covid-19 'body blow'

The plane-maker, already struggling after grounding the 737 Max, plans to axe 10% of its staff.




BBC News - Published





Boeing 737 MAX cancellations pile up during production halt

Boeing Co on Tuesday reported another 75 cancellations for its 737 MAX jetliner in March, as the coronavirus crisis worsened disruptions from the grounding of its best-selling jet.




Reuters - Published




Boeing to freeze hiring, overtime due to 737 MAX, virus impacts

Boeing Co is freezing new hiring and overtime except in certain critical areas in efforts to preserve cash due to the coronavirus outbreaks and the 737 MAX grounding, people familiar the matter said on..




WorldNews - Published





Father of 737 MAX crash victim stages protest on anniversary of Ethiopia crash

As families from many nations gathered for a memorial in Ethiopia to honor 157 victims of a Boeing 737 MAX plane crash a year ago, one father was thousands of miles away in Canada, protesting..




Reuters - Published




Families mark first anniversary of Ethiopian 737 MAX crash

Bereaved families who lost loved ones aboard Ethiopian Airlines Flight 302 converged on the crash site on Tuesday to mark the first anniversary of the tragedy, a day after an interim report focused on..




Reuters - Published

Also reported by •WorldNews


Boeing 737 Max: 'Nothing will ever be the same'

The father of a British woman killed when a Boeing 737 Max plane crashed speaks to the BBC.




BBC News - Published





Ethiopia Airlines crash report focuses on Boeing's faulty systems

Ethiopian investigators singled out faulty systems on a Boeing 737 MAX plane in an interim report on last year's Ethiopian Airlines crash that killed 157 people, piling pressure on the U.S. jetmaker on..




Reuters - Published




Boeing pilot training on 737 MAX 'inadequate'

Ethiopia's probe of last year's Ethiopian Airlines crash found that Boeing did not provide sufficient pilot training for the 737 MAX and that crucial flight software was flawed, according to an interim..




WorldNews - Published





Ethiopia says faulty sensor reading preceded Boeing crash

A faulty sensor reading and the activation of an anti-stall system on a Boeing 737 MAX preceded the crash of an Ethiopian Airlines flight in 2019 that killed 157 people, an interim report by the..




Reuters - Published




Boeing proposal to avoid MAX wiring shift does not win U.S. support

Boeing Co's proposal to leave wiring bundles in place on the grounded 737 MAX has not won the backing of U.S. aviation regulators, a person briefed on the matter told Reuters.




Reuters - Published





U.S. lawmakers fault FAA, Boeing for deadly 737 Max crashes

A U.S. House investigative report into two fatal Lion Air and Ethiopian Airlines crashes on a Boeing 737 MAX faulted the Federal Aviation Administration's (FAA) approval of the plane and Boeing's..




Reuters - Published





U.S. House panel faults FAA review of Boeing 737 MAX, plane design failures

A U.S. House investigative report into two Boeing 737 MAX crashes that killed 346 people will fault the Federal Aviation Administration's (FAA) approval of the plane and Boeing's "design failures."




Reuters - Published




Boeing 737 MAX certification flight could come within 'a few weeks': FAA administrator

U.S. Federal Aviation Administration chief Stephen Dickson said on Thursday he thinks a certification test flight for the Boeing 737 MAX - a key milestone for the return of the grounded plane - could..




Reuters - Published





Three U.S. Senate Democrats propose sweeping reforms after Boeing 737 MAX crashes

Three Democratic U.S. senators on Tuesday introduced sweeping legislation to reform how new airplanes are certified and overseen by U.S. regulators after two fatal Boeing 737 MAX crashes killed 346..




Reuters - Published





Boeing scours idle 737 MAX plant for industrial snags

Insiders note an "eerie" calm at Boeing Co's 737 MAX factory, formerly a bustling hub that has helped fuel the aviation industry's record growth over the last two decades.




Reuters - Published





Ethiopia plans to release interim jet crash report as probe continues

Ethiopia plans to release an interim report into a deadly Boeing 737 MAX crash, which killed 157 passengers and crew, ahead of the first anniversary of the accident next month, according to an official..




Reuters - Published





American, United push back 737 MAX return amid new approval delays

American Airlines Group Inc and United Airlines Holdings Inc are pushing back the return of Boeing 737 MAX flights until August and September, respectively, a fresh delay that comes after sources told..




Reuters - Published





American joins United, Southwest in pushing Boeing 737 Max return until late summer

The airlines, which had the grounded plane scheduled to return in early June, have each pushed back the return to August and September.




USATODAY.com - Published





U.S. Transportation Dept. IG to audit FAA pilot training requirements after Boeing 737 MAX crashes

The U.S. Transportation Department's Office of Inspector General said on Monday it will audit Federal Aviation Administration pilot training requirements for U.S. and foreign air carriers after two..




Reuters - Published




Boeing refuses to cooperate with new inquiry into deadly 2009 crash

Written by Chris Hamby and Claire Moses Boeing and U.S. safety officials refused to cooperate on Thursday with a new inquiry by Dutch lawmakers into a deadly crash near Amsterdam in 2009 that had..




WorldNews - Published





Boeing earnings pummeled by 737 Max grounding: first loss in decades

The grounding of the Boeing 737 Max pummeled the company's finances in 2019 as it reported its first full-year loss in more than two decades.




USATODAY.com - Published





Boeing 737 MAX charges to top $18 billion

Boeing Co said on Wednesday it expects more than $18 billion in costs related to the grounding of its 737 MAX jets, and indicated it would cut production of its bigger 787 Dreamliner aircraft.




Reuters - Published





US could approve Boeing 737 MAX before mid-year: source

NEW YORK: US air safety regulators could clear the Boeing 737 MAX to return to service before mid-year, a person close to the process said Friday. Boeing shares rallied following a CNBC report that the..




WorldNews - Published





FAA tells U.S. airlines it could approve MAX return to service before mid-year -sources

Federal Aviation Administrator Steve Dickson has called senior U.S. airline officials Friday and told them that the agency could approve the grounded Boeing 737 MAX's return to service before mid-year,..




Reuters - Published




FAA administrator to tell U.S. airlines MAX approval could come before mid-year

Federal Aviation Administrator Steve Dickson is calling senior U.S. airline officials Friday to tell them that the agency could approve the grounded Boeing 737 MAX's return to service before mid-year,..




Reuters - Published





Financier doubts add to Boeing's MAX headaches

To restore faith in the 737 MAX, Boeing needs to prove its flagship jet is not just airworthy but also a safe investment.




Reuters - Published





American, Southwest say demand helping competitors while 737 MAX sits parked

Healthy travel demand is cushioning results for American Airlines Group Inc and Southwest Airlines Co , the two said on Thursday, while warning they are losing customers as their Boeing 737 MAX jets..




Reuters - Published





Healthy travel demand helps cushion 737 MAX toll for American, Southwest

Healthy travel demand should continue to cushion results for American Airlines Group Inc and Southwest Airlines Co , the two said on Thursday, even as the prolonged Boeing 737 MAX grounding weighs on..




Reuters - Published





United pushes 737 Max return until fall, leaving it short on planes for summer travel rush

The Boeing 737 Max grounding will likely impact the summer travel season for the second year in a row. Recertification isn't expected until mid-year.




USATODAY.com - Published





Boeing is working on a new software issue on the 737 Max

Boeing is working to fix a newly discovered problem with software powering up on the 737 Max, adding to the list of tasks the aircraft maker faces to get the grounded plane back in the air. Boeing said..




WorldNews - Published





A Boeing 737 Max crash killed my daughter. Boeing's board and CEO don't inspire optimism.

Since the death of my daughter in the Ethiopian Airlines crash, I've learned more about aviation than I ever dreamed, and how Boeing let safety slip.




USATODAY.com - Published





FAA should mandate safety management systems for Boeing, others: panel

An expert committee on Thursday recommended the Federal Aviation Administration's require Boeing Co and other aircraft manufacturers to adopt new safety management tools in the wake of two fatal Boeing..




Reuters - Published





737 Max crisis: Boeing sees lowest orders in decades

The 737 Max has been grounded for 10 months after two crashes that killed 346 people in total.




BBC News - Published





United pilots re-elect union chairman in big year for contract talks

United Airlines Holdings Inc pilots on Tuesday re-elected Todd Insler as chairman of the United chapter of the Air Line Pilots Association for a term that will include contract negotiations and..




Reuters - Published





'Jedi mind tricks': Boeing 737 Max emails show attempts to manipulate airlines, FAA

Boeing downplayed the need to provide training on the flight system that would figure in two crashes of the 737 Max, killing 346 people.




USATODAY.com - Published





Factbox: In Boeing internal messages, employees distrust the 737 MAX and mock regulators

Boeing Co has released hundreds of internal messages that show attempts to duck regulatory scrutiny in the development of the 737 MAX, as well as employees disparaging the plane, the company and..




Reuters - Published