Hong Kong Island
Second largest island in Hong Kong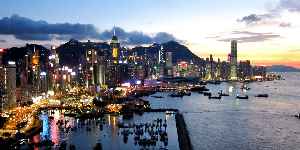 Hong Kong Island is an island in the southern part of Hong Kong. It has a population of 1,289,500 and its population density is 16,390/km², as of 2008. The island had a population of about 3,000 inhabitants scattered in a dozen fishing villages when it was occupied by the United Kingdom of Great Britain and Ireland in the First Opium War (1839-1842). In 1842, the island was formally ceded in perpetuity to the UK under the Treaty of Nanking and the City of Victoria was then established on the island by the British Force in honour of Queen Victoria.


Hundreds of Hong Kong students, alumni turn out for boycott
Nearly a thousand alumni and students across Hong Kong added their voices to a citywide protest on Friday, as demonstrators called on the government to meet all their demands and do more than just..
WorldNews - Published
Hong Kong police use tear gas to try to disperse protests
Hong Kong police used tear gas on Saturday to try to disperse anti-government protests on the eastern side of the Kowloon peninsula, across the harbor from Hong Kong island.
Reuters - Published
Chaos erupted at numerous locations on Hong Kong island
A group of black shirts entered Wan Chai Station. They kicked open the gates, broke display screens and smashed glass panels
Credit: euronews (in English) Duration: 00:50Published
Tear gas fired at protesters near Liaison Office
Riot police have fired tear-gas at protesters in Western district on Hong Kong Island after hundreds of protesters occupied roads around Queen's Road West near Beijing's Liaison Office. At around..
WorldNews - Published
Search this site and the web:
You Might Like