National Gallery of Art
National art museum in Washington, D.C.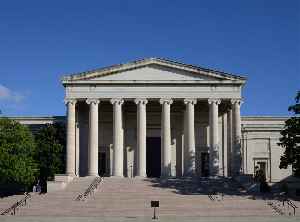 The National Gallery of Art, and its attached Sculpture Garden, is a national art museum in Washington, D.C., located on the National Mall, between 3rd and 9th Streets, at Constitution Avenue NW. Open to the public and free of charge, the museum was privately established in 1937 for the American people by a joint resolution of the United States Congress. Andrew W. Mellon donated a substantial art collection and funds for construction. The core collection includes major works of art donated by Paul Mellon, Ailsa Mellon Bruce, Lessing J. Rosenwald, Samuel Henry Kress, Rush Harrison Kress, Peter Arrell Browne Widener, Joseph E. Widener, and Chester Dale. The Gallery's collection of paintings, drawings, prints, photographs, sculpture, medals, and decorative arts traces the development of Western Art from the Middle Ages to the present, including the only painting by Leonardo da Vinci in the Americas and the largest mobile created by Alexander Calder.


IM Pei, architect who designed Louvre Pyramid, dies at 102
NEW YORK: IM Pei (PAY), the versatile, globe-trotting architect who revived the Louvre with a giant glass pyramid and captured the spirit of rebellion at the multi-shaped Rock and Roll Hall of Fame,..
WorldNews - Published
I.M. Pei, acclaimed architect of East Building of the National Gallery of Art, dies at 102
I.M. Pei, whose acclaimed architecture transformed the built environment around the world, has died at age 102.
USATODAY.com - Published
Search this site and the web:
You Might Like