United States House Committee on the Judiciary
Standing committee of the United States House of Representatives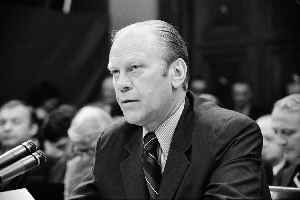 The U.S. House Committee on the Judiciary, also called the House Judiciary Committee, is a standing committee of the United States House of Representatives. It is charged with overseeing the administration of justice within the federal courts, administrative agencies and Federal law enforcement entities. The Judiciary Committee is also the committee responsible for impeachments of federal officials. Because of the legal nature of its oversight, committee members usually have a legal background, but this is not required.


Nadler to Barr: 'Shame on you'

During U.S. Attorney General Barr's testimony to the House Judiciary, U.S. Representative Jerrold Nadler says "shame on you" for the use of force on protesters in Lafayette Square in Washington D.C...
Credit: Reuters Studio Duration: 00:59
Published
You Might Like



5/2: CBSN AM

AG Barr won't testify before House Judiciary Cmte; 16-year-old Guatemalan boy dies in U.S. custody




CBS News - Published




Bill Gates says tech companies 'deserve rude, unfair, tough questions'

Photo by Saeed Adyani / Netflix Bill Gates believes tech firms "deserve" the kind of scrutiny they got during Congressional hearings last month, and that the late Steve Jobs was a "genius,"..




The Verge - Published





How Fortnite's epic battle with Apple could reshape the antitrust fight

Photo by Amelia Holowaty Krales When Tim Cook finished up his appearance in front of the House Judiciary panel in July, the conventional wisdom was that the Apple CEO had gotten off easy. He was..




The Verge - Published





New book examines impeachment trial of President Trump

Norman Eisen served as counsel for the House Judiciary Committee during President Trump's impeachment trial. In his new book, "A Case for the American People: The United States v. Donald J. Trump," he..




CBS News - Published





House Can Sue to Force Testimony From McGahn, Appeals Court Rules

A court endorsed the House Judiciary Committee's ability to pursue testimony from the former White House counsel as part of its oversight responsibilities.




NYTimes.com - Published





Appeals court revives House lawsuit for McGahn's testimony

DEVELOPING... Story will be updated as new information can be verified. Updated 3 times AlertMe WASHINGTON — A federal appeals court in Washington on Friday revived House Democrats' lawsuit to..




WorldNews - Published





Bezos dodges questions at first Congress hearing

Amazon CEO Jeff Bezos dodged tough questions related to new evidence the online retailer stifled competition and raised prices on certain products during a House Judiciary hearing on antitrust trust..




USATODAY.com - Published





Barr, Nadler clash on federal response to unrest

Attorney General William Barr clashed with the top Democrat on the House Judiciary Committee over the federal response to unrest in U.S. cities. (July 28)  




USATODAY.com - Published





A direct threat to the country': Barr waging 'war' on Justice Department to protect Trump, top Democrat says

Attorney General William Barr's leadership of Donald Trump's Justice Department represents "a direct threat to the country," House Judiciary Chairman Jerry Nadler said on Tuesday, accusing the AG of..




WorldNews - Published





Geoffrey Berman to testify before House Judiciary Committee on circumstances of his firing

Geoffrey Berman was fired by the president last month following an extraordinary and highly public clash with Attorney General William Barr.




USATODAY.com - Published





Ex-Stone prosecutor: DOJ 'cut' Stone a break

DOJ federal prosecutor testifies to the House Judiciary committee that Roger Stone, a close ally of President Donald Trump, was given special treatment ahead of his sentencing because of his..




USATODAY.com - Published





Nadler Dismisses Idea of Impeaching Trump Over Bolton Allegations

The House Judiciary Committee chairman accused Senate Republicans of being too "corrupt" to consider the case fairly, even as Republicans disputed claims in the former national security adviser's..




NYTimes.com - Published





House Judiciary works on new policing bill

The House Judiciary Committee is working on a new policing act to bring change in the wake of George Floyd's death and many others at the hand of law enforcement. (June 17)  




USATODAY.com - Published





U.S. House panel subpoenas career prosecutors over alleged political meddling at Justice Dept

The Democratically-controlled U.S. House Judiciary Committee on Tuesday said it had subpoenaed two career federal prosecutors to testify about the politicization of the Justice Department, including..




Reuters - Published





Floyd's brother: Officer's actions were 'personal'

George Floyd's brother, Philonise Floyd, told the House Judiciary Committee Wednesday that he believes Minneapolis police officer Derek Chauvin's actions were "personal" and "premeditated" as they both..




USATODAY.com - Published





Sister of slain officer warns against fear, hatred

The sister of a federal officer killed during recent protests and riots in Oakland, California, testified Wednesday before the House Judiciary Committee and warned against the fear, hatred and..




USATODAY.com - Published





'He did not deserve to die over $20': George Floyd's brother asks Congress for 'justice' at hearing

Philonise Floyd told Congress on Tuesday that his late brother George Floyd "didn't deserve to die over $20" last month and asked lawmakers to "stop the pain" caused by police brutality. "I'm here to..




WorldNews - Published





Live Protests Today

The House Judiciary Committee will hear testimony on police accountability. It comes as public opinion on criminal justice and the Black Lives Matter movement has shifted.




NYTimes.com - Published





House Democrats demand probes of police killings of black Americans

The Democratic-controlled U.S. House Judiciary Committee on Thursday asked the Justice Department to investigate systemic police misconduct following a spate of high-profile police killings of African..




Reuters - Published




Supreme Court blocks disclosure of grand jury evidence from Russia probe for now

The House Judiciary Committee said grand jury evidence from the Russia probe could reveal new evidence of impeachable offenses.




USATODAY.com - Published





House tells Supreme Court its investigation into possible impeachable offenses isn't over

The House Judiciary Committee also is looking into improper political influence in the Justice Department's handling of the cases of key Trump allies.




USATODAY.com - Published





U.S. House panel calls on Amazon's Bezos to testify on third-party sellers

The U.S. House of Representatives Judiciary Committee on Friday called on Amazon.com < AMZN.O> founder Jeff Bezos to testify to the panel about allegations that the online retailer uses data from its..




Reuters - Published




House panel seeks rehearing over White House counsel subpoena fight

The U.S. House of Representatives Judiciary Committee on Friday asked a federal appeals court to reconsider a ruling that prevented the panel from compelling a former Senior White House lawyer to..




Reuters - Published




House committee asks appeals court to reconsider decision blocking subpoena for former Trump White House lawyer

The U.S. House of Representatives Judiciary Committee on Friday asked the full membership of the federal appeals court in Washington D.C. to review an earlier ruling by a court panel denying the..




Reuters - Published




Former Trump White House counsel Don McGahn doesn't have to testify after court dismisses lawsuit

The federal appeals court ruled 2-1 that the former White House counsel does not have to testify before the House Judiciary Committee.




USATODAY.com - Published





Congress Cannot Sue to Enforce Subpoenas Defied by Executive Branch, Appeals Court Rules

An appeals court dismissed a lawsuit brought by the House Judiciary Committee against President Trump's former White House counsel, Donald F. McGahn II.




NYTimes.com - Published





House Democrats Inquire About Political Interference at the Justice Dept.

The House Judiciary Committee requested records and interviews with prosecutors related to possible "improper political interference" at the Justice Department.




NYTimes.com - Published





Federal judge resigns after admitting sexual harassment, affair with felon

Earlier in February, the House Judiciary Committee wrote in a letter to the court that Murguia's actions constituted "harm to its employees."




USATODAY.com - Published




Barr agrees to testify as Democrats question his leadership

WASHINGTON — Attorney General William Barr has agreed to testify before the House Judiciary Committee next month, appearing for the first time before the panel as questions swirl about whether he..




WorldNews - Published





U.S. House Judiciary chief: Democrats likely to subpoena Bolton, continue Trump probe - CNN

U.S. House of Representatives' Democrats are likely to subpoena President Donald Trump's former national security adviser John Bolton and continue their investigation into the Republican president, the..




Reuters - Published





Nadler says House could subpoena Bolton if Senate doesn't: CNN

The head of the U.S. House Judiciary panel said it might be a good idea for the House of Representatives to subpoena President Donald Trump's former national security adviser John Bolton if the Senate..




Reuters - Published




Sen. Susan Collins wrote note to Chief Justice Roberts prior to his admonishing of Senators

Sen. Susan Collins, R-Maine, said she was "stunned" by remarks given by House Judiciary Chairman Jerry Nadler at the start of the trial




USATODAY.com - Published





Tom Railsback, Who Reconciled G.O.P. to Oust Nixon, Dies at 87

A moderate Republican congressman from Illinois, he forged a compromise on two articles of impeachment that passed the House Judiciary Committee in 1974.




NYTimes.com - Published





Nancy Pelosi names Adam Schiff and Jerry Nadler as Donald Trump impeachment 'prosecutors'

House of Representatives Speaker Nancy Pelosi has named the impeachment 'managers' who will effectively prosecute Donald Trump at his planned impeachment trial Nancy Pelosi named House Intelligence..




WorldNews - Published





Who is Jerry Nadler? Co-Lead Impeachment Manager Will Tie Case to Constitution

Mr. Nadler, the chairman of the House Judiciary Committee, will be the constitutional expert of the team of impeachment managers.




NYTimes.com - Published





House to Investigate Policy That Ships Asylum Seekers to Mexico

The House Judiciary Committee asked the Department of Homeland Security for documents, data and communications on the "Remain in Mexico" asylum policy.




NYTimes.com - Published





Ralph Nader breaks down how Republicans gave Pelosi good reason to broaden impeachment charges against Trump

Against Donald J. Trump, House Speaker Nancy Pelosi wanted narrow impeachment charges, despite key House Committee Chairs' arguments for broadening the impeachment charges. These veteran lawmakers,..




WorldNews - Published





House panel urges federal appeals court to compel former White House aide Don McGahn to testify

The House Judiciary Committee urged a federal appeals court to force former White House counsel Don McGahn to testify, despite Trump's impeachment




USATODAY.com - Published





Trump betrayed nation, House panel's report says

WASHINGTON — Bolstering its case for impeaching President Donald Trump, a House panel released a lengthy report Monday detailing its rationale for the charges and accusing Trump of betraying the..




WorldNews - Published





House Judiciary Committee releases full impeachment report ahead of vote

The report says Trump's actions warrant "his removal from office, and his disqualification to hold and enjoy any office of honor, trust, or profit."




USATODAY.com - Published





Trump plots his defense following the historic rebuke he hopes to foil

Washington (CNN)Historic? Yes. Rebuke? Not so much. The House Judiciary Committee's vote Friday passing articles of impeachment against President Donald Trump was meant as extraordinary repudiation...




WorldNews - Published





Freshman Dem reflects on her impeachment role

In an interview with the Associated Press on Friday, freshman Democrat Rep. Madeleine Dean discussed the "emotional and mental" toll the impeachment process has taken as a member of the House Judiciary..




USATODAY.com - Published





What's next for impeachment? Full House vote next week on charges against Trump, Senate trial likely

The House Judiciary Committee approved two articles of impeachment, moving the articles to a full House vote. Now what?




USATODAY.com - Published





Trump on brink of impeachment as US House committee approves charges

A badly divided House Judiciary Committee voted 23-17 along party lines to approve articles of impeachment charging Trump with both abusing the power of his office over the Ukraine scandal and..




France 24 - Published





Factbox: Trump impeachment trial - What happens next?

The U.S. House of Representatives will take up impeachment charges against President Donald Trump next week after the House Judiciary Committee on Friday recommended two charges, abuse of power and..




Reuters - Published