Asia
Continent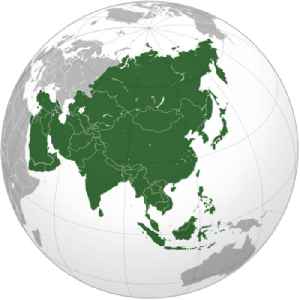 Asia is Earth's largest and most populous continent, located primarily in the Eastern and Northern Hemispheres. It shares the continental landmass of Eurasia with the continent of Europe and the continental landmass of Afro-Eurasia with both Europe and Africa. Asia covers an area of 44,579,000 square kilometres (17,212,000 sq mi), about 30% of Earth's total land area and 8.7% of the Earth's total surface area. The continent, which has long been home to the majority of the human population, was the site of many of the first civilizations. Asia is notable for not only its overall large size and population, but also dense and large settlements, as well as vast barely populated regions. Its 4.5 billion people constitute roughly 60% of the world's population.


Floods wreak havoc in northeastern India

The swirling grey waters of the Brahmaputra, one of Asia's largest rivers, continued to wreak havoc in northeastern India's Assam state, displacing more than 2 million people, officials said on..
Credit: euronews (in English) Duration: 00:50
Published
Hong Kong opposition kicks off primary elections

Hong Kong's opposition camp set up polling booths across the Chinese-ruled city on Saturday for primary elections aimed at selecting democracy candidates who stand the best chance of success in..
Credit: Reuters - Politics Duration: 01:31
Published
This is how frontline 'heroes' tackle COVID-19 situation in Asia's largest slum Dharavi

Dharavi which is Asia's largest slum area and is home to more than 10 lakh people took efforts to contain spread of COVID-19. Dharavi is located in Mumbai and is spread over an area of 2.5 square..
Credit: ANI Duration: 03:23
Published
Philippine lawmakers vote against renewal of top broadcaster ABS-CBN | #TheCube

"This move solidifies the tyranny of President Rodrigo Duterte," Phil Robertson, deputy Asia director of Human Rights Watch, said after the vote.View on euronews
Credit: euronews (in English) Duration: 01:56
Published
Who Is Mukesh Ambani?

Indian businessman Mukesh Ambani is worth $68.4 billion. Business Insider says he's the richest person in India and all of Asia. What do we know about him? Ambani is the chairman and largest..
Credit: Wochit News Duration: 00:37
Published
Hong Kong: What is happening in the Asian economic hub?

Boris Johnson has accused China of breaching a key treaty with Britain by imposing a heavily criticised national security law on Hong Kong.But what is the background to the legislation, why is the UK..
Credit: PA - Press Association STUDIO Duration: 01:37
Published
Excessive sugar intake linked with unhealthy fat deposits

Sugar consumption is linked with larger fat deposits around the heart and in the abdomen, which are risky for health, finds a new study. Excess sugar consumption is a worldwide problem. The six..
Credit: ANI Duration: 01:25
Published
Hundreds take part in Taiwan Pride march

The heavy rain did not stop activists in Taiwan, the only Asian country where same-sex marriage is legal.View on euronews
Credit: euronews (in English) Duration: 00:50
Published
European stocks sink on second wave fears

European shares sank Wednesday as infections soared in some U.S. states and second-wave fears rose globally. Julian Satterthwaite reports
Credit: Reuters Studio Duration: 01:30
Published
Zoos under lockdown: Philippine animal activists plead for funds

Activists fear animals at one of Asia's oldest zoos are being forgotten during the pandemic.
Credit: Al Jazeera STUDIO Duration: 02:41
Published
India says 20 soldiers killed in border clash with China

The incident follows rising tensions between the two Asian powers in the border area of the western Himalayas.
Credit: Al Jazeera STUDIO Duration: 02:30
Published
Equity indices continue upward journey, LandT among top gainers

Equity benchmark indices swung upward for the fourth consecutive day on Tuesday with buying across several counters. The BSE SandP Sensex closed 519 points or 1.49 per cent higher at 35,430 while the..
Credit: ANI Duration: 01:10
Published
China puts final satellite for Beidou into orbit

China on Tuesday successfully put into orbit the final satellite of its Beidou navigation network, rival to the U.S.-owned GPS. Ryan Brooks reports.
Credit: Reuters Studio Duration: 01:07
Published
Rare solar eclipse viewed across the globe

A partial solar eclipse was observed on Sunday as part of a rare "Ring of Fire" solar eclipse seen across Africa and Asia.
Credit: Reuters Studio Duration: 01:05
Published
Watch: Dubai observes solar eclipse

A rare celestial event, annular solar eclipse observed in United Arab Emirates's Dubai on June 21. This annular solar eclipse is popularly known as the 'ring of fire' eclipse. The eclipse begins as the..
Credit: ANI Duration: 01:17
Published
China 'returns captured Indian soldiers'

China has returned 10 Indian soldiers captured during a deadly border clash earlier this week, an Indian government source said on Friday, as two Asian nuclear powers sought to de-escalate tensions on..
Credit: Reuters Studio Duration: 01:40
Published
Equity indices flat as India-China tensions simmer, banking stocks slip

Equity benchmark indices were flat during early hours on Thursday as border tensions between India and China continued to simmer while COVID-19 infections surged.At 10:15 am, the BSE SandP Sensex was..
Credit: ANI Duration: 01:14
Published
Airlines Ban Alcohol on Planes Amid COVID-19

According to CNN, Delta Air Lines, American Airlines. Asia's Virgin Australia, and Europe's KLM and Easy Jet are temporarily halting all or part of their alcohol service.
Credit: Cover Video STUDIO Duration: 01:05
Published
Stocks gain even as China contagion fears rise

Most Asian and European stock indexes rose Wednesday, even after signs of a rise in new coronavirus cases in China. Julian Satterthwaite reports.
Credit: Reuters Studio Duration: 01:15
Published
Indians protest over border tension with China

India impatiently awaited Prime Minister Narendra Modi's response on Wednesday to the death of at least 20 soldiers in a border clash with Chinese troops. Libby Hogan reports.
Credit: Reuters - Politics Duration: 01:42
Published
You Might Like



How investments in tech are helping Asia's richest man diversify his business

For decades, Mukesh Ambani's empire has been supported by the energy flank he inherited from his father. But when Mr Ambani faces shareholders at Reliance Industries' annual meeting on Wednesday,..




WorldNews - Published





The U.S. wants Asian allies to stand up to China. It's not that easy

SINGAPORE — Seeking support in a budding cold war with Beijing, the U.S. is looking to Southeast Asia, where longstanding allies and security partners have clashed with their giant neighbor in the..




WorldNews - Published





Covid-19 pandemic knocks Singapore into recession with record 41.2% GDP plunge

As the coronavirus pandemic continues to wreak havoc across export-reliant Asian nations, Singapore's trade-reliant economy plunged into recession last quarter as an extended lockdown shuttered..




WorldNews - Published





Coronavirus: Asia's 'shining star' suffers biggest ever slump

Singapore falls into recession as as the global economy braces for the pandemic downturn.




BBC News - Published





Stocks climb worldwide as CEOs prepare latest report cards

NEW YORK – Wall Street is rising in Monday morning trading as CEOs across the country prepare to tell their investors how much money they made, or lost, in the spring as the coronavirus pandemic..




WorldNews - Published





Trump, Biden try to outdo each other by talking tough on China

China has fast become a top election issue as President Donald Trump and Democrat Joe Biden engage in a verbal brawl over who's better at playing the tough guy against Beijing. President Donald Trump,..




WorldNews - Published





Rahul attacks PM Modi over assertion that solar project in MP's Rewa is Asia's largest




IndiaTimes - Published





Congress questions Centre's claim on 750 MW Rewa solar project as 'Asia's largest', says 2000 MW park already in K'taka

Prime Minister Narendra Modi on Friday dedicated to the nation the 750 MW Rewa solar power project via video conference.




DNA - Published





Asian markets tumble as infection rates jump

Asian markets sank Friday as rising virus infection rates across the world put the brakes on the latest rally. Equities have shown a healthy resilience to the rapid spread of the disease around the..




WorldNews - Published





Asian stocks sink after Wall St losses on economy worries

BEIJING (AP) — Asian stock markets followed Wall Street lower Friday on worries economic recoveries might fade as coronavirus cases increase in the United States and some other countries. Benchmarks..




WorldNews - Published





PM Modi inaugrates Asia's largest solar power plant in Rewa

The project has also received World Bank Group President`s Award for innovation and excellence and was included in the Prime Minister`s "A Book of Innovation: New Beginnings".




DNA - Published





PM Modi to inaugurate Asia's largest 750-MW Rewa solar plant tomorrow: All you need to know




IndiaTimes - Published





Asian markets trade almost flat; Shanghai Composite index up 1%

Hang Seng index added 0.47%, the Nikkei 225 in Japan rose 0.93% and the Topix index recovered from its earlier slip and added 0.57%. ......




WorldNews - Published





Future of AirAsia in 'significant doubt'

Asia's biggest budget carrier faces uncertainties due to the pandemic, auditor Ernst & Young has warned.




BBC News - Published





5 reasons Korea cannot become financial hub

The financial center on Yeouido, Seoul / gettyimagesbank By Kim Bo-eun Attention is growing over Hong Kong's possible replacement as a financial hub of Asia, after the city has become increasingly..




WorldNews - Published





Global Blockchain Gurus to explore the future of Blockchain and Crypto in Asia

World Blockchain Summit is geared up to gather the most influential voices in the global blockchain and crypto community this July. Having hosted multiple high-level conferences across the world, World..




WorldNews - Published





Singapore fights post COVID-19 crisis with eyes on Hong Kong

By Noel Caballero Bangkok, Jul 7 (efe-epa).- Singapore will to head to polls on Friday amid the forecast of its first recession in the last two decades, while it seeks to leverage the instability in..




WorldNews - Published





Asia markets slip as virus outbreaks mute hopes for rebound

TOKYO (AP) — Markets were mostly lower in Asia on Tuesday as expanding coronavirus outbreaks dimmed hopes for a global recovery, despite an overnight rally in tech shares that pushed the Nasdaq..




WorldNews - Published





World markets swell; Nasdaq sets record

Stocks rallied worldwide on Monday as investors bet that the economy can continue its dramatic turnaround despite all the challenges ahead. The S&P 500 rose 1.6 percent, following up on similar gains..




WorldNews - Published





Wall Street rises again, joins worldwide upturn for markets

Stocks are pushing higher in early Monday trading on Wall Street, joining a worldwide upturn headlined by the best day for Chinese stocks in nearly five years. The S&P 500 was 1.4% higher, following up..




WorldNews - Published





U.S. diplomat in Hong Kong says security law use a 'tragedy'

HONG KONG--The top American diplomat in Hong Kong said Monday that it is a "tragedy" to use the semiautonomous Chinese territory's new national security law to chip away at "fundamental..




WorldNews - Published





China is uneasy about India's opposition to unipolar Asia: Swapan Dasgupta




IndiaTimes - Published





PM Modi to unveil Asia's largest solar plant in MP on July 10: CM




IndiaTimes - Published





The Grand Old Man of India who became Britain's first Asian MP

Indian-born Dadabhai Naoroji was the first Asian to sit in the House of Commons.




BBC News - Published





Asian Shares Advance Following Upbeat U.S. Jobs Report

Tokyo's Nikkei 225 index picked up 0.3% to 22,211.89, while the Shanghai Composite index jumped 1% to 3,121.74. In South Korea, the Kospi gained 0.4% to 2,142.74, and Australia's S&P/ASX 200 rose..




WorldNews - Published





Banks to tighten lending practices for Singapore commodity sector -sources

SINGAPORE — Commodity trade financiers in Singapore are teaming up to improve lending practices and transparency after a spate of defaults, four sources with knowledge of the matter said. Hin Leong..




WorldNews - Published





Most Asian markets up on economy hopes despite virus spike

Markets mostly rose in Asia on Wednesday as investors looked past spiking coronavirus infections and warnings of a US surge in the disease, with eyes on the economic recovery as countries press ahead..




WorldNews - Published





TikTok denies sharing Indian user data with China

TikTok on Tuesday denied sharing users' data with the Chinese government after India banned the wildly popular app as ties with Beijing deteriorate sharply following a deadly border clash. Blaming each..




WorldNews - Published





LAC stand-off: China's military provokes its neighbours, but the message is for United States

With the world distracted by the coronavirus pandemic, China's military has encroached upon its neighbors' territories on several fronts throughout the spring and now into summer, flexing its military..




IndiaTimes - Published





Asian markets gain after U.S. banks' stress test results

BEIJING — Asian stock markets followed Wall Street higher on Friday after U.S. regulators removed some limits on banks' ability to make investments. The Nikkei 225 NIK, +0.96% in Tokyo rose 0.9%..




WorldNews - Published





Chinese activities in Asia alarming: Japan




IndiaTimes - Published





Migrant crisis in Lebanon worsens as more workers dumped on the streets

Thousands of migrant workers in Lebanon are struggling to secure repatriation flights home as poverty and unemployment soar with the collapse of the local currency. Lebanon has long been home to a..




WorldNews - Published





Jack Ma replaced as China's richest by Tencent's Pony Ma

NEW DELHI: Holdings Ltd's $40 billion surge this week and the recent ascent of Pinduoduo Inc have reshuffled the ranking of China's richest people. The country's largest game developer has..




WorldNews - Published





Tencent confirms acquisition of ailing pan-Asian streamer iflix

Chinese tech giant Tencent has confirmed that it has acquired the "content, technology, and resources" of Malaysia-based, pan-Asian streaming service iflix as part of a push into Southeast Asia...




WorldNews - Published





Asian Shares Advance, Tracking Wall Street Tech Rally

Asian shares were higher on Tuesday, recovering from some early losses as regional markets tracked a late rally on Wall Street led by technology shares. Japan's benchmark Nikkei 225 added 0.5% to..




WorldNews - Published





Hong Kong Leader Says She Still Hasn't Seen Draft Text of Security Law

Hong Kong's leader acknowledged that she still hasn't seen a full draft of China's pending national security legislation, even though the measure could be handed down in a matter of days...




WorldNews - Published





Asian shares mixed as US reports surging virus cases

BANGKOK — Shares were mixed Monday in Asia as China and South Korea reported lower numbers of new coronavirus cases, while new infections in the U.S. and worldwide surged sharply. Tokyo, Hong Kong..




WorldNews - Published





COVID-19 growth rate in Mumbai's Dharavi declines to 1.02% from 12% in April: Govt

Over 2,000 coronavirus cases have been reported in Dharavi, Asia's largest slum situated in Mumbai.




DNA - Published





In pictures: Rare solar eclipse darkens Asia on the summer solstice

Skywatchers photographed the "ring of fire", where the moon passes between the Earth and the Sun.




BBC News - Published





Why this Japan-China island dispute could be Asia's next military flashpoint

Hong Kong (CNN)While China is engaged in a tense border standoff with India high in the Himalayas, a small group of islands thousands of miles away could be another military tinderbox waiting to..




WorldNews - Published





WHO warns world in 'new and dangerous phase' of Covid-19 pandemic

(Malay Mail) – The World Health Organisation warned yesterday of a "new and dangerous phase" of the coronavirus pandemic with people tiring of lockdowns despite the disease's accelerating..




WorldNews - Published





Coronavirus tracked: UK cases pass 300,000 as world sees record surge in new infections

Major outbreaks across Asia and South America contributed to a record high number of global cases




Independent - Published





Asian Stocks Mixed Amid Concern Over Coronavirus Hotspots

Asian stock markets were mixed Friday after Wall Street closed little changed as optimism about a possible global economic recovery was tempered by concern over rising coronavirus infections. Tokyo and..




WorldNews - Published





Highest single-day spike of 13,586 cases takes India's COVID-19 tally past 3.8 lakh

India has now become the fourth worst-affected nation from the virus and also the biggest epicentre of the coronavirus disease (COVID-19) pandemic in Asia.




DNA - Published





PLA of China seems to have provoked clash to grab Indian territory: Senate Majority Leader

For the sake of grabbing territory, the Peoples Liberation Army (PLA) of China appears to have instigated the most violent clash between the two Asian giants, a top American Senator said on Thursday...




IndiaTimes - Published





Global stocks retreat as investors fret over coronavirus relapse

Asian stocks and Wall Street futures fell on Thursday as spiking coronavirus cases in some U.S. states and in China dented hopes of a quick global economic comeback from the pandemic.




Reuters - Published





Global stocks retreat on rising second wave fears

Asian stocks and Wall Street futures fell on Wednesday as spiking coronavirus cases in some U.S. states and China crushed hopes of a quick global economic comeback from the pandemic.




Reuters - Published





Asian stocks set to fall as Wall St. snaps three-day winning streak

Asian stocks were set to dip on Thursday after a choppy Wall Street session as spiking coronavirus cases and prospects of new lockdowns erased earlier confidence about a global economic recovery.




Reuters - Published




Stocks waver on rising COVID cases, dollar in safety bidding

Global equity markets closed little changed on Wednesday as a rally on economic and vaccine hopes faded, while fresh coronavirus outbreaks and rising geopolitical tensions in Asia boosted demand for..




Reuters - Published





Stocks gain on recovery hopes, dollar on safe-haven bid

A gauge of global equities edged higher on Wednesday, adding to the prior day's rally on economic and vaccine hopes, while fresh coronavirus outbreaks and rising geopolitical tensions in Asia boosted..




Reuters - Published