United States House Permanent Select Committee on Intelligence
Congressional committee
United States House Permanent Select Committee on Intelligence ▸ Facts ▸ Comments ▸ News ▸ Videos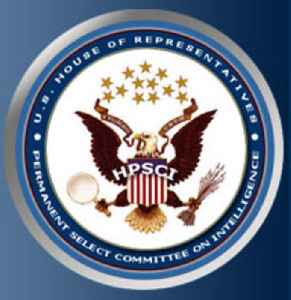 The United States House Permanent Select Committee on Intelligence (HPSCI), also known as the House Intelligence Committee, is a committee of the United States House of Representatives, currently chaired by Adam Schiff. It is the primary committee in the U.S. House of Representatives charged with the oversight of the United States Intelligence Community, though it does share some jurisdiction with other committees in the House, including the Armed Services Committee for some matters dealing with the Department of Defense and the various branches of the U.S. military.


Khashoggi murder: US Congress hears calls for justice

Agnes Callamard told the House Intelligence Committee on Friday that Jamal Khashoggi still deserves justice.
Credit: Al Jazeera STUDIO Duration: 03:01
Published
Trump intel chief defends briefings ban

[NFA] U.S. President Donald Trump's intelligence chief on Sunday defended his decision to cease in-person Congressional briefings on election security, while Democrats said the move would suppress..
Credit: Reuters - Politics Duration: 01:38
Published
You Might Like



Homeland Security Considered Snooping on Portland Protesters' Cellphones

The House Intelligence Committee says one agency within the Department of Homeland Security asked another to extract data from cellphones seized from protesters.




NYTimes.com - Published





Rep. Schiff wishes 'speedy recovery' to Trump

Rep. Adam Schiff expresses "best wishes and a speedy recovery" to President Donald Trump and First Lady Melania after they tested positive for COVID-19 before beginning a hearing of the House Select..




USATODAY.com - Published





US intelligence agencies 'not ready' to compete with China on global stage: Adam Schiff

Washington [US], October 2 (ANI): The United States' intelligence agencies are not ready to compete on the global stage for decades to come with China, which is expanding its economic, military and..




WorldNews - Published





Schiff Sees Rise in Russian Disinformation as Trump Attacks Mail-In Voting

Foreign adversaries want to undermine confidence in the American election and the House Intelligence Committee chairman says they are amplifying President Trump's false assertions.




NYTimes.com - Published





House Intelligence Committee expands probe into DHS office

The announcement comes after a whistleblower alleged improper politicization at the Office of Intelligence and Analysis.




CBS News - Published





DHS official removed from post amid reports his office compiled intel on journalists

House Intelligence Committee chairman Adam Schiff said Saturday the committee had been conducting an investigation into Brian Murphy and his department for over two weeks before his "abrupt and..




CBS News - Published





Rubio steps in to lead Senate Intelligence Committee

WASHINGTON (AP) — Florida Sen. Marco Rubio will temporarily become chairman of the Senate Intelligence Committee, Republican leaders announced, taking charge of the panel at a time of turnover and..




WorldNews - Published





Coronavirus Live Updates: Whistle-Blower Warns Congress, 'We Don't Have a Master Plan'

Dr. Rick Bright told a House subcommittee that the administration was too slow to prepare for the pandemic or warn Americans of its severity. Senator Richard M. Burr stepped aside as the Intelligence..




NYTimes.com - Published





House Intelligence Committee releases Russia probe transcripts with dozens of witnesses, including Trump Jr.

The House Intelligence Committee released transcripts with dozens of witnesses as part of its probe into Russian interference in the 2016 election.




USATODAY.com - Published





Coronavirus: Schiff worries Trump will 'reward his own businesses' during pandemic response

Congressman Adam Schiff, the top Democrat on the House Intelligence Committee, expressed concern Sunday that, without proper oversight, Donald Trump could use the federal response to the coronavirus..




WorldNews - Published





House panel asks Trump's acting spy chief to explain spate of firings

The House Intelligence Committee chairman on Tuesday called on U.S. President Donald Trump's acting spy chief to explain the removals and resignations of top intelligence officials and whether he ever..




Reuters - Published




U.S. Democrat impeachment lawyer tests positive for coronavirus

Daniel Goldman, a former federal prosecutor who led the questioning of witnesses in the House Intelligence Committee's impeachment proceedings against U.S. President Donald Trump, said Sunday that he..




Reuters - Published





Trump Accuses Schiff of Leaking Intelligence on Russia's 2020 Interference

Without evidence, President Trump accused the House chairman of the Intelligence Committee of leaking intelligence.




NYTimes.com - Published





In wake of impeachment, Trump allies boycott House Intelligence tech hearing

Republican members of the U.S. House of Representatives Intelligence Committee refused to attend a subcommittee hearing on technology and national security on Wednesday, boycotting the panel's first..




Reuters - Published





Lev Parnas Says He Has Tape of Trump Calling for Ambassador's Firing

The former associate of Rudolph W. Giuliani said through his lawyer that he had given the tape to the House Intelligence Committee for use in the impeachment inquiry.




NYTimes.com - Published





Struggle Between N.S.A. and Congress Over Ukraine Records Breaks Into Open

Representative Adam Schiff, the House Intelligence Committee chairman, said the agency was withholding documents from his panel, including some that might be useful in the impeachment trial.




NYTimes.com - Published





Nancy Pelosi names Adam Schiff and Jerry Nadler as Donald Trump impeachment 'prosecutors'

House of Representatives Speaker Nancy Pelosi has named the impeachment 'managers' who will effectively prosecute Donald Trump at his planned impeachment trial Nancy Pelosi named House Intelligence..




WorldNews - Published





Schiff to lead prosecution of Trump in Senate impeachment: Pelosi

House Intelligence Committee Chairman Adam Schiff will lead a team of seven Democrats who will prosecute the impeachment case against President Donald Trump in the U.S. Senate, Speaker Nancy Pelosi..




Reuters - Published





Trump boasts Iranian general's death was 'American justice'

US President Donald Trump arrives for a "Keep America Great" campaign rally at Huntington Center in Toledo, Ohio, on January 9, 2020. AFP TOLEDO, Ohio _ President Donald Trump used his first campaign..




WorldNews - Published




Federal judge allows Rudy Giuliani associate Lev Parnas to provide evidence for impeachment inquiry

A federal judge Friday allowed Lev Parnas, an indicted associate of Rudy Giuliani, to provide evidence subpoenaed by the House Intelligence Committee.




USATODAY.com - Published





Lev Parnas, Giuliani associate, asks to share info and documents with House Intel Committee

Lawyers for Lev Parnas, an indicted associate of Trump's personal lawyer Rudy Giuliani, asked a judge permission to turn over documents to the House Intelligence Committee.




USATODAY.com - Published





Democrats suggest Mike Pence may be 'misleading' Congress about his call with Ukraine

The head of the House Intelligence Committee said Vice President Mike Pence may be "purposefully misleading" Congress about his own actions on Ukraine.




USATODAY.com - Published





AP Top Stories December 9 A

Here's the latest for Monday December 9th: Deadly volcanic eruption in New Zealand; House Intel. Committee's impeachment findings go to Judiciary Committee; Pensacola attack investigated as act of..




USATODAY.com - Published




Schiff: focus on 'overwhelming evidence' in Trump impeachment

House Intelligence Committee Chairman Adam Schiff said on Sunday it was best to focus charges in the impeachment of President Donald Trump on where there was overwhelming evidence and not try to charge..




Reuters - Published




Denny Heck, a Washington Democrat, Won't Seek House Re-election

A member of the House Intelligence Committee, Mr. Heck said in a blog post that the impeachment hearings had left him "weary."




NYTimes.com - Published





Democrats present case against Trump

Democrats in the US House of Representatives on Tuesday presented a forceful case for impeaching and removing US President Donald Trump from office in a report detailing "overwhelming evidence" of..




WorldNews - Published





Vote moves impeachment proceedings to next phase

(CNN)The House Intelligence Committee voted along party lines Tuesday night to approve a 300-page report summarizing weeks of investigation, which it will send to the House Judiciary Committee as that..




WorldNews - Published





What happened Tuesday in the impeachment inquiry into President Donald Trump?

Along party lines, House Intelligence Committee members voted to approve the report that Trump used "his office to solicit foreign interference."




USATODAY.com - Published





Nunes, top intelligence panel Republican, had frequent contact with Giuliani, call records show

President Donald Trump's personal lawyer, Rudy Giuliani, spoke often to U.S. Representative Devin Nunes, the top Republican on the House Intelligence Committee, as Giuliani peddled unproven..




Reuters - Published





Democrats release House impeachment report

Democrats on the House Intelligence Committee have released a sweeping 300-page report outlining evidence of what it calls President Donald Trump's wrongdoing toward Ukraine. (Dec. 3)  




USATODAY.com - Published





Impeachment Report Alleges Trump Solicited Foreign Election Interference

The House Intelligence Committee concluded that President Trump tried to "use the powers of his office to solicit foreign interference on his behalf in the 2020 election."




NYTimes.com - Published





House report outlines evidence for Trump impeachment

The House released a sweeping impeachment report Tuesday outlining evidence of what it calls President Donald Trump's wrongdoing toward Ukraine, findings that will serve as the foundation for debate..




WorldNews - Published





Trump says he wants Adam Schiff to testify and then calls him a "deranged human being"

During a meeting with Canada's leader at the NATO summit in London, President Trump said he wanted House Intelligence Committee Chairman Adam Schiff to testify in the impeachment inquiry. The president..




CBS News - Published





12/3: CBSN AM

House Intelligence Committee to release impeachment report; increasing responsibilities for mothers at work and home




CBS News - Published




House Intelligence Committee expected to release impeachment report today

The House Intelligence Committee is expected to release a report showing evidence against President Trump for potential articles of impeachment. On Wednesday, the House Judiciary Committee plans to..




CBS News - Published




Impeachment updates: House Democrats to release impeachment report

The House Intelligence Committee will meet Tuesday to vote on the report on Trump's dealings with Ukraine.




CBS News - Published




House panel impeachment report to be released Tuesday: Schiff

A U.S. House Intelligence Committee report laying out the Democratic case for President Donald Trump's impeachment will be publicly released on Tuesday, the panel's chairman said in a television..




Reuters - Published




House Intelligence Committee to issue its findings after Trump impeachment hearings

The House Judiciary Committee is gearing up for its first impeachment hearing on Wednesday. President Trump's lawyers have indicated he will not participate. CBS News chief congressional correspondent..




CBS News - Published





House GOP report on impeachment inquiry defends Trump's dealings with Ukraine

House Republicans on the Intelligence Committee drafted a report defending President Donald Trump's dealings with Ukraine




USATODAY.com - Published





House panel to vote on Ukraine report as Trump mulls defense

WASHINGTON (AP) — The House impeachment inquiry enters a pivotal stage this week, with investigators planning a vote Tuesday to approve their report making the case for President Donald Trump's..




WorldNews - Published





House Intelligence Committee set to review Ukraine report Monday, vote expected Tuesday

The House Intelligence Committee is set to review a report on the impeachment inquiry Monday. They are expected to vote to adopt the report on Tuesday, which will send it to the Senate Judiciary..




CBS News - Published





Trump tells impeachment jokes at annual turkey pardon event

WASHINGTON (AP) — President Donald Trump couldn't resist riffing on the House impeachment inquiry Tuesday as he continued the tradition of pardoning a Thanksgiving turkey, generating holiday-season..




WorldNews - Published





Intelligence Panel to Release Impeachment Report Soon After Thanksgiving

Moving swiftly to escalate the case for impeaching President Trump, Democrats on the House Intelligence Committee plan to release a report detailing evidence against him soon after Thanksgiving.




NYTimes.com - Published





Schiff: Trump impeachment inquiry report will be sent in early December

The chairman of the U.S. House of Representatives Intelligence Committee said on Monday committees conducting the impeachment inquiry into President Donald Trump would be sending their report to the..




Reuters - Published




Devin Nunes Denounces Reports He Played a Role in Ukraine

The top Republican on the House Intelligence Committee called the reports that he met with a former Ukrainian prosecutor part of a criminal campaign against him by a "totally corrupt" news media.




NYTimes.com - Published





Senior Democrat says next step underway in Trump impeachment probe

Democratic U.S. lawmakers have begun the next step in the impeachment inquiry into President Donald Trump - writing a report on their findings - but still could take more testimony and hold additional..




Reuters - Published