Anthony Davis
American basketball player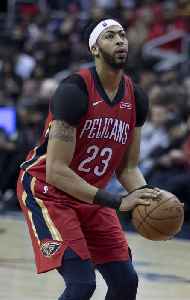 Anthony Marshon Davis Jr. is an American professional basketball player for the Los Angeles Lakers of the National Basketball Association (NBA). He plays the power forward and center positions. Davis was the first overall pick in the 2012 NBA draft. He is a seven-time NBA All-Star and has been named to four All-NBA First Teams and four NBA All-Defensive Teams. In 2020, he won his first NBA championship as a member of the Los Angeles Lakers. He also earned a gold medal with the 2012 US Olympic team.


Fans celebrate Lakers' NBA championship

Fans crowded into the streets outside the Staples Center in Los Angeles onSunday night, after the Los Angeles Lakers beat the Miami Heat 106-93 onSunday night to win the NBA Finals in six games...
Credit: PA - Press Association STUDIO Duration: 00:55
Published
Lakers fans go wild after NBA championship win

LeBron James capped another illustrious title run as the Los Angeles Lakers earned their record-tying 17th championship at the NBA Finals on Sunday night near Orlando. Gloria Tso reports.
Credit: Reuters - Politics Duration: 01:20
Published
LeBron 'humbled' after he & Davis compared with Bryant & O'Neal

LeBron James and Anthony Davis become the first LA Lakers duo since Kobe Bryant and Shaquille O'Neal in 2002 to score more than a combined 60 points in an NBA Finals game.
Credit: Reuters - Sports Duration: 07:53
Published
You Might Like



LeBron James, Anthony Davis and Rich Paul, Klutch Dinner In Malibu

LeBron James was back at Nobu in Malibu on Thursday night for a fancy dinner with Anthony Davis and their agent Rich Paul. Normally, not that big of a deal for 2 teammates to dine with their agent --..




TMZ.com - Published





Anthony Davis to opt out of contract with Lakers, re-sign on multi-year deal

The final season of Anthony Davis' deal with the Lakers is worth $28.7 million, but he plans to opt out and re-sign a multi-year deal with LA.




USATODAY.com - Published





LeBron James Doused in Booze In Crazy Locker Room Party, FaceTimes Mom

The parade is on hold, but the Lakers locker room celebration Sunday night was LIIIIIIIITTTTTTTTTT!!!! LeBron James, J.R. Smith, Anthony Davis, Rajon Rondo, Dwight Howard, Jared Dudley threw on some..




TMZ.com - Published





Kobe and Gianna Bryant 'guided this team the entire year,' Lakers GM Rob Pelinka says

Kobe Bryant told the Lakers, "this is your year," Anthony Davis said. They didn't disappoint, winning their 17th NBA championship and first since 2010




USATODAY.com - Published





Kobe Bryant in Lakers' hearts, on their minds after winning NBA title

Now it's done. The torch has been passed again, handed from George Mikan to Jerry West and Wilt Chamberlain to Magic Johnson and Kareem Abdul-Jabbar to Kobe Bryant and Shaquille O'Neal to Bryant..




WorldNews - Published





LeBron, Lakers beat Heat to capture 17th franchise title

LAKE BUENA VISTA, Fla. — The ultimate anguish. The ultimate joy. This season, for LeBron James and the Los Angeles Lakers, had it all. And it ended in the only fashion that they deemed would be..




WorldNews - Published





L.A. Lakers Win Title, Victory Parade Postponed Until COVID Pandemic Is Over

After the game, Anthony Davis paid tribute to Kobe Bryant -- saying, "Ever since the tragedy, all we wanted to do is do it for him, and we didn't let him down." AD continued, "I know he's looking down..




TMZ.com - Published





Lakers close out Heat with Game 6 rout for record-tying 17th NBA championship

LeBron James and Anthony Davis took care of business in Game 6, leading the Lakers to a 106-93 victory for the 17th title in franchise history.




USATODAY.com - Published





LeBron James and Anthony Davis carry LA Lakers back to beat Miami Heat and take 3-1 NBA Finals lead

LeBron James overcame a sluggish start and Anthony Davis made a key three-pointer and block late on as the Los Angeles Lakers beat the Miami Heat 102-96 on Tuesday to take a 3-1 lead in the..




WorldNews - Published





Lakers' LeBron James, Anthony Davis match Kobe Bryant, Shaquille O'Neal with NBA Finals scoring feat

LeBron James and Anthony Davis became the first Lakers teammates since Kobe Bryant and Shaquille O'Neal with 30 points each in an NBA Finals game.




USATODAY.com - Published





LeBron James, Lakers move closer to NBA title with Game 2 victory

33 minutes ago LAKE BUENA VISTA, Fla. — Anthony Davis got most of his points with a feathery shooting touch. LeBron...




WorldNews - Published





LeBron James, Anthony Davis power Lakers past Heat for 2-0 lead in NBA Finals

LeBron James scored 33 points and Anthony Davis had 32 as the Lakers handled the depleted Heat for a 124-114 win in Game 2 and 2-0 lead.




USATODAY.com - Published





LeBron James credits coach Frank Vogel for Lakers being 'great' this season

LeBron James and Anthony Davis strongly credit Frank Vogel for guided the Los Angeles Lakers to their first NBA Finals appearance in 10 years.




USATODAY.com - Published





Anthony Davis has been Lakers' clutch fourth-quarter closer against Nuggets

Anthony Davis had never appeared in the conference finals before, but he has met the moment with some dominant fourth quarters against the Nuggets.




USATODAY.com - Published





Davis' buzzer-beating three-pointer extends Lakers' lead

Anthony Davis' buzzer-beating three-pointer sees the Los Angeles Lakers beat the Denver Nuggets 105-103 to go 2-0 up in the Western Conference finals.




BBC News - Published





Anthony Davis hits game-winning 3-pointer at the buzzer to give Lakers 2-0 lead on Nuggets

Anthony Davis knocked down the game-winning 3 as time expired to give the Lakers a 105-103 win over the Nuggets and a 2-0 lead in the West finals.




USATODAY.com - Published





Denver Nuggets balance frustration with officiating and their own play in Game 1 loss to Los Angeles Lakers

Foul trouble, an inability to contain Anthony Davis leave Denver Nuggets frustrated with Game 1 performance against the Los Angeles Lakers.




USATODAY.com - Published





Los Angeles Lakers run away from Denver Nuggets in Game 1 of Western Conference finals

Anthony Davis led the way as the Los Angeles Lakers handled the Denver Nuggets in Game 1 of the Western Conference finals.




USATODAY.com - Published





Lakers vs. Houston Rockets in Game 3 of Western Conference semifinals

Take a look at the photos from the Lakers' NBA playoff game against the Houston Rockets on Tuesday, Sept. 8. The Rockets led at halftime 64-61. The best-of-seven Western Conference semifinals series..




WorldNews - Published





James, Davis help Lakers hold on to beat Rockets, tie series

LeBron James had 28 points, 11 rebounds and nine assists, Anthony Davis added 34 points and 10 rebounds and the Los Angeles Lakers evened the Western Conference semifinals by beating ......




WorldNews - Published





LeBron James, Anthony Davis lead Lakers to bounce-back win over Rockets in Game 2

The Lakers finished with a 117-109 win over the Rockets in Game 2 by relying on a simple formula: Depend on their star players.




USATODAY.com - Published





Rockets' James Harden, Russell Westbrook overcome Lakers' LeBron James, Anthony Davis in Game 1

The Rockets' stars outperformed the Lakers' stars as Houston stole Game 1 with a comfy 112-97 win over Los Angeles.




USATODAY.com - Published





LeBron James, Anthony Davis shine again as Lakers close out Blazers in Game 5

LeBron James and Anthony Davis combined for 79 points as the Lakers finished off the Blazers in Game 5 for their first playoff series win since 2012.




USATODAY.com - Published





Lakers stars LeBron James, Anthony Davis shine to take down Blazers for Game 3 win

LeBron James and Anthony Davis combined for 67 points, 23 rebounds and 16 assists to guide the Lakers past the Blazers 116-108 for a 2-1 series lead.




USATODAY.com - Published





Anthony Davis dominates, Lakers easily roll over Blazers in Game 2 for first playoff win since 2012

Anthony Davis scored 31 points and pulled down 11 rebounds as Los Angeles flexed its muscles on defense and held Portland to 88 points.




USATODAY.com - Published





LeBron James, Lakers Wear Fake MAGA Hat Supporting Breonna Taylor Before Game

The entire Lakers roster is joining James in calling for justice for Taylor -- with stars from Dwight Howard to Anthony Davis to Alex Caruso wearing the hats prior to Tuesday night's game. All eyes are..




TMZ.com - Published





Lakers' Anthony Davis explains why he won't wear social justice message on jersey for NBA restart

Anthony Davis considered wearing a message on his jersey, but he stuck with his last name because it is "something that is very important to me."




USATODAY.com - Published





Anthony Davis says he's '100 percent healthy,' Lakers' title chances higher after hiatus

Anthony Davis declared himself 100% healthy and thinks the Lakers' title chances are better after the team was able to rest during the NBA shutdown.




USATODAY.com - Published





In CA: Who can be bothered with enviro regs amid a pandemic? Nine states say, 'everyone'

The state sues the U.S. EPA after it gives industries leeway to self-monitor their pollution. And a bar owner can write "Hang a politician" on his roof. Plus: I talk to UC San Diego music professor..




USATODAY.com - Published




James, Davis discuss virus precautions

Lakers All-Stars LeBron James and Anthony Davis discuss the NBA's uncertain situation amd the coronavirus outbreak. (March 11)  




USATODAY.com - Published





Despite injury scare, Lakers' Anthony Davis has proven he can stay durable

Anthony Davis has spent his first season with L.A. in front of an audience nervously awaiting for him to suffer a injury. Yet, he has been reliable.




USATODAY.com - Published





LeBron James picks Anthony Davis first in All-Star draft, Giannis Antetokounmpo takes Joel Embiid

LeBron James went with his teammate as the top pick after all. Giannis Antetokounmpo selected one of his "African brothers" with the second pick.




USATODAY.com - Published





What current Lakers stars LeBron James and Anthony Davis learned from Kobe Bryant

While Anthony Davis and LeBron James are at different stages of their NBA careers, it also explains how Kobe Bryant could influence so many NBA stars.




USATODAY.com - Published





LeBron James posts 35 points, 16 boards, Lakers beat Mavs

LeBron James had 35 points and 16 rebounds, Kyle Kuzma scored a season-high 26 points starting in place of injured star Anthony Davis, and the Los Angeles Lakers went up … Click to Continue » ......




WorldNews - Published





Lakers forward Anthony Davis exits after injuring lower back on hard fall

LeBron James asked Anthony Davis if he needed anything after the latter suffered a back injury. "You got a win for me," his teammate responded.




USATODAY.com - Published





Report: Lakers' Davis declines $146 million extension

Los Angeles Lakers star Anthony Davis declined a four-year, $146 million max extension on Tuesday and intends to become an unrestricted free agent in July, Yahoo Sports reported. ......




WorldNews - Published





Anthony Davis declines Lakers' extension offer, still expected to re-sign next summer

Los Angeles Lakers star Anthony Davis declined a four-year, $146 million max extension on Tuesday so he can become an unrestricted free agent in July.




USATODAY.com - Published





Antetokounmpo, Bucks beat Davis-led Lakers

MILWAUKEE — Giannis Antetokounmpo looked over at LeBron James and Anthony Davis and thought about his past. "I wasn't supposed to be here," the 6-foot-11 Greek Freak said. ADVERTISING Hardly..




WorldNews - Published





Giannis Antetokounmpo unleashes 3-pointer to lead Bucks past Lakers in showdown of NBA's best

Giannis antetokounmpo had 34 points and hit a career-high five 3s to lead the Bucks to a 111-104 win over LeBron James, Anthony Davis and the Lakers.




USATODAY.com - Published





LeBron James sparks Lakers after getting chewed out by teammates

After a turnover-filled first half, LeBron James heard it from Anthony Davis. He responded with a big second half to guide the Lakers past the Heat.




USATODAY.com - Published





Davis Scores 50, Powers Lakers to 142-125 Win Over T-Wolves

Anthony Davis had a season-high 50 points and the Los Angeles Lakers improved to a league-best 21-3 with a 142-125 win over the Minnesota Timberwolves. ......




WorldNews - Published





Lakers dash to rout of Wizards for 10th straight win

Los Angeles Lakers forward Anthony Davis, center, shoots as Washington Wizards forward Rui Hachimura, left, defends along with guard Troy Brown Jr. during the first half of an NBA basketball game..




WorldNews - Published





Inside Lakers star Anthony Davis' dominant homecoming against New Orleans

LA Lakers star Anthony Davis logged a season-high 41 points in a dominant homecoming performance against his former team, the New Orleans Pelicans.




USATODAY.com - Published





Brandon Ingram on the Lakers last year: 'It wasn't always good energy'

Brandon Ingram and the Pelicans say the trade last year with the Lakers for Anthony Davis worked out for everybody.




USATODAY.com - Published





Anthony Davis surges, LeBron makes more history and Lakers get running against Thunder

The Lakers' LeBron James dribbles to the basket as the Thunder's Terrance Ferguson tries to work his way around a pick during the second half of Tuesday's game at Staples Center. (Photo by Sean..




WorldNews - Published





LeBron's Lakers win fifth straight game, Kawhi leads Clippers

LeBron James posted a triple-double as the in-form Los Angeles Lakers topped the San Antonio Spurs 103-96 in NBA action on Sunday. James record his second successive triple-double courtesy of 21..




WorldNews - Published





Lakers' Anthony Davis dominates despite shoulder pain: 'It was bothering me a lot'

Lakers star Anthony Davis dominated with 40 points and 20 rebounds despite shoulder pain he said was 'bothering' him a lot. Should L.A. be worried?




USATODAY.com - Published





Lakers' Anthony Davis not interested in off-court branding: 'I just want to play basketball'

Anthony Davis insists he's not interested in his business profile or movies now that he's playing in Los Angeles. "I'm just focused on basketball."




USATODAY.com - Published





Lakers' LeBron James on Team USA's seventh-place World Cup finish: 'The rest of the world is better'

Lakers' LeBron James and Anthony Davis say that Team USA's seventh-place finish isn't as simple as who chose not to go to FIBA World Cup.




USATODAY.com - Published





Los Angeles Lakers' Anthony Davis on free agency: 'I just want to focus on this year'

The Los Angeles Lakers are doing everything they can to make Anthony Davis feel welcome in hopes he will re-sign next summer.




USATODAY.com - Published