Omaha Beach
Code name for one of the zones for amphibious landings in Northern France on D-Day, 6 June 1944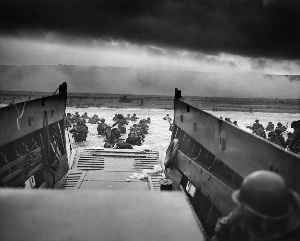 Omaha, commonly known as Omaha Beach, was the code name for one of the five sectors of the Allied invasion of German-occupied France in the Normandy landings on June 6, 1944, during World War II. "Omaha" refers to an 8-kilometer (5 mi) section of the coast of Normandy, France, facing the English Channel, from east of Sainte-Honorine-des-Pertes to west of Vierville-sur-Mer on the right bank of the Douve River estuary. Landings here were necessary to link the British landings to the east at Gold with the American landing to the west at Utah, thus providing a continuous lodgement on the Normandy coast of the Bay of the Seine. Taking Omaha was to be the responsibility of United States Army troops, with sea transport, mine sweeping, and a naval bombardment force provided predominantly by the United States Navy and Coast Guard, with contributions from the British, Canadian, and Free French navies.


You Might Like
D-Day veteran brings wife to Normandy to share memories
Vern Ollar, now 97, was 22 when he landed at Omaha Beach, the site of the worst American carnage of the Normandy landings
CBS News - Published
Veteran returns to Omaha Beach for first time in 75 years
Seventy-five years ago Thursday, 96-year-old Army veteran Jake Larson stormed Omaha Beach. He is the last living member of his unit. D-Day was a moment that changed his life forever and yesterday was..
CBS News - Published
AP follows D-Day vet as he returns to Omaha Beach
AP follows D-Day vet as he returns to Omaha Beach
USATODAY.com - Published
Veteran makes 1st return to Omaha Beach, recalls fallen comrade who inspired him
"It's like a dream come true, like I won the lottery," says Jake Larson
CBS News - Published
D-Day: Trump praises Allied forces in speech on 75th anniversary
The US president praised troops at a service in the US war cemetery at Omaha Beach.
BBC News - Published
CBS Reports (1964): "D-Day Plus 20 Years - Eisenhower Returns to Normandy"
The Allied invasion of Nazi-controlled France on June 6, 1944 was the largest military invasion in history, involving nearly 160,000 service members arriving by ship and air at Normandy. Its success..
CBS News - Published
Battle-scarred U.S. flag from D-Day landing goes up for auction
A battle-scarred American flag believed to be the first planted on Omaha beach during the 1944 D-Day landings is expected to fetch more than $55,000 at auction next week, Heritage Auctions said on..
Reuters - Published
6/3/19: CBSN Evening News
President Trump begins three day trip to the UK; World War II veterans tour Omaha Beach.
CBS News - Published