Rick Barnes
American basketball coach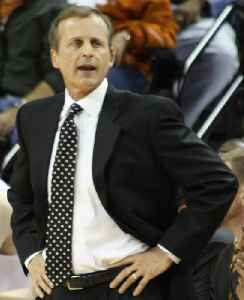 Richard Dale Barnes is a men's college basketball head coach for the Tennessee Volunteers of the Southeastern Conference (SEC). He coached Texas from 1998 to 2015, taking the team to the NCAA Division I Men's Basketball Tournament in 16 of his 17 seasons with the Longhorns, including 14 straight from 1999 to 2012, as well as a Final Four appearance led by T. J. Ford in 2003. Barnes previously coached at George Mason University, Providence College, and Clemson University. He is a 1977 graduate of Lenoir-Rhyne College where he was a member of the men's basketball team.


Barnes says buyout likely kept him from taking UCLA job
Tennessee coach Rick Barnes says he probably would have taken UCLA job if buyout negotiations hadn't broken down
USATODAY.com - Published
Basketball coach Rick Barnes spurned UCLA, chose Tennessee over contract buyout
Tennessee basketball coach Rick Barnes explained why he turned down an offer from UCLA and stayed with Tennessee.
USATODAY.com - Published
Mick Cronin announced as UCLA's new head coach after 13 seasons with Cincinnati
UCLA considered other candidates, including Jamie Dixon, John Calipari and Rick Barnes, but came back to hire Mick Cronin of Cincinnati as its coach
USATODAY.com - Published
Tennessee announces Barnes will be back next season
Tennessee announces Rick Barnes will return as coach next season
USATODAY.com - Published
Rick Barnes staying with Tennessee basketball after UCLA flirtation, per reports
Rick Barnes is staying at Tennessee after drawing strong interest from UCLA.
USATODAY.com - Published
Search this site and the web:
You Might Like